Ultimate Face Rollers & Massage Tools Guide
By Rebecca Jenkinson, Beauty Writer
With our face rollers & massage tools guide, you can find out everything you need to know before buying or using the product including what is a face roller and what are the benefits of face rolling. If you're ready to buy or want to see our selection, visit our face rollers & massage tools page.
Face Rollers & Massage Tools FAQs
What is a face roller?
A face roller is a handy tool that not only looks fantastic on your bedside table, but also produces a whole host of relaxing and beneficial results for your skin.
Face massage rollers help take your skincare to the next level and are ideal for creating the ultimate zen moment. Swipe along your face to activate skincare ingredients, ease the muscles and to drain any lymphatic fluid.
Typically made from jade, rose quartz or other semi-precious gemstones, face rollers are designed to help gently massage the face. They usually have two sides, with a larger side to cover your cheeks and forehead and smaller side to work around the eye contour area. However, face rollers can come in all shapes and sizes.
What are the benefits of face rolling?
Facial rollers have lots of major benefits, from easing tension to creating healthier-looking skin.
In fact, face massage rollers are your cheat sheet to youthful, glowing, radiant skin. By using them alongside your favourite skincare goodies, such as serums, moisturisers and sheet masks, you can activate the ingredients and help them fully absorb into the skin.
Facial rollers also help drain any lymphatic fluid to remove any toxins from the face. The swiping massage movements along your jawline, across your temples and down you neck also relax the muscles. Not only does this ease aches and pains, such as headaches, but it also helps de-puff and re-plump the skin, reducing fine lines and wrinkles.
What types of facial rollers are there?
As we said before face rollers come in all shapes and sizes, but all bring amazing benefits to the skin. Jade face massage rollers are a popular choice in the beauty world, thanks to to the healing energy behind jade. This gemstone is also loved for its soothing, calming and balancing properties. Another popular choice is the rose quartz facial roller, as this gemstone signifies peace, love and healing.
Other tools can have textured rollers, micro-needles or even massaging nodules, all of which add extra soothing pressure to the skin. This can help stimulate collagen, tackle fine lines, reduce acne scars and even reduce the appearance of enlarged pores.
What are the best face massage rollers?
Here at Cosmetify we love nothing more than discovering new beauty tools and that includes luxurious skin rollers. Discover our collection of the best face massage rollers today and find the perfect fit for your skincare needs.
Whether you want an insta-worthy roller, a hardworking face massage tool or a gentle roller, there's something to suit every beauty lover. With bright colours, textured rollers and professional tools, these rollers are perfect for an at-home spa day. A few our favourites include the derma roller from Ecooking, the quartz rollers from Honey Belle and the jade face roller from Hebrivore.
How to use a face roller?
Face rollers may seem daunting, especially ones with textured massaging nodules, but there's nothing to worry about. These tools are super simple to use but provide exceptional results. Think glowing skin, relaxed muscles and a healthy-looking complexion.
First ensure you face is cleansed and then add your favourite serums and moisturisers. Once you have applied your skincare routine, it's time to get the face roller out. If using a dual-sided tool, use the larger side to gently roll across your jawline, on your cheeks and across your forehead. Repeat each rolling motion five to six times.
Then using the smaller side, apply gentle pressure and roll from the inner corner of your eye outwards. Repeat five to six times and move onto the other eye. You can also use the face roller across wrinkles and fine lines to plump up the skin. Use as often as you like and take your time to enjoy the entire process - believe us, it's super relaxing!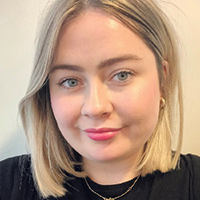 Rebecca is a content writer with over three years' experience and a keen interest in cosmetics. Cosmetify allows her to combine her blogging skills with her passion for beauty.