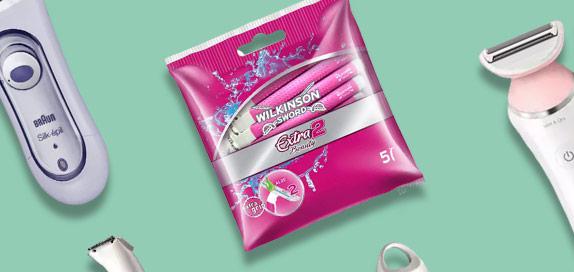 Women's Razors
Achieving a flawless, smooth feel has never been so easy, thanks to our professional selection of best-selling shaving tools. Shave away unwanted hair with our easy-to-use razors from iconic hair removal brands such as Gillette, Braun, BaByliss, and many more. Perfect for those who want an effortlessly close shave, our collection of hair-removal tools will glide gracefully over the skin to reveal softer, smoother skin without the irritation.
10 products found
Razors for Women
These nifty razors and electric shavers put you back in the driver's seat when it comes to controlling unwanted body hair, allowing you to shave those hard-to-reach places without any fuss. Whether you want to get ready for bikini season or are just after a quick neatening up, our collection of female razors and shavers will provide you with the gift of effortlessly smooth skin.
Say goodbye to the days of uncomfortable ingrown hairs, razor rash and missed hairs; instead, welcome in the luxury of a flawless finish every time thanks to our expert array of hair removal tools. Stay manual with a classic razor or venture into the world of electronics with an advanced electric lady shaver for even sleeker results.
Discover the best manual and electric shavers at the best price possible with Cosmetify. Preparation is the secret to a close, smooth shave. Check out our selection of body scrubs and exfoliators, brushes and sponges, as well as our body moisturisers for the best aftercare.
Women's Razors Features