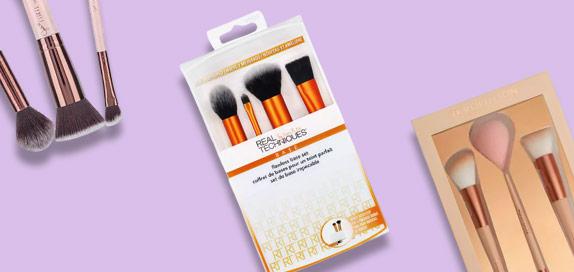 Makeup Brush Sets
Owning a high-quality, professional makeup brush set is essential when creating a flawless look, which is why we have a hugely varied selection of brush sets to suit your needs and get you on the road to success – allowing everyone to blend, cover and create like a pro. Shop the likes of Real Techniques, Spectrum Collections, Brushworks and more. Read More
55 products found
Brush Sets
Whether you're just starting out in the makeup game or are a seasoned beauty expert, finding a dependable set of brushes is oh-so important. From travel-friendly duos to 10-piece brush sets, our selection ensures that every part of your complexion is covered for expert results. Here, you can find large fluffy brushes that buff on loose powders teamed with more compact, precision-focused brush heads that aid in the application of eye makeup, such as eyeshadow and eyeliner.
Discover everyday essentials that conceal, neaten and perfect your look, or opt for a skin care set that preps and primes your visage whilst making the most of your skin care products. With penny-saving deals on your favourite brands, you'll be sure to find your makeup must-have at a wallet-friendly price.
Browse sets from brands such as Sigma Beauty, Nude by Nature and Bh Cosmetics to find the brush kit you've always dreamt about. Combining high-grade materials with innovative designs, each brand brings forth the best in beauty to ensure the perfect finish every time.