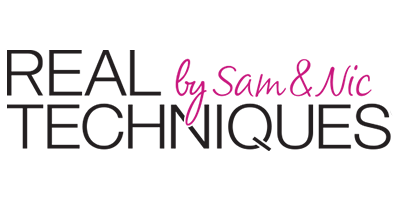 Real Techniques
Real Techniques are the world's leading beauty brand, when it comes to creating fresh and flawless makeup looks.They offer an expert range of makeup brushes and tools that deliver high-performance and ravishing results, at an affordable price point.
Designed by two of the top makeup artists in the industry, Samantha and Nicola Chapman –known as pixiwoo on their Youtube channel– are renowned for their extensive makeup artistry expertise and skill, that has brought them incredible fame and success in the industry.
In 2011, Pixiwoo launched their brand Real Techniques. The dynamic duo now have multiple collections of makeup brushes and tools, that combine both professional quality and innovative design, as well as Sam and Nic's fun and friendly approach to makeup.
From essential face brush sets, complexion sponges and trusty travel kits, their ground-breaking innovations have revolutionised the industry and they are becoming increasingly popular on the beauty scene.
Browse a stunning selection of the finest makeup brushes and tools on the market - they will definitely enhance your beauty routine!
You've viewed 32 of 65 products