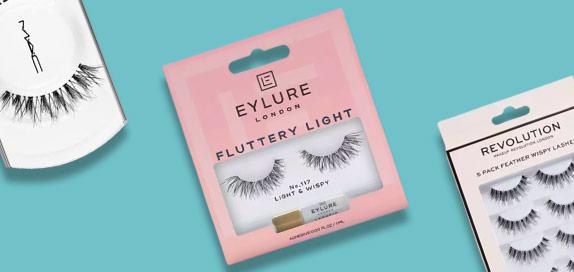 False Eyelashes
Make eyelash envy a thing of the past with our range of false lashes - whether you're looking for strip lashes or individuals, we've got you covered. Visit our ultimate false eyelashes guide for any questions or advice.
355 products found
Fake Eyelashes
Accentuating your pretty peepers for that night out or that hot date has never been easier, as we have an outstanding array of lovely lashes – so much so that you'll be spoilt for choice. From wispy, natural false eyelashes to big, bold dramatic falsies, there's something for every type of makeup lover.
With lashes that boast lust-worthy length, to-die-for thickness and victorious volume, we're sure that you'll have no issues when it comes to achieving the perfect flutter. Add more definition to your bold eye look with a pair of big exaggerated lashes, or for a sultry look add single false lashes to the outer corners of your eye.
Whichever style you choose, have fun experimenting with different lengths and styles from leading cosmetic brands, including Huda Beauty, Eylure, Ardell and Doll Beauty. Simply search by brand to favorite your favorites or refine by price to find budget-friendly options that still pack a punch.
Choose from dramatic, glamorous or subtle, to complete your eye look. There's a pair for every mood, every occasion and every personality. Once you start, you'll never look back.