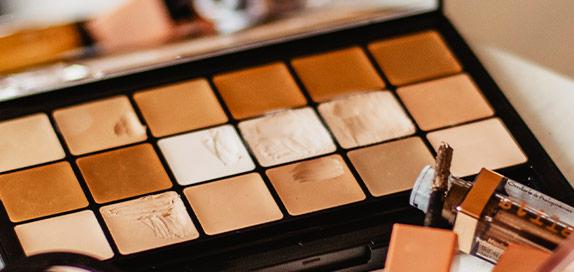 Makeup Palettes
With the likes of Charlotte Tilbury, Huda Beauty and Jeffree Star Cosmetics headlining our makeup palette collection, you won't want to miss out. A palette is an essential in anyone's makeup range. They're multi-functional, great for when you're on the go and, let's be honest, really lovely to look at. Read More
275 products found
Makeup Palette
As we provide a selection that is sure to give you the makeover of your dreams, it's time to get lost in our wonderful world of stunning palettes.
Lay down your best face makeup yet with our range of face and contour palettes. Unleash your inner creativity, as we supply eyeshadow palettes that include everything from neon bright to pastel and smoky shades, as well as the accompanying eye brushes. Or, add a pop of colour to your look via our extensive selection of blusher, bronzer and highlighter palettes.
Whatever your style or mood, there's no doubt that the professional formulas and high-pigment colours that lie within these palettes will add the perfect touch to your makeup look.
So, what are you waiting for? Get exploring and discover the makeup palette that will take your looks from 0 to 100, in an instant. Did we mention that they also make a great gift for the beauty-obsessed, too?
Blusher Palettes
Give your makeup palette hoard a flush of colour with these blusher compacts. Shop brands like Smashbox and Barry M, spoil yourself with pretty pinks, rosy reds and cool corals and sweep some colour across your cheeks.
Eyebrow Palettes
Tame unruly hairs, frame your face and ace those arches with a brow palette. Boasting cream, powder, gel and pomade formulas in all shades, you can find your dream makeup palette and effortlessly achieve killer eyebrows.
Contour Palettes
Chisel your cheekbones, sculpt your jawline and add a subtle bronzing to your complexion with Cosmetify's selection of contour palettes. With a makeup palette like this at hand, you can achieve a classic Kim K look in no time.
Eyeshadow Palettes
Go wild in the world of eyeshadow palettes and discover your ultimate compact. Everything you need to create show-stopping eye looks is right here. Browse cult-favourite palettes from the likes of Benefit and Zoeva and experiment with the pigmented powders that last all day. Whatever the vibe, style or season, you can find a palette to match.
Face Palette
Lay down your best makeup surface yet with the help of our face palettes. Amongst our impressive collection of makeup palettes, we bring you all the tools you need to prep, prime, contour and conceal your face – there's even room for a pop of colour on the cheeks. Take your pick from powder or cream formulas and create an Instagram-worthy complexion.
Highlighter Palettes
Get your gleam on with our stunning highlighter palettes. These glitzy and glam palettes bring all the shimmer and shine you could ever need. From rose gold glitter powders to sun-kissed glow liquids, these lovely compacts are your one-stop shop to a radiant complexion.
Lip Palettes
Go from a natural nude lip to a pretty pink pout in a matter of seconds with our incredible lip palette collection. These makeup palettes are the perfect option for when you're on the go, or if you want to create a tailored lip colour.