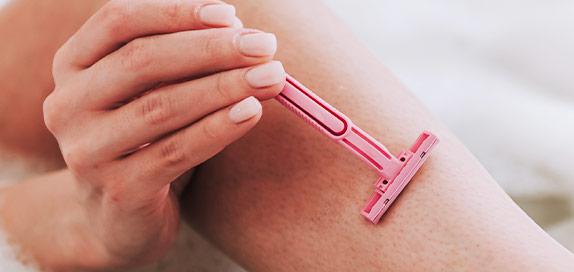 Home Hair Removal
We understand that hair removal is a personal choice, with each of us using different methods and solutions. That's why at Cosmetify we have collated the very best and most innovative hair removal brands and products to ensure you get exactly what you want from your grooming routine. Discover much-loved hair removal brands such as Acorelle, Wilkinson Sword, Veet and Nad's. Read More
63 products found
Body Hair Removal
Whether you want to be clean shaven, silky smooth or just neatly groomed, there's something for everyone. No matter your chosen method or tool, you can easily achieve a luxurious salon-quality finish, but in the comfort of your own home.
Browse our range and find an array of waxing options, including pre and post treatment creams to help prevent ingrown hairs and dry, irritable skin. Not to mention, our collection of easy-to-use razors and shavers for you to peruse. And, of course, don't forget the most popular hair removal creams and lotions on the market. We even have a selection of epilators from favourite brands such as Braun and Phillips, for more experienced hair removal experts.
Whatever your choice, find the most efficient, quickest and easiest hair removal methods at Cosmetify today and achieve the smoothest skin in town. Don't forget to stock up on body lotion, body cream and body oil too! They'll make your smooth skin feel all-the-more pampered.
Epilators
When razors just aren't cutting it for you (literally) then it's time to invest in something a little more worthwhile. This popular hair-removal method keeps those unwanted prickly limbs at bay, making it the go-to electrical tool for men and women everywhere. Discover the full epilating range today.
Female Shaver
When it comes to shaving, you need precision, ease and efficiency. Luckily, our range caters to all of the above, giving you the simple hair removal process you deserve. Find the perfect lady shaver or razor and discover just how smooth your skin can be.
Laser Hair Removal Machines
In this day and age, no one has the time for lengthy hair removal sessions. Speed up and cut down the number of times you have to shave by turning to a better alternative: laser hair removal. Take back control of your unwanted body hair with our assortment of electronic laser devices for the best results possible.
Post Hair Removal Care
You've nailed the hair removal process itself, but the work doesn't stop there. Invest in your aftercare routine to prevent those pesky ingrown hairs, lumps and bumps from appearing for a totally flawless finish. Discover pads, solutions and creams from the likes of Jack Black, Acorelle and many more.
Hair Removal Cream
Getting rid of that unwanted body hair doesn't have to be a lengthy, laborious process that ruins your tub time. Take the effort out of hair removal by turning to a quick and easy alternative; our selection of removal creams dissolve away fine hairs to provide a blank, smooth canvas.
Hair Removal Wax
Gone are the days of leaving your monthly wax to the professionals. With our elite range of caring wax formulations, you too can achieve a salon-like finish within the comfort of your own home. Browse our broad range of hair removal tools and soothing waxes to eliminate that unwanted body hair in a flash.
Shaving Cream and Gel for Women
Nail your smoothest ever shave with your razor's new partner in crime. Our selection of women's shaving gels are the ultimate hair removal tool that aid in a healthy, bump-free finish. Shop amongst the likes of Avalon Organics and many more for the easy shave you deserve.