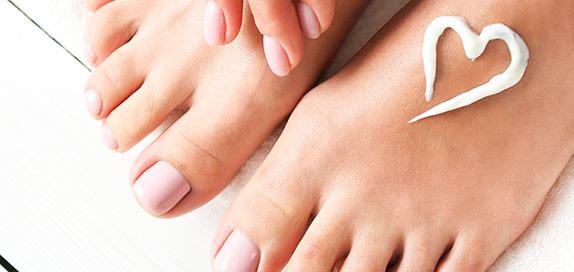 Hand & Foot Care
Here at Cosmetify, we have the perfect hand and foot care selection to guarantee healthy, hygienic, happy feet and hands, featuring products from such premium brands as ELEMIS, Scholl and SVR. Check out this guide to hand & foot care for help and tips.
1250 products found
Hand and Foot Care Products
Hands and feet often deserve more TLC than we remember to give them, which is why we've put together all the hand and foot care products you could possibly need to encourage healthy functionality, from hand lotions to foot masks.
Who said skin-enhancing treatments were just for your face? We often forget just how important our hands and feet really are, which is why indulging in a tailored formula is so vital. Show your mitts some extra love with our selection of skin-softening creams, scrubs and balms. Manage the signs of aging with intensive lotions, or go with an all-natural approach with our variety of all-organic and natural brands. Catering to a broad spectrum of everyday problems, our product line-up ensures the cost-effective, beautifying results you deserve.
And we're here for your feet too. Whether you're suffering from blistered soles or dry heels, our carefully selected range will ease the discomfort that comes with living an active and hectic lifestyle.
Discover the full range today and fall back in love with healthier, happier skin.
Foot Cream
Your feet need a little extra attention and we're here to provide exactly that. Here, you can find a selection of high street and high-end foot care products that bring that dry, chapped skin a barrier of nourishment and comfort.
View this guide to foot cream to find out more.
Foot Files and Exfoliators
Your feet go through a lot. Whether you're squeezing them into the highest of heels or tightest of loafers, they feel the consequences of a long, hard day. Buff away the dry skin that is the result of footwear to reveal comfortable, baby soft skin. Our foot care products provide a sense of luxury that make maintaining healthy skin an absolute breeze.
View this complete guide to foot files and exfoliators for help and tips.
Hand Cream
Caring for your hands doesn't have to require a lot of upkeep: all you need is a go-to hand cream that works for your skin type. Luckily, our hand care range caters to even the most sensitive of skin types, slathering hands in a coat of protection and hydration for a youthful-looking finish.
See our ultimate guide to hand cream for further info.
Hand Treatments
When drier-than-dry hands come calling, answer with a surge of hydration and nourishment. Sometimes regular hand creams just don't cut it, which is why having your own go-to backup treatment is vital. Browse amongst hand gloves, scrubs and lotions to discover your next holy grail hand care product.
Visit our guide to hand treatments for more info.
Hand Wash and Sanitisers
Spruce up any bathroom sink with your very own elite hand wash. Allow the likes of Molton Brown and other hand care gurus to soak your mitts in a soapy lather of aromatic delights, washing off the dirt and grime from your day.
Visit our complete guide to hand wash and sanitisers for any questions or advice.
Foot Masks
It's time to put your feet up – quite literally. Indulge your hard-working feet in a rich foot mask to restore, repair and moisturise dry skin. Ideal for after a long day, each mask blesses tired feet with a veil of comfort to leave you feeling well rested. Shop amongst brands including Skimomo and BeautyPro today and add to your foot care regime.
See our guide to foot masks for more info.
Hand & Foot Care Features