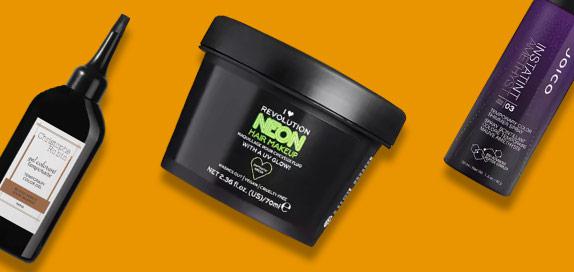 Temporary Hair Dye
Whether you're looking for a quick spray solution or wash-out colour, we have a wide selection of formulas to aid you in your mission. It's the ideal way to test whether hair colour is for the long term, or just a passing phase. Shop from the likes of Lime Crime, Color Wow, Bleach London and L'Oreal Paris.
31 products found
Temporary Hair Dye
You're looking for a burst of colour, and we're here to provide exactly that with our range of temporary hair dyes to brighten up any festival, weekend or holiday – without the fear of any dodgy tones being left over to dampen your 'do.
Choose from bright yellows to subtle rose gold hues and unlock a whole new look, personalised and tailored to your hairs' needs. Perhaps you're looking to try out a new conservative colour or are simply lusting after a wash of vibrant, wacky pigment for a weekend of fun.
Whatever your wildest hair fantasises are, we have just the solution that caters to your creative side. Ideal for those that are looking for a bit of a safety net when it comes to trying out new shades, our temporary range allows for a splash of colour that can be removed easily without causing damage to even the most sensitive of strands.
Shop your favourite brands and uncover the endless, colourful possibilities.