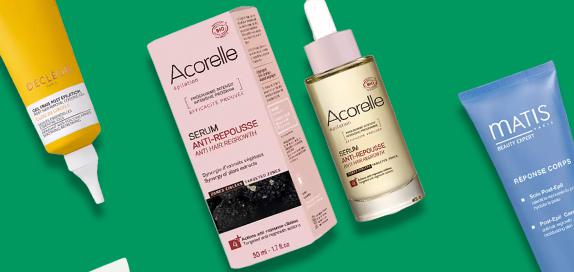 Post Hair Removal Care
Taking care of your skin post hair removal is an important part of the process and made easy by our range of aftercare products that are formulated to prevent ingrown hairs and dry, irritable skin. Treat those delicate areas with the kindest hair removal methods possible with brands such as Decléor, Acorelle and Malin + Goetz to ensure that you achieve the smoothest hair-free skin in town. Read More
5 products found
After Hair Removal Care
Sometimes, the hair removal process just isn't enough when getting rid of those pesky hairs, which is why post hair removal care is such an important sector to invest in. Here, you can discover how to banish hair regrowth for longer while keeping your skin healthy.
Those monthly spa visits can add up, and sometimes, going professional isn't always on the cards– until now. Here, you can discover the tools and secrets that salon practitioners use when maintaining the aftercare of your wax, shave or epilating session.
Keep skin feeling smoother for longer with our selection of hair regrowth inhibitors from a variety of trusted brands, or cool skin down with soothing solutions that prevent any unwanted redness. Attaining flawless, hair-free legs has never been easier thanks to our professional range of results-driven solutions.
You can also use a selection of body butter, body oil and body lotion to hydrate and protect skin post-shave.
Post Hair Removal Care Features