First Aid Beauty
Shop the First Aid Beauty line up of day creams, anti-ageing skin care, eye creams & gels and much more. Make sure that you add a sale alert so that you hear about the brand's deals and promotions.
Best Selling First Aid Beauty Products
First Aid Beauty Ultra Repair Range
First Aid Beauty have created a moisture-focused skin care range that works to protect and perfect all skin types. The Ultra Repair range contains a mixture of solutions that all impart lashings of hydration for a well-nourished visage that beams with radiance.
Here, you can discover the brand's most successful product, the Ultra Repair Cream, or browse amongst other cult-followed items that range from cleansers to eye creams. The Ultra Repair selection is ideal for those that want to banish drier skin types and is made with a whole host of powerful, skin-enhancing ingredients. Discover the full collection today!
Known as one of the brand's most popular items, the Ultra Repair Cream has earned itself quite the title within the beauty community and is loved for its multi-tasking magic.
Shea butter, eucalyptus, ceramides and oatmeal join forces within the formula to bring an immediate sense of comfort to irritated, itchy skin types. Wrapping the skin in a barrier of protection, the cream shields against the likes of free radical damage and harsh weather conditions, ensuring that the skin feels happy and healthy at all times.
£12.00
This dermatologically tested serum is here to save the day with its nourishing formula, shielding even the driest and dullest of skin types.
Providing long-lasting hydration, the serum helps to enhance the skin's natural radiance while locking down moisture with the inclusion of hyaluronic acid. Colloidal oatmeal and aloe vera are also used to soothe redness, while added collagen keeps the skin looking youthful and vibrant.
With regular use, skin can appear plumper with a luminous glow.
£30.00
Suitable for even the most sensitive of skin types, this deeply uplifting facial oil works on restoring the skin's natural balance whilst ridding the likes of irritation and discomfort.
Cannabis sativa seed oil is derived from the hemp plant and combined with colloidal oatmeal to soothe and calm the skin, while arnica Montana flower extract and borage seed oil encourages skin to heal and regenerate. Delivering a surge of antioxidants to your complexion, this powerful combination of ingredients helps to strengthen the skin's natural defences against environmental aggressors.
£30.00
First Aid Beauty Fab Skin Lab Range
This small-but-mighty collection of products may only boast a few items, but don't be fooled by their potency.
Guarding the skin against external aggressors, the range works to turn back the clock on your complexion for a youthful glow that lasts all year round. These gold-standard solutions have been designed with sensitive skin types in mind, meaning that even the most temperamental of complexions can benefit from a healthy dosage of anti-ageing action without fear of irritation. Attaining filter-like skin has never been so easy!
Browse amongst liquid exfoliators and potent concentrates to uncover your best visage yet.
Wave goodbye to uneven, rough skin with this retexturising solution from First Aid Beauty.
Containing a mix of feel-good acids, the Resurfacing Liquid refines the visage to reveal smoother, more even-looking skin without causing any unwanted irritation. The formula blends together a 10% concentration of four alpha-hydroxy acids that sink in and melt away dead skin cells, uncovering your most flawless complexion yet.
Liquorice root, mulberry root and lemon peel extracts all work together to brighten up the skin for that 'lit from within' glow.
£47.00
Reignite your skin's luminosity with the First Aid Beauty Skin Lab Retinol Serum 0.25% Pure Concentrate Sensitive/Beginner.
Specially made with sensitive skin types in mind, this gentle formulation gets to work on beautifying the skin with a youth-enhancing action. This solution is ideal for those that have never used retinol before, as it has a deeply caring nature.
The formula contains a 0.25% concentration of pure retinol that is teamed together with First Aid Beauty's proprietary Skin Saver Complex. This means that the solution is able to deliver all of the benefits of retinol without any of the irritation.
£34.34

£51.00
Discover the potency of hyaluronic acid with this beautifying, youth-enhancing formulation.
The First Aid Beauty Skin Lab Retinol Eye Cream With Triple Hyaluronic Acid gets to work on tired-looking eyes by smoothing out the skin that surrounds the area. Loved for its ability to perk up tell-tale signs of fatigue, this incredible eye cream tackles the likes of fine lines and wrinkles to ensure totally flawless results.
Better still, the formula is gentle enough to be used by all skin types!
£24.13

£34.00
First Aid Beauty Hello FAB Range
This skin-perfecting selection is here to save the day with its inclusion of intelligent ingredients and concentrated formulations.
Combining skin care and makeup essentials together within one collection, the Hello FAB range helps to beautify your skin with each and every wear. Prime, prep and perfect your visage with superfood-powered formulas that get to work on likes of enlarged pores, dryness and blemishes. Getting rid of troublesome skin has never been so simple!
Here, you can browse amongst avocado-infused concealers, mattifying primers, coconut water creams and many other skin care and makeup essentials that put your complexion's needs first.
Dulling skin dragging your look down? Take action with the First Aid Beauty Hello Fab Ginger & Turmeric Vitamin C Jelly Mask and relish in a brighter, glowier complexion.
This results-driven face mask teams together superfoods ginger and turmeric to actively revitalise fatigued skin, perking up stressed-out and over-worked complexions. Add this replenishing mask into your self-care routine to unlock the secret behind a filter-like visage. Suitable for sensitive skin types.
£30.00
Keep your complexion looking and feeling its very best with a cream that maintains the skin's moisture levels throughout even the most testing of times.
Adored for its lightweight texture, this coconut-infused cream contains electrolytes, amino acids and phytonutrients that infuse the skin with a refreshed feel. Better still, this kind-to-skin hydrator banishes the likes of alcohol, mineral oils, parabens, phthalates and petrolatum for an irritant-free finish that accommodates even the most sensitive of skin types.
£30.00
Mask the appearance of those booze-filled late nights out with the First Aid Beauty Hello FAB Bendy Avocado Concealer. Covering up even the most unforgiving of imperfections and blemishes, this creamy concealer combines the benefits of a hydrating skin care essential with the flawlessness of a high-end cosmetic. This skin-enhancing formula provides weightless coverage for natural results that cover up the likes of dark circles, redness, blemishes and uneven skin tones. Superfood avocado is included to help hydrate and nourish the skin.
£19.00

£20.00
First Aid Beauty 5-in-1 Range
Here at Cosmetify, we love anything that speeds up and simplifies our skin care regime, which is why we were particularly excited when First Aid Beauty released this epic range of 5-in-1 products.
Helping to reduce the tell-tale signs of ageing, this multi-tasking selection of skin care essentials combines some of the best technologies together with hard-working ingredients to ensure efficient formulas that banishes the likes of common skin care woes.
From their coveted Bouncy Mask to protective face creams, the brand has carefully curated a small yet powerful line-up of products that keep all skin types looking youthful.
No time for self-care? No worries, the First Aid Beauty 5 In 1 Bouncy Mask has you covered for flawless skin within as little as 10 minutes.
Working its magic on all skin types, this clever gel mask calms, hydrates and enhances the natural radiance of your skin within minutes for on-the-go results in a flash. Eijitsu rose bud extract and benoitine (derived from marine plankton) are used to exfoliate the skin, while an algae-based skin tightener is mixed together with vitamin C to boost the production of collagen.
£32.00
Stop external aggressors from messing with your style by protecting your skin with the all-powerful First Aid Beauty 5 In 1 Face Cream SPF30.
This does-it-all formula fights off the first signs of ageing by delivering an unparalleled level of protection to the skin. SPF30 shields against damaging UV rays and photoageing, while alpha arbutin and Homeostatine® focuses on smoothing out fine lines and wrinkles. Brighten up your complexion with the fuss-free action of this 5-in-1 cream.
£24.13

£34.00
Give tired eyes a helping hand by comforting the delicate skin that surrounds them with an invigorating hydrator.
This all-inclusive eye cream helps to reduce the severity of fine lines, improve uneven textures, nourish the skin and protect against free radicals for an age-defying look. The formula contains alpha arbutin to brighten dark circles, as well as a whole host of nourishing ingredients that help to restore your skin's radiance. Think of this eye cream as your very own, pocket-sized anti-ager.
£19.33

£26.00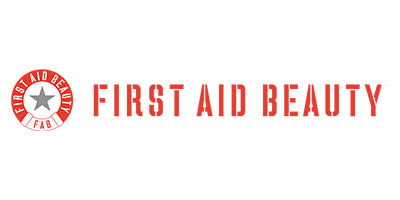 First Aid Beauty have been providing simple and effective skincare solutions since 2009 with the aim of providing a clever collection of products that will cater to each skin type and target individual matters.
They are well known for their scientifically-advanced formulas and skin-smoothing textures that work efficiently to deliver an immediate effect and long-lasting results.
First Aid Beauty pride themselves with creating products that are only formulated with clean and kind-to-skin ingredients. All of their products contain the purest selection of ingredients and banish the likes of nasty chemicals and additives that could potentially irritate and harm your skin. They believe that you shouldn't have to worry about what's in your skincare products, which is why they strive to deliver skin-loving innovations that will deliver maximum results, minimal skin irritation, and nothing less.
First Aid Beauty offer everything from everyday essentials to skin-boosting treatments that will benefit every skin type, including even the most sensitive of skin types. FAB also believe in the importance of using gentle yet effective skincare as a way to resolve troublesome skin issues.
Discover their array of allergy-tested skincare formulas and say hello to a clear and healthy complexion.
Why We Like First Aid Beauty
"Banishing the likes of common skin care nasties from their formulations, First Aid Beauty makes our skin a priority by delivering only the best, most innovative formulations. Catering to our every skin concern possible, this brand have made it their mission to hydrate dry skin types, clear up acne and leave our complexions looking more youthful than ever before. "
Ellie Child, Editor
Where are First Aid Beauty products sold in the UK?
First Aid Beauty can be bought from a number of leading retailers in the UK, such as Feel Unique, HQHair, Asos and more.
But with such a saturated market, it can be tricky figuring out which is the best place to buy First Aid Beauty products for the cheapest price. That's where we come in. Cosmetify helps by showcasing all the prices from multiple retailers and letting you order online. This means we compare the costs so whether you're looking for day creams, anti-ageing skin care, eye creams & gels and more besides, you can easily find the cheapest price on all your favourite bits and bobs.
And if your go-to products are out of stock, just set up an alert and we'll let you know the minute it's back.
Frequently Asked Questions about First Aid Beauty
Is First Aid Beauty a cruelty-free brand?
First Aid Beauty are a cruelty-free brand. This means their manufacturing and testing processes are completely free from animal testing.
Do their product formulations contain Parabens?
The entire line of First Aid Beauty is paraben free.
Are First Aid Beauty products Dermatologically tested?
Yes, although it doesn't guarantee that their products will be suitable for your skin, it does mean they should be less likely to irritate.
Is First Aid Beauty a phthalates-free brand?
They have absolutely no phthalates in any of their products or formulas.
Are their products Sulphate free?
There are no sulphates in their product ingredients.
Is First Aid Beauty mineral oil-free?
No First Aid Beauty formulas contain mineral oil. They are a mineral oil-free brand.
Are these products fragrance-free?
First Aid Beauty products are produced without the use of synthetic fragrances.
Is First Aid Beauty alcohol-free?
Not all of their products are alcohol-free. Please use our site filters and check product ingredients.
Are First Aid Beauty products allergy tested?
Not all of the First Aid Beauty range is marked as hypoallergenic or allergy tested in our database, however if this is your preference please select 'hypoallergenic' from our site filters to narrow your search.
Do First Aid Beauty products contain animal products or by-products?
More than half of the First Aid Beauty products showcased on our site contain animal-derived ingredients or by-products. Therefore, First Aid Beauty is not classified as an entirely vegan-friendly brand. Applicable products are clearly marked across the site.
Cruelty Free
Paraben Free
Dermatologically Tested
Phthalates Free
First Aid Beauty Features