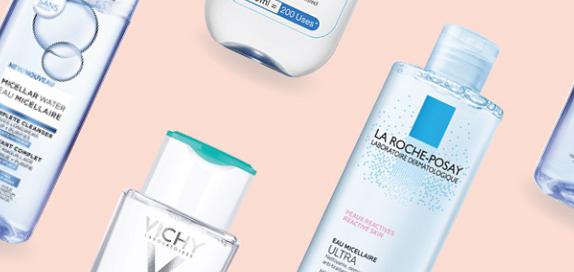 Micellar Water
Shop our collection of popular micellar water products from brands like Garnier, Eucerin, Thalgo and Medik8, and sweep away dirt, oil and makeup in seconds. Read More
94 products found
Micellar Water Cleanser
Getting clean skin is a breeze with micellar water, a multitasking product that can cleanse, remove makeup, prep your skin for a traditional facial cleanser and also moisturise—all without the need for water.
Micellar water gets its name from the tiny cleansing molecules that make up its composition, called micelles. Suspended in water, these molecules draw out dirt and oil in your skin as well as makeup, and can also help a regular cleanser penetrate deeper into your skin by increasing its permeability.
Thanks to its gentle, non-irritating nature and how easy it is to use, micellar water is a must-have for your bag, plus an essential if you're travelling or working as a makeup artist. Not to mention, the nourishing formula is great for all skin types, but those with dry and sensitive skin will find it especially comforting.
Get the most out of your micellar water by applying it with a cotton pad or cleansing cloth or sponge. And if you want to go for an even deeper cleanse, follow your micellar water with a facial cleanser targeted towards your skin's needs.