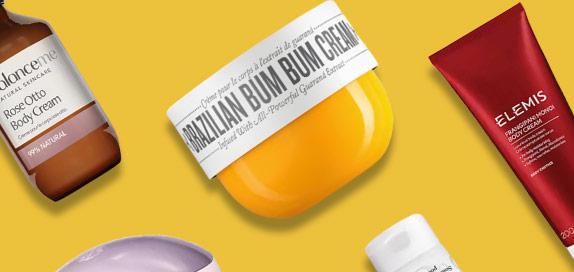 Body Cream
It's time to wrap your skin in the intense care and luxury of our diverse body cream selection. Take a look at our ultimate guide to body cream for help and tips.
392 products found
Body Cream
Featuring enriched formulas and innovative technologies, each body cream within the range actively works to deeply nourish, soothe and calm the skin for beautified results. Whether you're trying to fight off the damage caused by the winter months or you're simply wanting to maintain that baby-soft feel, our collection of high-end and high-street brands promises to keep skin happy all year round. Merging together some of the best names in beauty, we have made it our mission to find you the best body creams on the market at the most wallet-friendly prices.
Thicker than a lotion, body creams go that extra mile in providing hydration which makes it a firm must-have for those that reside in colder climates. Packed full of carefully selected ingredients, our extensive collection of body creams is your passport to a healthier, more radiant you. Soft skin is only a click away!
Our range incorporates iconic brands and modern, all-natural treatments alike, including creams from such favorites as ELEMIS, AMELIORATE, Fushi, AHAVA and Weleda, amongst many others. Indulge your skin in the body creams and lotions that cater to your needs.