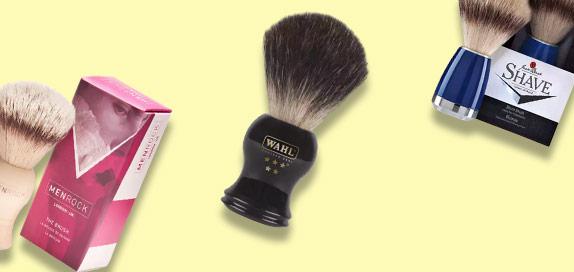 Shaving Brushes
Add some class to your bathroom cabinet with one of our shaving brushes from leading brands in the industry including eShave, Mühle and Kent. Although the beard is ever increasing in popularity, we haven't forgotten about those of you who love a smooth shave. We have plenty of products tailored to those who like to keep a fresh face, offering deluxe shaving brushes to maintain a healthy complexion. Read More
2 products found
Shaving Brushes
A top-drawer grooming kit isn't complete without a premium shaving brush. If you're someone who prides themselves on taking care of their appearance, or you know a man who is, you can find exceptional shaving brushes for affordable prices. We supply shaving brushes at both ends of the pricing range: discover a reliable, reasonably priced brush from Edwin Jagger or treat yourself to a high-end option from Mason Pearson.
The stylish and sleek aesthetic alongside the efficiency of the product makes a shaving brush the perfect gift for the well-groomed man. Keep your boyfriend, brother or dad looking slick and feeling full of confidence with an impeccable shaving brush. Explore our range of luxe and practical brushes here on Cosmetify and enjoy your closest shave yet. Don't forget to follow up with a moisturiser to reduce irritation!
Explore more hair removal options today and remember to check out our post hair removal care section to ensure a happier, healthier complexion.