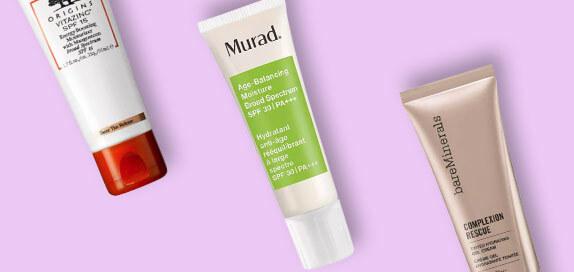 Moisturiser with SPF
An SPF moisturiser should be an essential in any skin care routine. Not only does it protect your skin against external aggressors such as sun damage and pollution, but it also prevents early signs of unwanted ageing. Discover the best moisturisers with SPF on the market today from fan-favourite brands such as Nars Cosmetics, Charlotte Tilbury, Kiehl's, ELEMIS and La Roche-Posay. Read More
103 products found
SPF Moisturisers
SPF should be worn all day, every day, all year round, even when the weather is a little grey and cloudy. Not to be confused with facial sunscreen, SPF face moisturiser is an easy, fuss-free way to provide your skin with a basic level of defence against sun damage. The formulas are expertly crafted to protect your skin from small amounts of UV exposure, so that you can continue to flaunt a youthful visage.
As well as shielding your skin against the sun, SPF moisturisers work around the clock to hydrate skin, soothe dryness, minimise pigmentation and prevent the appearance of ageing.
A face moisturiser with SPF is a great way to squeeze sun protection into your daily skincare routine, it's important to remember that you should double up with an effective sunscreen in the summer months, when the sun's UV rays are more powerful. Checkout our SPF for the face category for more info, and don't forget to apply body sun protection and a lip balm with SPF too.
For now, browse our full range of these skin protecting moisturisers and enjoy a happy, healthy and youthful complexion.