Our 101 Guide to The Best Foot Care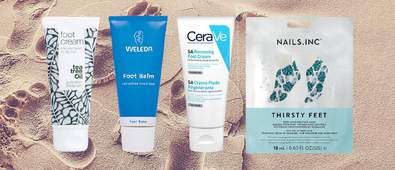 Let's be honest, our feet get neglected when it comes to our self-care Sunday routines with face masks and French manicures taking the top spots. And throughout the year your feet go through a lot, whether its constant sandal wearing, cracked heels or extra dryness in the colder months. That's why it's crucial to give your toes, heals and arches some extra special TLC.
To help you along this foot journey, we've rounded up all your burning questions to create the ultimate rundown of the best foot care, including our product recommendations for foot creams, exfoliators and more.
Let's take a look!
FOOT CREAMS
Should I use foot creams?
The simple answer is yes. Make sure you don't neglect your tootsies and give them the much-needed attention they need all year round – not just in the summer months.
Foot creams and lotions not only help deeply nourish parched skin, but they also help rejuvenate, repair and mend any damage. Whether you suffer from cracked heels, calluses or itchy soles, it's time to invest in a nurturing foot treatment.
The best time to soothe and smooth your feet is after bathing in order to lock in any moisture. And why not treat yourself to a lovely, relaxing foot massage in the process?
Will foot cream help dry and cracked feet?
The heels and soles of our feet are sadly prone to dryness, leading to cracked, damaged skin. However, the perfect solution is a nourishing foot lotion, cream, balm or treatment.
Not only will they help add a boost of hydration, but they can also prevent any future infections. Pamper yourself by massaging rich, creamy solutions into your feet after a bath. This will help prevent any dryness and keep them looking their tip top best.
Do foot creams help with athlete's foot?
When searching for a treatment for athlete's foot you can find effective over the counter creams and foot sprays. However, there are also specialised formulas which can help tackle other irritations and itchiness. If you are struggling with foot conditions, like athlete's foot, it is always best to check with your local GP or pharmacist about the best cause of action.
To avoid irritations and fungal infections in the future, it's crucial to practise good foot hygiene. This includes drying your feet after bathing, wearing clean socks every day, avoiding shoes that make your feet sweaty and don't walk around barefoot.
What ingredients should I look out for in foot creams?
When searching for a solution to dry, cracked feet or simply the perfect pamper moment, there are few ingredients which stand out. Jojoba oil, shea butter and lanolin are all deeply hydrating ingredients which can help moisturise, heal and repair damaged feet.
Other showstoppers include soothing essential oils, such as tea tree oil and peppermint oil.
If you have extra sensitive soles, we suggest finding a foot cream free from ingredients that could cause irritations such as fragrance, parabens and sulphates.
So, no matter whether winter has taken its toll on your toes or you need to get ready for your next holiday, keep a look out for foot lotions enriched with a plethora of fast-acting nourishing ingredients.
Top picks:
FOOT FILING
How do I use a foot file?
A foot file is a tool that can be used to remove dry skin or calluses on the feet. They're super simple and effective, meaning anyone can use them at home.
Before using a foot file, you want to ensure that your feet are both clean and damp, as working on dry skin can cause irritation and tenderness. You should also dampen the foot file.
Using the rough side of the foot file, gently brush over dry patches of skin, working in a downward direction. Be careful not to use sawing motions, as this can cause irritation or damage the healthy skin surrounding. Keep filing until the dry area becomes soft and smooth.
FOOT EXFOLIATORS
How often should I exfoliate my feet?
While exfoliating feet isn't exactly a daily beauty ritual, it is a great way to avoid dry and cracked skin. How often you exfoliate your feet, however, truly depends on the amount of TLC they need.
Giving your feet and toes a good scrub when in the bath or shower once a fortnight can help prevent dry and cracked patches from forming. Using a foot file as and when is also a great way to maintain the health of your feet.
If you have severely dry, cracked or callused feet, then incorporating a weekly exfoliation and foot file treatment into your routine can stop hardened areas from building.
Are foot scrubs good for exfoliating feet?
One way to keep feet soft and smooth is to regularly use an exfoliating foot scrub.
Although many foot scrubs are specially formulated to combat cracked and dry skin, it's important to find one that caters to your specific needs.
Scrubs that are infused with apricot seeds and walnuts can give a gritty texture, which is great for sloughing away dead skin, whilst sugar scrubs are perfect for those with more sensitive areas.
Ingredients such as tea tree and peppermint oil are ideal when it comes to fighting foot odour and relieving aches, pains and inflammation.
What does a foot peel mask do?
Ideal as an indulgent self-care treatment, foot peel masks help to beautify your feet by breaking down the outer layers of hard, dead skin. They utilise a mix of ingredients such as AHA's (alpha hydroxy acids), glycolic acid and lactic acid to carefully exfoliate away the dead skin cells, revealing newer softer skin.
These potent ingredients work together to kick-start the peeling process which in turn helps new skin cells to form.
How often should I use a foot mask?
This depends on the type of foot mask you are using. If you have opted for a general, creamy, hydrating foot mask then you can probably get away with using one at least once a week.
However, if you are investing in a foot peel mask then you need to be a little more careful. As these masks tend to contain AHA's and a mix of acids, it is advisable to only use them once a month to not damage or weaken the skin too much. This does of course depend on skin cell turnover, but it is always best to air on the side of caution.
What kind of ingredients are in a foot mask?
In moisturising foot masks, you can expect to find things such as coconut oil extracts, shea butters, aloe vera and hyaluronic acid. These ingredients are specifically used to soften and replenish skin and act as kinder alternative to foot peels.
Foot peel masks may also include the same ingredients as the above, but will also feature the likes of salicylic acid, AHA's, glycolic acid and lactic acid to exfoliate and buff away dead skin.
Can I wear foot mask socks to bed?
Again, this depends on the type of mask you are using! Always follow the instructions on the packaging, especially when it's regarding foot peel masks. As a general rule of thumb, you can't go too wrong wearing a moisturising, organic and natural foot mask to bed – any mask that focuses on moisturising should be fine to wear for a lengthy period of time.
Foot peel masks however should not be worn for too long, as the acids may start to have more of a negative effect on your skin. As always, check the packaging and follow what the brand advises.
FOOT BATHS
Elevate your foot care to a spa-level experience by relaxing with a nice foot soak. On top of feeling heavenly, this treatment can soften your skin, reduce bacteria that causes fungus and odour, relieve stress and ease muscle tension. All you need is some container that will hold enough water to cover your feet and one of our favourite products below.
So, there you have it! Whether you want to pamper yourself with a nourishing foot mask or hydrate your toes with a smoothing foot cream, there's something to suit every type of pamper routine. To find more body care must-haves, take a look at our range of nail polishes and nail treatments, as well as The Best Hand Cream for Dry and Cracked Skin.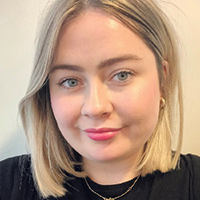 Rebecca is a content writer with over three years' experience and a keen interest in cosmetics. Cosmetify allows her to combine her blogging skills with her passion for beauty.