Best Supplements for Skin
The Best Supplements for Skin Care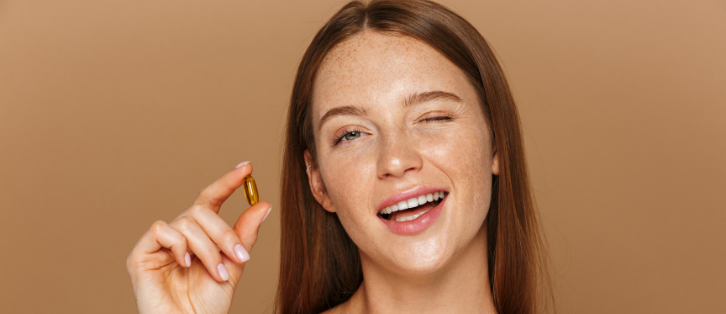 Picture the scene: you've just spent mass amounts of money on one of the many latest skin care ranges, you've kitted out your cabinet with every product possible and you're using each of them religiously in the AM and PM. But what's missing? Ah, right…an actual result.
Sound familiar? We've all been there, putting tremendous amounts of effort into our skin care routines, only for them to fall short of our expectations. This doesn't mean that those expensive products are necessarily failing you – they're probably working pretty damn hard on your skin. But, as with most issues, the problem resides within.
It's all well and good slathering on different creams and serums, but if you aren't leading a healthy lifestyle and getting all of the required minerals and vitamins then, sadly, the results are going to dwindle.
With this in mind, we've compiled a list of the best supplements for your skin to ensure that you get your glow on. We've even categorised them by skin type, so you know exactly which one to pick. If you need any more info (whew!), just check out our ultimate guide to skin supplements.
1. Best for mature skin
This daily supplement works from the inside out ands targets all layers of the skin - smoothing, firming and hydrating. Not to mention, it is rich in antioxidants, starflower oil and evening primrose oil, which help to protect your skin and produce noticeable results.
2. Best for dry skin
Containing an abundance of fatty acids, these omega-rich capsules help to maintain the structure and fluidity of skin cells. But what does this mean for you? Well, when skin is strong and structured it functions with optimum levels of hydration, meaning you can wave goodbye to dry skin. It also contains collagen-boosting vitamin A for a truly restored and rehydrated complexion.
3. Best for dull skin
These capsules take the 'outer beauty starts from within' mantra to a whole new level. Bursting with a herbal skin-loving combo, these supplements contain the likes of of marine collagen and pearl powder to promote skin that's youthful, healthy and beaming with radiance.
4. Best for sensitive skin
This handy superpowder helps deliver glowing results from inside out. It is also free from any nasties including no parabens, SLS, SLES and PEG. Goop pride themselves of green and clean formulations, which are suitable for a range of skin types.