10 Turmeric Skincare Products
10 Ways to Add Turmeric to Your Skincare Routine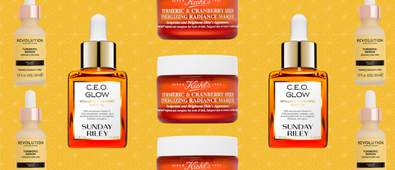 You're probably starting to get used to weird and wacky ingredients making their way into your skin care routine, so allow us to introduce you to the newest trend. Drum roll please… and enter, turmeric.
Yep, that ingredient that you often put in your coffee or curry for a subtle zing has now taken centre stage in the world of skin care. It's the buzzword on everyone's lips and, unlike previous food-inspired skin care, it's actually worth the hype.
We've done the research, tried and tested the products and had the experts confirm that turmeric is not just a fancy fad. Instead, it's a powerful natural ingredient that can work wonders for your complexion, if used correctly.

So, what is turmeric?
Turmeric is like ginger's sister – it's a spice that belongs to the same plant family. Typically, the root of turmeric is ground into a fine powder and then used to give food flavour, but it's also been used in Ayurvedic health practices for years. You can find out more about that with our complete guide to Ayurvedic beauty.

What are the skin care benefits of turmeric?
Turmeric can actually tackle a few of your skin concerns, but it's mostly hailed for its anti-inflammatory abilities. The ingredient is packed with a chemical compound known as curcumin, which helps to decrease UV damage, clear up acne and reduce the appearance of redness, irritation, puffiness and scarring. And, if that wasn't impressive enough, its antioxidants can boost your skin's natural glow.

Where can I find turmeric skin care products?
Hunting down a turmeric-infused beauty product shouldn't be too difficult as more and more brands begin to launch their own turmeric-inspired products – there's everything from cleansers and face scrubs to serums and moisturisers on the market. But, to help you get your fix ASAP, we've rounded up the best turmeric skin care products below.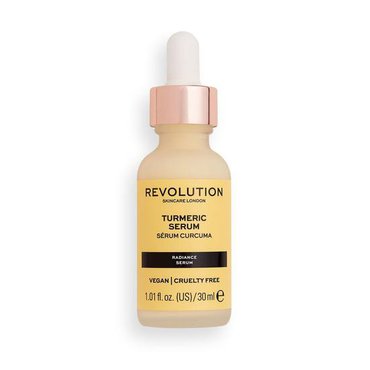 Revolution Skincare Turmeric Serum
Let's kickstart your newfound turmeric skin care obsession with this serum from Revolution. Bursting with the natural spice, it's the best when it comes to calming and soothing redness and irritation, plus it can be used to control oil production.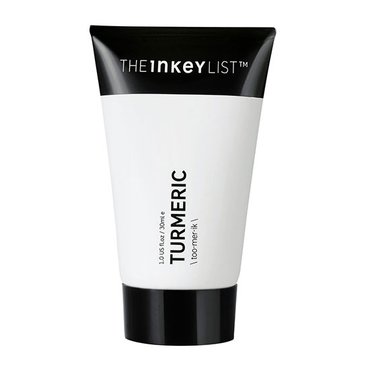 The INKEY List Turmeric Moisturiser
This cream moisturiser is supercharged with turmeric, meaning it packs more than just the ability to nourish dry skin. Yep, as well as reducing redness, boosting radiance and maintaining hydration, this formula defends and protects skin against harsh weather conditions and pollution.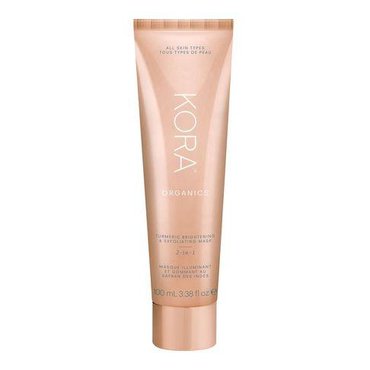 Kora Organics Turmeric Brightening & Exfoliating Mask
Another way to incorporate turmeric into your skin care routine is via face mask – who doesn't love a face mask? This particular formula utilises organic turmeric extract to brighten, exfoliate and protect, so you can keep skin looking and feeling youthful.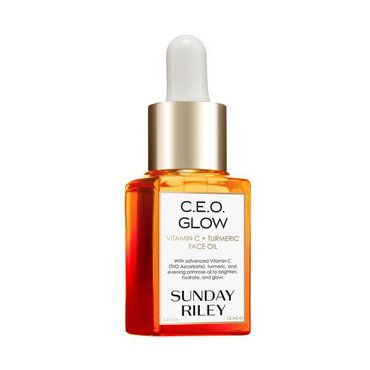 Sunday Riley C.E.O. Glow Vitamin C + Turmeric Face Oil
Sunday Riley has the perfect end-of-week formula that recharges skin and leaves it looking as good as new. Golden turmeric is the star ingredient but when blended with vitamin C and primrose oil, its benefits are magnified. Expect your skin to be brighter than ever before, nourished and deeply hydrated.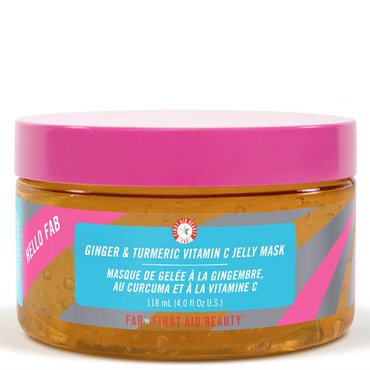 First Aid Beauty Hello Fab Ginger & Turmeric Vitamin C Jelly Mask
We're back with another face mask, simply because your face deserves good things. Not only are we obsessed with the jelly texture of this formula – it's super refreshing – but the turmeric, vit C and ginger combo does great things to your skin, like brighten, de-stress and invigorate.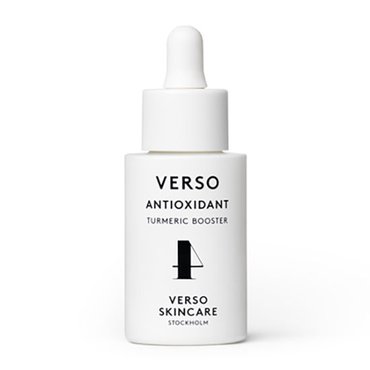 Verso Skincare Antioxidant Booster
So, this one may be on the pricier end of the scale, but we promise it's worth it. Doing exactly what it says on the bottle, this serum protects your skin by lacing it with a bunch of antioxidants. Turmeric takes charge in defending against UV radiation and free radicals, whilst oat lipids and oils tackle redness and uneven skin tone. The result? A complexion that's soft, smooth and visibly healthier.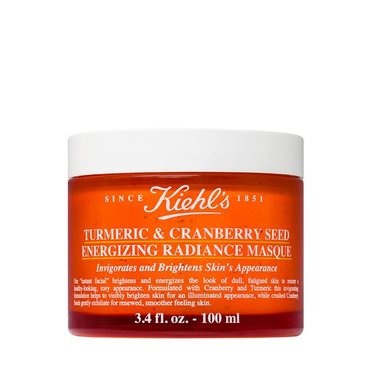 Kiehl's Turmeric & Cranberry Seed Energising Radiance Masque
Even skin care giants like Kiehl's have hopped on the turmeric trend, so the little yellow spice must be good. This treatment has been dubbed as the 'instant facial' as it brightens and energises dull and fatigued complexions with an epic cranberry and turmeric blend.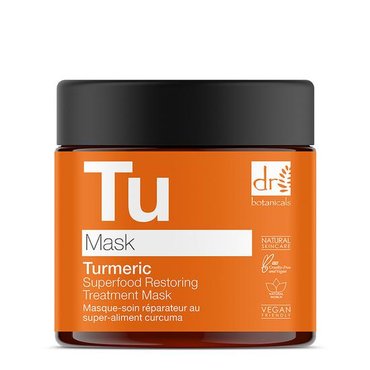 Dr Botanicals Apothecary Turmeric Superfood Restoring Treatment Mask
One too many late nights? Don't worry about it as Turmeric Superfood Restoring Treatment Mask keeps you looking fresh-faced. This rich cream mask is powered by turmeric, which works to revive, balance and brighten the skin. You can wave bye-bye to dark circles and uneven skin tone and say hello to a radiant complexion.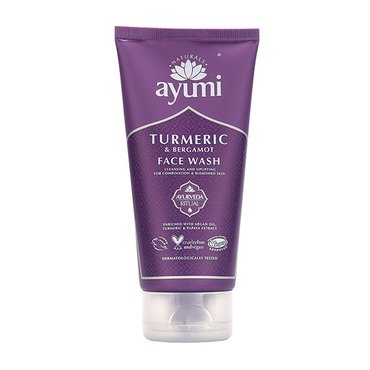 Ayumi Turmeric Face Wash
Reap the anti-inflammatory benefits of turmeric with this quick and easy face wash from Ayumi. Specially formulated to cleanse dull and dehydrated complexions, this formula is your fast track to balanced and blemish-free skin. All for a budget-friendly price, too!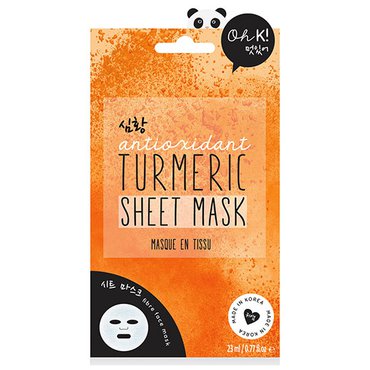 Oh k! Turmeric Sheet Mask
Korean beauty brand Oh K! pack all the anti-inflammatory and antioxidant benefits of the turmeric spice into one sheet mask, making it all the easier to achieve a flawless complexion. Simply slap it on, kick back and look forward to revealing a glowing, healthy complexion.

Now that you're up to scratch with all the best turmeric skin care products, incorporating them into your routine in a way that works for your complexion will be a breeze. We're so excited for you to see the magic that this little yellow plant can work. If you're looking for more fun ways to spruce up your skin care regime, check out the 20 Fruit-Based Beauty Products You Need to Try.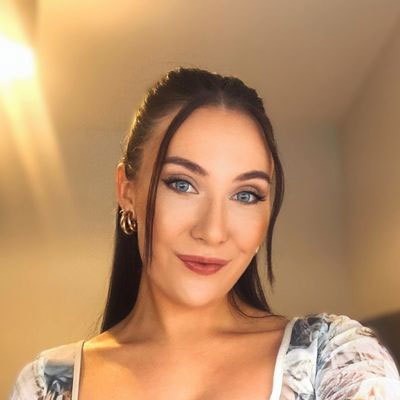 Carly is a beauty editor at Cosmetify and has been a part of our family for three years. She has over five years of experience in health, beauty and wellness writing.