Sunday Riley
Browse the Sunday Riley array of face oils & serums, anti-ageing skin care and skin cleansers. Make sure you add a sale alert so that you never miss brand sales and deals.
Best Selling Sunday Riley Products
Sunday Riley Face Oils
Discover Sunday Riley facial oils which nurture, hydrate and soothe the skin. Free from nasties, such as parabens, phthalates and synthetic fragrances, these face oils are a treat to the skin utilising active ingredients. And with a commitment to clean, science-backed formulations, you can rely on these oils to deliver on their big promises.
Whether you're trying to replenish your tired complexions or soothe your sensitive skin, a face oil is a great place to start. Choose from a wide array of options, including the iconic U.F.O. Ultra-Clarifying Face Oil and the nourishing Luna Sleeping Night Oil.
Recoup and recharge with the Sunday Riley C.E.O. Glow Vitamin C + Turmeric Face Oil. This must-have oil helps banish dullness, leaving you with a radiant, bright and downright glowy complexion.
The main event in this oil is the nourishing dose of vitamin C, golden turmeric and evening primrose oil. This combination of ingredients contains antioxidants and nutrients, which hydrates and nurtures your skin. Better still, this oil protects your complexion from environmental stressors and free radicals. Your skin is left feeling refreshed, renewed and revitalised – what's not to love?
£34.00
Get your mitts on the must-have Juno Antioxidant + Superfood Face Oil from Sunday Riley. This multi-use oil helps revitalise your complexion but can also help restore and nourish your nails and hair too. Win-win!
As the name suggests it contains a mega blend of superfood seed oils, including blueberry, blackberry, raspberry, cranberry, grape and broccoli. This tasty treat isn't suitable to eat, but it certainly helps restore your skin to tip top condition. Rich in antioxidants, vitamins and essential amnio acids your skin feels hydrated and glowy all day long.
£27.00
The Sunday Riley U.F.O. Ultra-Clarifying Face Oil goes above and beyond to help banish the blemish. Use daily to help tackle pesky pimples, blackheads and congested pores. The innovative formula helps balance and soothe your skin, so you're left with a healthier-looking, clear complexion.
It's the perfect solution for acne-prone beauty lovers, thanks to its special blend of salicylic acid, tea tree oil and black cumin seed oil. Better yet, it contains chamomile, milk thistle and cucumber seed oil, which soothes stressed out complexions and prevents over drying.
£34.00
Let the Luna Sleeping Night Oil get to work as you rest your head, so your skin feels revitalised and renewed come morning. It's a must-have product in any bathroom cabinet as it tackles a plethora of skin concerns, such as fine lines, enlarged pores and dryness.
The best-selling formula includes a trans-retinoic ester complex, which improves the signs of ageing by plumping up the skin and smoothing any texture. It also contains avocado seed oil, chamomile and blue tansy. This helps soothe sensitivities and provides radiant results after a much-needed rest.
£27.00

£45.00
Sunday Riley Treatments & Serums
Skin treatments and serums are perfect for rescuing your skin from pesky problems, such as dullness, dryness, redness or uneven skin tone. No matter your concern, there's a serum and treatment to fit your routine, thanks to the 'green technology' at Sunday Riley. This includes an array of botanical ingredients to help you achieve proactive, positive results.
Each one of their nourishing solutions are an indulgent treat, which put in hard work to restore your complexion to a healthier, radiant and glowing version of itself. Discover best-selling solutions, such as the cult-favourite and award-winning Good Genes Glycolic Acid Treatment.
The Good Genes Glycolic Acid Treatment needs no introduction, with beauty editors, influencers and A-listers going gaga for this formula.
The Sunday Riley go-to treatment exfoliates and restores your skin for radiant, clear and balanced results. It contains glycolic and lactic acid, which helps remove dead skin cells and unclog congested pores. This ensures a smoother and refined skin texture, repairing sun damage and signs of ageing.
The treatment also combines prickly pear to soothe sensitive skin types and lemongrass extract to purify your complexion.
£85.00
Give your skin a much-needed boost with the Sunday Riley C.E.O. 15% Vitamin C Brightening Serum. This small, yet mighty formula helps brighten the skin, tackling discolouration and dullness in an instant.
Use the serum in the morning as the perfect pick-me-up to help plump up the skin and improve elasticity. It's a great serum for mature beauty lovers who want to improve the signs of ageing, such as fine lines, dark spots and deep-set wrinkles. This is all thanks to the winning combo of vitamin C, THD ascorbate and phytosterols which smooth the complexion and enhance your natural glow.
£70.00
The A+ High-Dose Retinoid Serum gets a gold star, thanks to its repairing, renewing and restorative properties. It uses a strong dose of non-prescription vitamin A which helps to minimise fine lines and wrinkles, while also decongesting blocked pores.
Within this clever and potent formula is a 6.5% stabilised blend of retinoid and botanical extracts. This includes blue green algae, which is a retinoid-alternative that helps protect damaged skin. It also contains coenzyme Q10, known for its ability to support collagen production. If that wasn't enough, this must-have serum also blends together ginger, bisabolol and Hawaiian white honey to calm and soothe your complexion.
£70.00
Sunday Riley Moisturisers
We all know finding the perfect moisturiser can be a tricky task, but with Sunday Riley you can rest assured each formula delivers swift, long-lasting and effective results. From eye creams to soothing day moisturisers, there's something to suit a range of skin types.
Each product contains their science-backed, botanical ingredient list, which helps smooth and soothe the skin. Better still, they are free from nasties and have non-irritating formulations. Not to mention, Sunday Riley also proudly a cruelty-free brand with a range of vegan-friendly products to choose from.
Browse the collection today and find your new favourite hydrating moisturiser.
Wave goodbye to tired-looking skin and say hello to a radiant, youthful complexion with the Sunday Riley Tidal Brightening Enzyme Water Cream.
This gel-cream formula soothes the skin tackling common concerns, such as dryness, discolouration and dullness. To do so, it contains a blend of hydrating hyaluronic acid, refining papaya enzymes and brightening alpha-arbutin. Better still, this formula is vegan-friendly and free from nasties like parabens, gluten, phthalates and fragrance.
Use as a daily moisturiser or take a small amount and pat over your foundation for a luminous look.
£17.00

£20.00
The Autocorrect Brightening & Depuffing Eye Contour Cream from Sunday Riley is a great option to have in your collection. Use in the AM and PM to diminish fine lines, wrinkles, dark circles and puffiness.
This must-have eye cream is a potent solution formulated with watermelon extract, cocoa butter and shea butter. These hydrating and soothing components moisturise the delicate skin around the orbital area. To brighten the skin and give you a fresh-faced look, this moisturiser also contains caffeine, horse chestnut and Brazilian ginseng root extract.
£51.00

£60.00
Protect your complexion with the ICE Ceramide Moisturising Cream, which helps strengthen and balance your skin in an instant. This Sunday Riley cooling cream quenches your skin's thirst, replenishing moisture and giving you that glowy lit-from-within look.
The rich cream contains a range of ingredients, with the star component being ceramides to protect your natural moisture barrier. It also contains a blend of vitamin F, coconut, beetroot extract, red algae extract and pomegranate sterols. These work together to nurture and protect your skin from external stressors.
£17.00

£20.00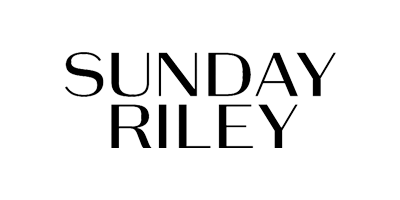 Launched in 2009, Sunday Riley has gone from strength to strength and gained a large global following in the process. Backed by scientific-based formulas and botanical ingredients, this is one skincare brand that favours 'green technology'.
Sunday Riley have a strong commitment to clean products and are always trying to make their range of skincare essentials even greener. Their cruelty-free formulations are fragrance free and non-irritating. Not to mention, their philosophy of 'the power of positive change' means they want to help you improve the way you feel about your skin.
Their multi-tasking products enhance your skin's appearance and deliver fast, effective and nourishing results. From facial oils and creams to treatments and cleansers, there's something for every skincare obsessive. Fan favourites include the now-iconic Good Genes Glycolic Acid Treatment, the refreshing C.E.O Glow Vitamin C + Turmeric Face Oil and the nourishing Tidal Brightening Enzyme Water Cream.
Browse the range and find your new favourite Sunday Riley product on Cosmetify today.
Why We Like Sunday Riley
"Sunday Riley is a luxury, green skincare brand we're all loving here at Cosmetify. Think radiance boosting, anti-aging, ultra-hydrating formulas that make you look glowy all day long. Not only do we love their nourishing treatments made with botanical ingredients, but we can't get enough of their sleek, simple packaging. Fan favourites included the Ceramic Slip Cleanser and the out of this world U.F.O Ultra-Clarifying Face Oil.  "
Rebecca Jenkinson, Beauty Writer
Where can Sunday Riley products be bought in the UK?
A range of Sunday Riley products are available to buy online from UK retailers, such as Cult Beauty, John Lewis and Asos. You can also get these products from Harvey Nichols, Space NK and more.
Here at Cosmetify, we do the hard work and help you save money on all your favourite products. We compare prices from a range of retailers across the web, meaning you can easily find the cheapest place to buy face oils & serums, anti-ageing skin care or skin cleansers by Sunday Riley.
Better still, we even show you their delivery costs so there's no nasty surprises once you hit the checkout.
Frequently Asked Questions about Sunday Riley
Are Sunday Riley products, or their ingredients, tested on animals?
Sunday Riley are a cruelty-free brand. This means their manufacturing and testing processes are completely free from animal testing.
Do Sunday Riley artificially fragrance their products?
Sunday Riley products are produced without the use of synthetic fragrances.
Do they make phthalates-free products?
Sunday Riley formulas that do not contain phthalates can be seen when you apply the appropriate filter.
Do these products contain Sulphates?
Sunday Riley have ranges of products that include sulphates in their ingredients however you can filter these out with our 'sort by' options.
Do Sunday Riley say no to Parabens for their product range?
For those concerned about parabens, Sunday Riley have a number of products that are paraben-free.
What's the vegan-friendly status of Sunday Riley products?
More than half of the Sunday Riley products showcased on our site contain animal-derived ingredients or by-products. Therefore, Sunday Riley is not classified as an entirely vegan-friendly brand. Applicable products are clearly marked across the site.
Cruelty Free
Fragrance Free