The 10 Best Exfoliators For Men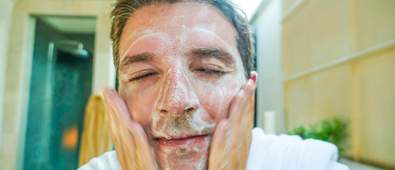 What do you see when you look at your collection of skincare products?
Not to put men into boxes at all, but with the beauty industry geared mostly towards women, a lot of guys end up with, at most, just a cleanser and moisturiser in their routine. Now, we're not suggesting that you have to load up your bathroom cabinets with all manner of face mists and serums if you're not that into skincare, but there's one addition we'd definitely recommend whether you're a skincare guru, novice or just want the bare essentials.
An exfoliator!
We know what you're thinking. You already wash your face with water every morning (after pulling that 'I don't want to go to work' face), but it's not the same. Even washing your face with soap will only cleanse the surface of your skin.
When you exfoliate, however, you eradicate the deep-rooted gunk that is trapped in your pores. These handy face scrubs and skin cleansers remove dead cells and grim from your face, helping with acne, uneven texture, dark spots from scars or sun exposure and more. And since men's skin can be up to 30% thicker than women's, in addition to producing more oil, exfoliation is key for putting your best face forward.
Should you use a chemical or physical exfoliant?
Physical exfoliation involves rubbing formulas with gritty ingredients like oats, microbeads, sugar or salt onto your skin to physically remove dead cells, whereas chemical exfoliants use one or more acids to do the same job chemically.
Physical exfoliation is like scratching an itch. It probably feels the best since you're giving your face a massage and you get the relief of being able to physically scrub at your dull and problematic skin. However, a lot of people overdo it and end up damaging their skin.
Chemical exfoliation, on the other hand, can be a lot gentler and safer. There's no rubbing or scrubbing involved, as you just apply the liquid formulas onto the skin and let them sit for the allotted time before rinsing off, so there's less chance of 'user error' resulting in red and irritated skin. Read more about how chemical exfoliants work and Cosmetify's top picks in our blog here.
But don't let this put you off physical exfoliants completely! They still have their place. A gentle scrub can actually be better than a chemical peel for sloughing away top layers of dry and flaky skin, and work great on your body where the skin is tougher. Then bring in the chemical exfoliants when you want to clear clogged pores and refine your skin's texture.
What should you look for in an exfoliant?
Since the aim is to unveil a healthy glow, you need to put on your Sherlock Holmes hat and examine the ingredients used in the exfoliators. And like all other skincare products, you need to consider your skin type and needs.
In your physical scrubs, look out for ingredients like oats, sugar, coffee grounds, but avoid larger and harsher ingredients like nut shells and fruit pits that can tear your skin. For chemical exfoliators, gentler acids like glycolic and lactic are great for sensitive skin types, while the BHA salicylic acid can be quite strong but is super effective at treating breakouts.
If all that jargon has got your handsome head spinning, don't worry. Here are our top ten exfoliators to help you pick the one that's best for your skin!

This product and luminous skin go together like peanut butter and jelly. Boasting mechanical and chemical exfoliation, this treatment smooths the skin's texture whilst removing dead skin cells from the outer layer. Bursting with a number of active ingredients, the product hydrates and strengthens the skin, offering maximum comfort.
2. Skin Republic For Men Facial Scrub & Charcoal
Charcoal removes dead skin cells and draws out dirt and bacteria in this cruelty-free facial scrub from Skin Republic. This is also a great prep step for a hydrating sheet mask if you're looking to really treat your skin!
3. Klairs Gentle Black Sugar Facial Polish
Safe for sensitive skin since it won't dry out your skin or harm it with harsh exfoliating beads, this gentle sugar scrub is ideal for softening up your skin. It buffs away dead skin and blackheads, while vitamin E, cranberry oil and shea butter help nourish your fresh new face.
4. Jack Black Face Buff Energising Scrub
Exfoliants not only make way for your following skincare products to work more effectively, but also help you get a closer shave! This facial scrub and pre-shave cleanser unclogs pores with bamboo powder and helps prevents ingrown hairs. There's also invigorating peppermint and skin-soothing liquorice and allantoin.

5. Avant Infinite Vivifying & Replenishing Sustainable Arabica Coffee Scrub
Splash out on this sustainable coffee scrub from Avant, which is high in antioxidants and fatty acids from Arabica coffee and caprylic capric triglycerides. It'll banish dry areas and impurities, restructuring your skin's surface and balancing its moisture levels for soft, smooth skin. The perfect partner to your morning cup of joe!
1. The Ordinary Lactic Acid 10% + HA
Remember when we mentioned lactic acid at the beginning of this article? It's already a super gentle yet powerful acid (which you can read more about in our ingredient guide here), but this leave-on exfoliating serum is made even more soothing with Tasmanian pepperberry, which reduces inflammation, and hyaluronic acid for hydration.
With this serum, you can be sure hyper pigmentation, scars, spots and texture will soon be a thing of the past.
2. Proto-col Microdermabrasion
Diamonds are a girl's best friend, but the blend of diamonds, pearls and natural AHAs in this 3-in-1 chemical, physical and fruit enzyme exfoliant are your skin's best friend. Coral seaweed, plant-based collagen and silk protein work together to resurface your skin while aloe vera and jojoba oil make this formula anti-inflammatory, promising all over clearer and more vibrant skin.
3. Q+A Apple AHA Exfoliating Gel
Although this gel from Q+A comes loaded with three alpha hydroxy acids (malic, lactic and glycolic), which may sound super intimidating, it's actually incredibly gentle and nourishing. With the added benefits of apple fruit extract, this exfoliant minimises impurities and fine lines, hydrate your skin and protect it from environmental stressors.
4. Paula's Choice Skin Perfecting 2% BHA Lotion Exfoliant
If you don't want to deal with rinsing off your exfoliant, choose a moisturiser with exfoliating acids in it to do double-duty! It may be a stereotype for men, but everyone loves a 2-in-1 product, don't they?
Paula's Choice is an amazing brand for exfoliating products of all types (and more!), but we especially love this 2% BHA lotion, which both softens your skin and reduces blemishes and blackheads. Soothing allantoin, antioxidant oat extract and exfoliating salicylic acid are the heroes of this moisturiser.
5. The Ordinary AHA 30% + BHA 2% Peeling Solution
For the man with little time for skincare, this 10-minute peeling solution (like, seriously, don't leave it on for more than 10 minutes) from The Ordinary is a quick and powerful exfoliant you need in your routine. The combination of AHAs and BHAs effectively removes the skin's top layer and deep pore congestion to give you a brighter complexion with a more even texture. Over time, any fine lines will also be reduced!
Now you know how important it is to exfoliate, strengthen your skincare game with one of these reliable products, and if you want to discover more ways to improve your skin, just check out The Best Acne Scar Treatments for Blemish-Free Skin and the Best Sheet Masks For Men. Happy reading!
Related Categories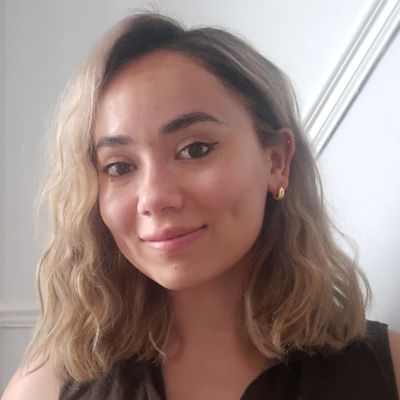 Gabriella is a junior content writer with a background in creative writing, content marketing and journalism. She's passionate about all things makeup and skincare, but especially vegan and cruelty-free beauty that is effective and inexpensive.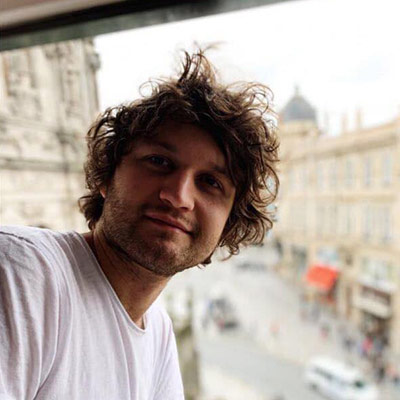 After six years of experience in content writing, Luke followed his passion for male grooming, particularly fragrances, hair styling and natural skin care.