The Ordinary Skincare : A Beginner's Guide
The Ordinary Skincare : A Beginner's Guide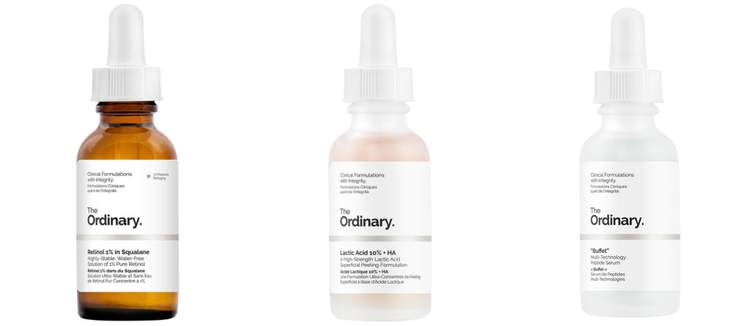 Join the gym, eat less junk, save more and spend less – we all know how New Year's resolutions go. But, for the beauty-obsessed, there's one goal that tops the list – achieving our best skin yet.
If you're on the hunt for the most sought-after skin care products this year, then look no further: The Ordinary is a skin care brand that has caused mass disruption in the beauty industry with its super effective, wallet-friendly formulas.
Being everything but ordinary, it's the skin care wardrobe that boasts an extensive clinical range, strips back on unnecessary packaging and is upfront with its ingredients. But, while they may be straight-talking, their scientific product names and potency percentages are pretty hard to get your head around, especially if you're new to the brand.
So, to make things easier, we've done our research and created the ultimate beginner's guide. Here, you'll be able to find a complete breakdown of the best The Ordinary products, so that you can kick start your skin SOS with a killer collection.
Vitamin C
Best for: dull skin
What is it? Vitamin C is the best and biggest antioxidant of them all.
The benefits: Brightening skin and protecting it from environmental aggressors.
The Products
Boasting a silky texture and silicone base, this formula gives you direct exposure to the purest and most potent vitamin C with a 30% concentration. Use it as the final product in your evening routine after water-based formulas and indulge in a smooth finish.
This is the powerhouse that visibly targets uneven skin tone, dullness, texture and signs of ageing all at once. The formula boasts a high exposure of the finest vitamin C powder, which makes it a little gritty when applying but don't fret, it only lasts a few seconds. The HA stands for hyaluronic acid – a compound that seriously hydrates the skin. Recommended to use as the final step in your routine.
The Retinoids
Best for: all skin
What is it? In simple terms, retinol is the derivative of vitamin A.
The benefits: Its benefits include speeding up cell turnover, boosting collagen and reducing the appearance of fine lines, pores and pigmentation.
The Products
Retinol in Squalane is a light, serum-like formula that is perfect to use at night after cleansing and before oils and creams. As retinol can often irritate sensitive skin, first time users should work up through the percentages.
The Super Acids
Best for: dull skin and uneven skin tones
What is it? When it comes to acids, there are two types you can choose from. Alpha-hydroxy acids (AHAs), which often come in the form of glycolic or lactic acid, and beta-hydroxy acids (BHAs), also known as salicylic acid.
The benefits: Acids are perfect for exfoliating away dead skin, brightening dull complexions and improving texture and tone. Bring on glowing skin!
The Products
This nighttime toner works around the clock to brighten and smooth your skin so you can wake up fresh-faced.
A high-strength super-facial right from the comfort of your own home, this formula combines lactic acid and hyaluronic acid to leave you with an even, polished texture that's beaming with radiance.
If spots are stressing you out then this could be the solution. Salicylic acid 2% is a daily treatment that works to reduce redness and inflammation by clearing and clarifying the complexion.
The Antioxidants
Best for: all skin
What is it? Antioxidants are the free radical fighters that help to prevent premature ageing of the skin.
The benefits: Your complexion is protected from aggressors such as pollution and harmful UV rays.
The Products
This skin care superhero scavenges in the skin to eliminate all the gunk and free radicals by converting them into good stuff – AKA, water and oxygen. Use it in both the mornings and evenings after water-based serums.
Side note: do not use this formula at the same time as an acid, as it will break down the EUK molecules.
The Hydrators and Oils
Best for: dry and dehydrated skin
What is it? A collection that gives your complexion a huge dose of TLC.
The benefits: Totally hydrated and nourished skin.
The Products
This all-rounder oil is the perfect choice if you're just starting out on your skin care mission. Linoleic, oleic, stearic and palmitic acids accompany vitamins, minerals and antioxidants to create a killer combo that strengthens, hydrates and moisturises skin. You can even use it on your hair.
Hyaluronic acid is the skin saviour that every beginner needs in their routine. This lightweight serum boasts a hyaluronic acid and vitamin B5 duo to leave skin soft, smooth and free of fine lines. Use in the AM and PM before oils and creams.
The Molecules
Best for: all skin
What is it? A pick and mix of products that help to target specific skin concerns.
The benefits: You can give your skin the care it needs by treating everything from fine lines and wrinkles to pigmentation and puffiness.
The Products
Not sure where to start and what to choose? Turn your attention to the buffet – a multi-purpose serum that is great for The Ordinary newbies. Dubbed as botox in a bottle, it works to boost collagen and elastin, ease skin conditions like rosacea and acne and hydrate skin.

So, there we have it – a breakdown to prevent future beauty breakdowns (and breakouts). We've covered all the basics that any beginner needs to know when it comes to The Ordinary so that this time next year, you'll be able to cross two things off that NYR list – good skin and a healthy bank balance. You can thank us later.
READ MORE: Everything You Need to Know About Hyaluronic Acid
Related Articles
Subscribe and follow
Get the latest beauty news and offers.