Algae Benefits and Uses in Skin Care
The group of aquatic plants referred to as algae is growing in popularity due to its plethora of benefits for the skin— from hydrating dry skin to regulating excess sebum production and brightening dark spots. It is also often included in supplements to combat protein and vitamin deficiencies and oxidative stress.
See our algae guide to answer your questions like what is algae and what are the benefits of algae in skincare.
358 products found

Frequently Asked Questions about Algae products
What is algae?
The term algae covers a group of aquatic plants with over 800, 000 species that fall into two main categories, macro algae (which the human eye can see) and micro algae (which can only be seen with a microscope).
The most commonly known algae, which are used in skincare and dietary supplements, are brown kelp, spirulina, green seaweed and red seaweed.
What are the benefits of algae in skincare?
There are a handful of different types of algae, all of which have a variety of amazing benefits for your skin, including hydrating, toning and reducing cellulite.
Hydrating:
Algae is a great contender for the popular humectant hyaluronic acid, retaining moisture in your skin to combat dryness. Plus, the high level of omega-3 fatty acids in algae contributes to treating dry skin as well as eczema, psoriasis and acne.
Sebum regulating and pore clearing:
Algae also ensures that your skin is hydrated without becoming too oily, thanks to its sebum regulating properties. The antioxidants, vitamin B, magnesium, zinc and other detoxifying minerals in algae help unclog your pores, which will help overly dry or oily skin balance itself.
Anti-ageing:
Algae is high in antioxidants, protecting the skin from ageing free radicals and therefore having an anti-ageing effect. It also boosts collagen and elastic production, fighting wrinkles and improving skin elasticity for a more youthful look.
Brightening and anti-hyperpigmentation:
Say bye-bye to hyperpigmentation, dark spots or any unevenness in your complexion thanks to the high levels of vitamin C in algae.
What are the health benefits of algae?
The microalgae spirulina (blue-green algae) is considered a superfood and is taken for high blood pressure, protein, cholesterol and many other conditions. It contains protein, gamma-linolenic acid, linoleic acid, iron, vitamin B12 and other nutrients.
The microalgae chlorella is another common algae in supplements, containing protein, omega 3 polyunsaturated fatty acids, polysaccharides, vitamins and minerals. It may help protect against oxidative stress, chronic obstructive pulmonary disease and other conditions.
Who should use algae in their skincare routine/diet?
Anyone with dry, oily, uneven or ageing skin or hyperpigmentation will get the best results from algae skincare products. It works on pretty much any skin type, though it's always best to test new products on a small area of skin first.
As a supplement, algae may be great for vegans/vegetarians that want extra protein and vitamin b12 in their diet or anyone looking to better their heart, brain and eye health. But it's always best to speak to your doctor before adding any new supplements to your diet!
Is algae safe for sensitive skin?
Yes! While you should definitely test a new product on a small patch of skin to be sure for you personally, algae has soothing and anti-inflammatory effects that are great for sensitive skin.
How do you use algae for skin/health?
Follow the directions for your serum, cream, face mask or product you may have that contains algae.
As part of your diet, take your supplement orally (you can also consume seafood to potentially get some of the benefits of algae).
Are there any side effects of using algae in my skincare routine/diet?
If unregulated, some supplements could be contaminated with heavy metals, which shouldn't be ingested.
Some side effects of taking algae in supplements have been reported, such as diarrhoea, nausea, abdominal pain and skin rash. Certain pre-existing medical conditions like renal failure and hypothyroidism likely contributed to causing these side effects to arise.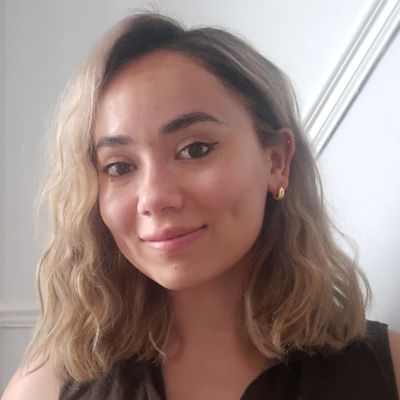 Written by Gabriella Buckner, Beauty Editor