Bumble and bumble Hair Guide
The Bumble and bumble Hair Care Guide for Beginners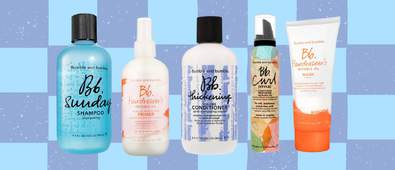 It's time to take a closer look at all the hair-enhancing products from Bumble and bumble. From shampoos to conditioners and hair primers to curl creams, they have everything you need to update your shower routine and your hair styling process.
Not sure where to start? Luckily for you, we've created a beginner's guide to their best collections and their top products.
Bb. Thickening Collection
Fed up with locks looking limp and lifeless? Plump up your strands with Bumble and bumble's Thickening collection. Featuring all the essentials, from shampoo and conditioner to mousse and hairspray, this range provides all that you need to achieve everyday body or your most bodacious blow-dry. Each formula utilises powerhouse volumisers, including a special Emblica Technology, for ultimate lift and thickening.
Bb. Surf Collection
Cast your eye over this seaside-inspired haircare range and pick a product (or two) that'll give you perfect beachy waves. Bb. Surf is your one-stop-shop for surf-girl style. From tousled hair looks to sun-styled polish, the collection allows you to achieve beachy styles, all year round.
B.b Hairdresser's Invisible Oil Collection
Discover the best-selling and cult-favourite Hairdresser's Invisible Oil Collection. Suitable for all types, this range of hair care goodies are a must in every collection, whether you're a professional or beauty newbie. Find must-have products like the mask, finishing spray, shampoo and conditioner.
Each one delivers long-lasting moisture, which deeply nourishes your precious strands. It's powered by a six-oil blend, which includes coconut, argan, sweet almond oil, grapeseed, macadamia nut and safflower. The combination of oils work seamlessly together to give you a mega-boost of hydration – perfect for parched heads of hair.
Bb. Curl Collection
Delve into the Bb. Curl Collection from Bumble and bumble. With enhanced new products, each one helps deliver maximum hydration and nourishment to your curls. The products are infused with key nutrient-rich ingredients, such as omega fatty acids and hydrating coconut oil and jojoba oil. These help you embrace your natural curls and waves, while enhancing your overall look.
Discover products like the iconic Curl Defining Crème, as well as other much-loved shampoos, conditioners, mousses and masks. Each item in the collection smooths your locks, reduces frizz and boosts overall shine.
No matter your other hair needs, these goodies are bound to give you your best hair day yet.
For more tip top hair advice, browse the The KérastaseRange Guide for Beginners and How to Use OlaplexHair Products: The Beginner's Guide.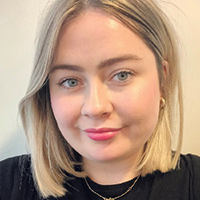 Rebecca is a content writer with over three years' experience and a keen interest in cosmetics. Cosmetify allows her to combine her blogging skills with her passion for beauty.