The Best Hair Curlers and How to Use Them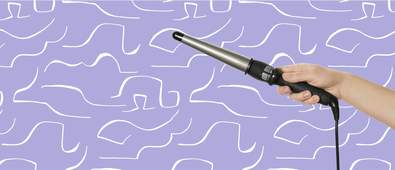 From loose curls to boho-chic waves, corkscrews and ringlets; hair curlers are the ultimate styling tool that help you switch up your look as and when you like. Fishing out the best wands and tongs can be difficult though, especially when there are so many on the market to choose from.
Here at Cosmetify, we know that you want your locks to look salon-perfect rather than poodle so we've done all of the hard grafting for you (it's our pleasure). Not only have we pulled together a complete line-up of the best hair curlers, from classics to pioneers, but we've also answered all of your pressing curl-related FAQs. It's time to turn up the heat, as we show you exactly how to achieve salon-worthy styles from the comfort of your own home.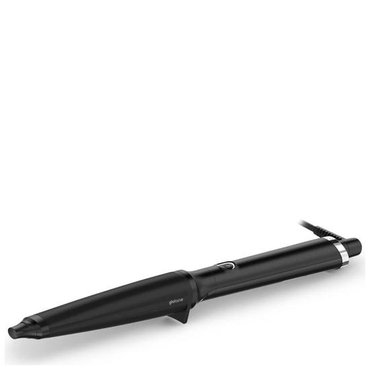 £139.00
It's only right that we kickstart our line-up with the OGs. The Creative Curl Wand from ghd is an all-star, giving you beachy, natural-looking curls in a matter of minutes. The wand is expertly crafted for deep waves and curls that keep on tumbling. Warming up to an optimal temperature of 185°C, plus wrapped in advanced ceramic coating, this curler always delivers on the good hair day promise.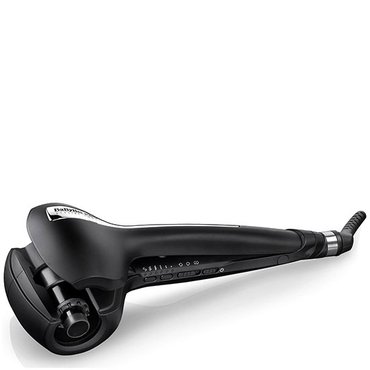 £120.00
Taking a turn away from traditional curling tongs, the Babyliss PRO Perfect Curl MKII is the new must-have styling tool. Its epic features are loved by beauty fans across the globe, and for good reason! Not only does the curler boast three innovative curling modes, but it automatically adjusts the hair to the barrel to prevent tension, breakage and heat damage. The result? Salon-fresh waves that last.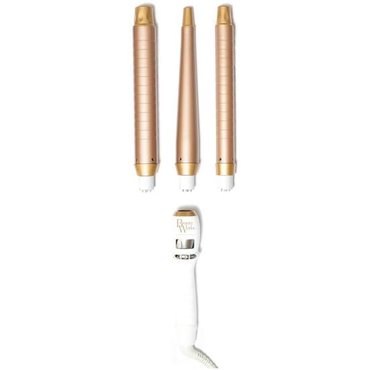 £79.15

£79.20

(1% off)
Introducing, the Professional Styler Trio Edition, AKA, the most Insta-worthy styling tool we've ever laid eyes on. This chic copper curling wand is best for creating loose, natural waves and also offers a detachable and interchangeable barrel so that you can switch up your style depending on your mood. Completely travel-friendly, you can rock salon-worthy styles anywhere and everywhere.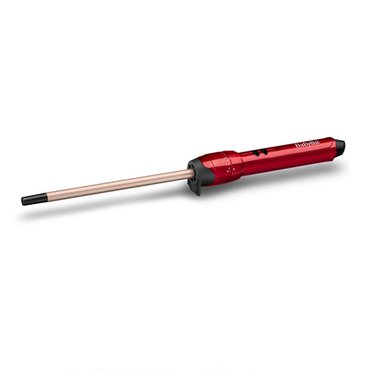 £23.00
If you love a tight, corkscrew curl then the BaByliss Tight Curls Wand is set to be your new hair hero. With the wand being long, slim and ultra-fine, you are able wrap your hair into small, neat ringlets that are full of bounce.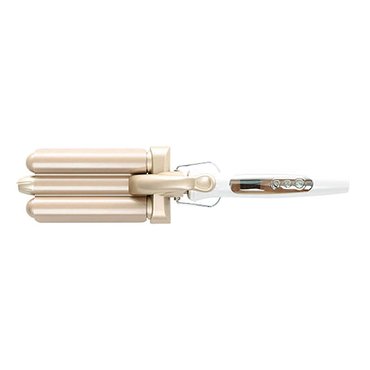 £69.99
Okay, so it's not quite a curling wand but it will give you the tousled beach-babe waves that you long for. The Beauty Works Waver is the ultimate heat styling tool, specially created to give your hair a boho-chic makeover. The innovative design of the barrel helps to create small, defined waves that look good on any hair length and texture.
As well as being a Love Island favourite, Molly-Mae is best known for her stunning hair looks. Since coming out of the villa, she has teamed up with the one and only Beauty Works to create her very own curl kit. Featuring a pro-grade curling tong, ten pin curl clips, an oval paddle hair brush, carry case and protective glove, this is a hair collection you do not want to miss!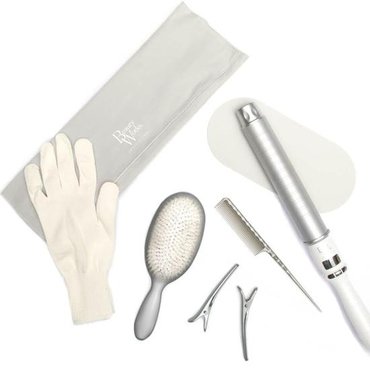 £94.99
So good, she did it twice! After the success of the first Curl Kit, Molly Mae has blessed us with another collection of professional hair tools. The Curl Kit Volume 2 is your fast-pass to soft, loose and salon-fresh waves as it packs a longer length curling wand. The kit also includes an extra-large paddle brush, a pin tail comb, ten clips, a heat mat and carry case. What more could you need? Achieving show-stopping styles has never been easier!

So, you've found your new, go-to hair curler (how could you not with that stellar line-up?). Now it's time to put it into practice. Not sure where to start? Don't worry, we answer your most frequently asked questions so that you can achieve salon-grade styles from the comfort of your own home.


How do you use a hair curling wand?
How you curl your hair will depend on your hair length and texture. Generally speaking, the most successful way to curl your hair is to tackle it in sections.
Start by freshly washing and drying hair, brushing it through to make sure it is free from tangles. Choose your heat settings: coarse hair will usually need a higher heat setting whilst fine hair should use a lower setting to avoid damage.
Once selected, section your hair off so you can evenly and precisely curl all of your hair. Thicker hair types may require more sections. Select a strand of hair (around an inch wide) and wrap it around the barrel of the curling wand. The want should be held vertically to the side of your head. Hold the hair around the barrel for around three to five seconds (depending on your hair thickness) before gently releasing.
Continue all over and mist lightly with hair spray.
Is it safe to use hair curlers?
As long as you are smart and savvy about how use the appliance, then yes. As with any electrical appliance, always check that you have properly allowed the device to cool down on a safe surface after use and ensure that it is completely switched off.
When using the curler, try to wear protective gloves to prevent yourself from burning your skin. You can in some instances cause heat damage to your hair if the appliance is used too regularly or held in place for too long. Always make sure that your hair is in a healthy enough condition before using any heated styling appliance.
Can you curl long hair with a wand?
Absolutely! Longer hair styles will just require a little more time and patience when styling, but curls can look really fabulous on longer, thicker hair types.
The process remains the same: you will still need to section off the hair while styling, but you may need to hold the curler in place for a little longer depending on if your hair is also thick. It is also worth looking at longer, thicker barrels as these curlers allow for more hair to be styled at one time.
Are straighteners better than hair curling wands?
In terms of versatility, yes. A lot of people are able to both curl and straighten their hair using traditional straighteners, making it a better '2-in-1' product. Curlers, however, only offer the ability to curl hair and add a bit of volume.
If you're looking for a tool that offers multiple styles, then a straightener is definitely the better option. However, if you're after for a more specific type of curl that can be tailored to different levels (e.g. corkscrew curls, beachy waves, large curls) then curlers with interchangeable barrels are the way to go.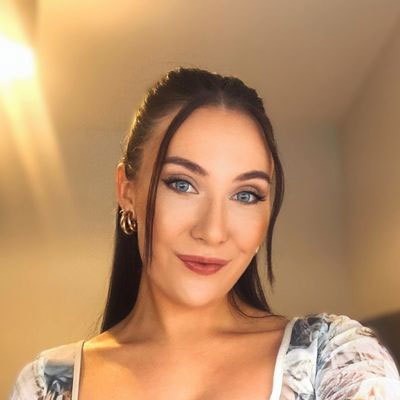 Carly is a beauty editor at Cosmetify and has been a part of our family for three years. She has over five years of experience in health, beauty and wellness writing.