5 Secrets to Keeping Your Hair Curly ALL Day
By Finlay Ferdinand
-
3 years ago | Updated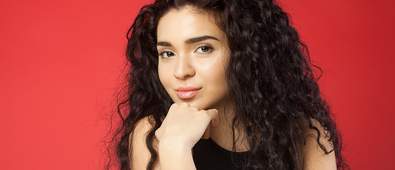 Yes, straight hair is sleek and oh-so chic but what about when you want to spice things up and get beautiful full-bodied curls?
It's not so easy going from straight to curly, especially you've never managed master the right techniques. Luckily, we've put together the best tips and tricks to give you curls that last all day.


1. Avoid curling on a wash day
Ideally, you should aim to curl your hair on the second or third day after shampooing and conditioning – that natural gritty texture is essential. But if you simply cannot go without washing your hair for a day or two, make sure to drop the conditioner out of your wash routine as it'll make your hair too soft and light to hold any curls.


2. Combine mousse and a blow-dryer
If you're starting on wet, freshly-washed hair – minus the conditioner – then you'll want to try and get some natural waves and volume by using a bit of hair mousse and a blow-dryer. An easy way to boost your hair's volume is to blow-dry with your head upside down whilst finger combing. You can also use a diffuser attachment: twist sections of hair and lay them on the up-turned diffuser to add intense, natural-looking volume.


3. Products will be your saving grace
For long-lasting, bouncy curls, give the famed Ouai Wave Spray a go. If you need something a little firmer, Fudge Matte Hed will do a great job of bringing out your natural waves. Mist a hairspray over your hair, being careful to hold the can at a distance – you want a flawless hold for your curls, not an uncomfortable, weighed-down, crunchy feel.
If you choose to use a heat styler, make sure to prepare by having a heat protector on standby. Don't be too heavy-handed if you're using a heat-protecting hair serum or anything with an oily consistency as this will add unwanted weight.


4. Get curling
Once all your products are worked into your hair you can finally start curling! Use heat stylers – curved-edge hair straighteners or curling wands like the BaByliss Curling Wand are perfect for the job.
It's recommended you have your wand or straightener between 150°C and 200°C depending on the thickness of your hair. High heat gives you the best curls.
The barrel size of your wand is also crucial: the smaller barrel, the tighter the curls. A large barrel will give more of a wave than a curl, so make sure you've got the right kit.
If you're looking for a heat-free alternative, you can always try the sock bun method, rollers, the amazing BaByliss Curl Pods and many more. Use these methods on damp hair – overnight if possible – and wake up to huge head of curls.
If you need more help, find out how to use a hair curling wand with out guide!


5. Pin your hair and leave it there!
After creating a curl, fix it back in a cluster and pin it down to your head. Repeat this for all your curls. Once all your pinned hair has completely cooled gently take it down. This method will truly allow you to retain curly hair, saving fresh, warm curls from dropping and falling flat.
To keep them popping all day long, mist hairspray onto your curls before heading out.


So there you have it: five fabulous tips to give you lustrous, long-lasting curls! And don't worry if they are tighter than you'd like – you can gently run your fingers through to loosen the curls or leave them to naturally loosen throughout the day.
Related Categories