How to Fix Damaged Hair: The Ultimate Repair Routine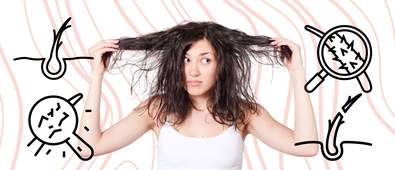 We've all been there - you've been getting too zealous with DIY hair bleaching, or can't quit your curling tongs or Ariana Grande-level ponytails - even when your strands start to look a little frazzled and parched. Sometimes hair damage feels pretty unavoidable too, when it's caused by, for example, living in a city with a lot of pollution.
But just because you've put your hair under some serious stress doesn't mean you have to shave it all off to get healthy, shiny tresses again. With a few changes to your styling habits and collection of products, you can bring hair back from the brink and prevent it from getting worse.
What causes damaged hair?
Knowing the source of your hair's problems is key to fixing them, so here are the main reasons for hair looking less than its best:
Thermal styling tools (blow dryers, straighteners, curling tongs, wavers)
Environmental stressors (dry cold wind, sun exposure, city pollution, indoor heating systems)
Chemical processing (bleaching, dyeing, permanent styling treatments)
Mechanical damage (friction from certain hairstyles and pillowcases, over brushing)
How do I repair damaged hair?
First of all, cut down on exposure to all of the above! There's no point getting into how to treat hair damage if you're still frying it every day, brushing it too often and too harshly, or using harsh box dyes. We certainly aren't saying never do any of these things ever again; even if you could avoid drying climates completely, life wouldn't be fun without getting to try new hair colours and styles.
But reducing your use of heat tools and chemical treatments, plus following the advice below, will go a long way to repairing any damage you've already caused your hair and preventing damage in the future. Hair experts also recommend eating healthy and staying hydrated to get all necessary nutrients for optimum scalp and hair health, so if you aren't already getting your fruit, veg and water intake for the day, here's yet another reason to do so!
Now, for the part you've all been waiting for, here are our seven steps to repairing damaged hair.
1. Wash with bond-strengthening products
When your hair is in tip-top shape, you might be able to get away with washing it every day and using whatever products you like, but for those of us that have put our hair through the wringer, we need to be a lot more careful.
Wash your hair less often to avoid drying it out, and use sulphate free products that won't strip your hair. Even better - use products designed to strengthen weak hair bonds. There are some industry leaders like Olaplex and K18 that solely focus on repairing damaged bonds, but plenty of other brands are starting to carry repairing products for those of you on a budget.
2. Try a wide tooth comb instead of a hairbrush
Tugging on hair with a brush when it's in a weakened state from water is as big no-no. If you don't want additional breakage, we definitely recommend switching to a wide tooth comb when you're detangling in the shower or when you get out. You may also want to brush before showering to reduce the need for combing once your hair is wet.
3. Use leave-in conditioner and conditioning masks
After washing your hair with a bond-repairing shampoo and conditioner, remember to use a leave-in conditioner for extra nourishment and hydration.
And just like you'd use a face mask when your skin is looking lacklustre, a conditioning hair mask will help combat damage from any heat styling or chemical processes you're still doing (plus the effects of environmental pollution, because you still have to go outside of course!). Use conditioning masks regularly - but not too often, as you can get product build-up and greasiness that might look even worse than the dryness and split ends of the damage you're trying to fix. No one wants that!
Shop our recommendations below, and check out the Best Masks for Your Hair Type.
4. Use a protein treatment
Keratin treatments smooth your hair, reduce frizz, prevent breakage and add shine - you don't have to have damaged hair to get one, but it makes total sense if you do have damaged hair since dullness, frizziness and breakage are key symptoms of damaged strands. If you've got the cash to splash, you can certainly go to a salon, but we love a DIY, and there are so many at-home treatments out there that make it easy to treat your hair with keratin by yourself.
Check out our favourites below, plus some other top picks in our Best Home Keratin Treatments roundup.
5. Use heat protectants
Like we said, cutting down on heat styling as much as possible is great for your hair, as heat dries out the strands and makes them more prone to breakage. Try air drying your hair and doing heatless curls, but if you absolutely have to heat style your hair or you're in a hurry, always remember to use a heat protectant(and use the lower temperature setting if you can still get good results!)
6. Nourish with a serum or oil
Always follow heat styling with a nice serum or oil to put moisture and nutrients back into your hair. It's a super quick step that will make a world of difference.
7. Sleep on a silk/satin pillowcase
Lastly (and a tip you've probably heard before but bears repeating!), sleep on a silk or satin pillowcase. This will reduce friction, therefore reducing breakage and the stripping of natural oils from your hair. You can also use a silk turban, but we definitely love pillowcases so your skin can get the same benefits as your hair. Bye-bye dry skin and wrinkles!
To build up your hair repairing routine, check out our top Sulphate Free Shampoo picks, as well as the Best Sun Protection for Hair to prevent damage in the sunny summer months!
Related Categories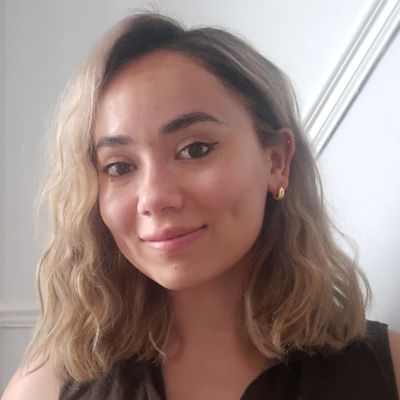 Gabriella is a junior content writer with a background in creative writing, content marketing and journalism. She's passionate about all things makeup and skincare, but especially vegan and cruelty-free beauty that is effective and inexpensive.