Almond Oil Benefits For Hair and Skin Care
Pressed from almonds, almond oil is a multi-purpose beauty product for skin and hair that's been used for centuries in ancient Chinese and Ayurvedic practices. The healthy fats, vitamins and minerals in almond oil mean a hydrated skin and scalp, frizz-free hair and even protection from sun damage.
See our almond oil guide to answer your questions like what is almond oil and what are the different uses of almond oil.
242 products found
Frequently Asked Questions about Almond Oil products
What is almond oil?
A mild and soothing oil with a barely-there scent, almond oil is a great product for nourishing your hair and skin.
The almond oil in skincare is actually sweet almond oil, as the other type, bitter almond oil, is a potent essential oil that isn't suitable for topical application or ingestion.
What are the different uses of almond oil?
Not only can you find almond oil in a variety of cleansers, creams, soaps and shampoos, almond oil can be used on its own as a moisturiser for the face, body and stretchmarks. You can also use it as a massage oil or on your hair for hydration. Use it as part of a double cleansing routine to get rid of all your makeup, or on redness to soothe irritation.
What are the benefits of almond oil for skin?
Almond oil is an emollient, helping with water retention in the skin and therefore super moisturising for dry or sensitive skin on the body, face and scalp (as well as for your hair). It absorbs quickly, nourishing your complexion and evening skin tone.
The high levels of vitamin E in almond oil give it antioxidant properties that may also protect your skin from sun damage, premature ageing and inflammation. Vitamin E also helps with fading scars and fighting off free radicals.
Another thing almond oil is great for is treating acne, as it is antibacterial, anti-fungal and full of vitamin A. You can even use it on your feet for conditions like athlete's foot.
What are the benefits of almond oil for hair?
Just like it protects your skin from sun damage, it'll do the same for your hair! Soften and strengthen your hair and nails with the vitamin B7 (also known as biotin) in almond oil. Get rid of frizz by hydrating your dry and damaged strands with a little almond oil on the ends of your hair.
The antibacterial and anti-fungal properties work great for your scalp too by balancing the yeast that causes dandruff, cleansing hair follicles and hydrating the scalp.
Who should use almond oil?
As long as you do not have an almond or tree nut allergy, almond oil is safe to use for all skin types. It's even safe to use as a massage oil for babies.
How do you use almond oil on your skin?
If you're using a skincare or haircare product that features almond oil, just follow the instructions on the packaging. Typically almond oil-infused products are suitable to use daily, morning and night.
You can also use a few drops of pure almond oil on a cotton pad as a makeup remover or on your palms as a moisturiser. On the face, it's recommended you only use almond oil about three times a week so you don't develop breakouts.
Massage almond oil into your stretch marks or while pregnant to avoid stretch marks, or apply all over the body where you have dry skin and need extra nourishment.
How do you use almond oil on your hair?
Enjoy the likes of shampoo, conditioner, hair masks, serums and treatments as you would normally. Almond oil-infused haircare products are easy to incorporate into a daily routine.
When using pure almond oil, massage it into your hair and scalp for up to 15 minutes before rinsing in order to lock in moisture and get rid of frizz.
What other ingredients can I use alongside almond oil?
When using pure almond oil or an almond oil-based mask on your hair, you can add some coconut oil for extra shine and softness. Almond oil is a great carrier oil for essential oils like lavender oil or rosemary oil if you'd like to add those to your DIY beauty products.
Are there any side effects of almond oil?
Almond oil is generally safe as long as you don't have a tree nut allergy.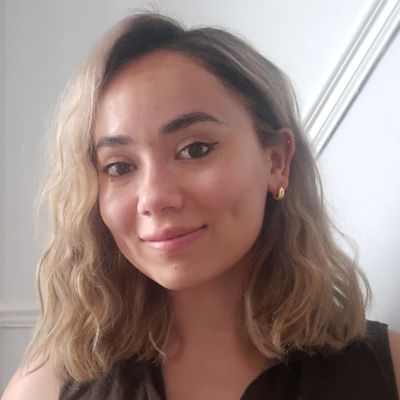 Written by Gabriella Buckner, Beauty Editor