Every Type of Face Mask, Explained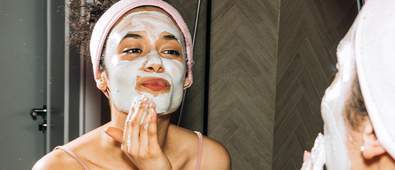 There's no shortage when it comes to face masks, but with so many options to choose from, finding the perfect mask for your individual needs can be quite the challenge. Below, we've answered your burning questions about the most popular types of face masks to help you understand what works for you.
Exfoliating Masks:
What is an exfoliating face mask?
Exfoliating masks are packed with all the beautifying benefits of a physical face scrub, the only difference being that they are much less abrasive on the skin. That's right, exfoliating masks are considered a form of chemical exfoliation as they utilise acids to draw out the dirt and impurities that dull skin. Once applied, the mask breaks down the dead cells that are on the surface of the skin, ultimately leaving you with a brighter, smoother and more even-toned complexion. Not to mention, they draw out any excess oil, reduce hyperpigmentation and unclog pores, making them a stellar option for acne-prone skin types.
Typically, exfoliating masks arrive in the form of a cream, gel or clay and are suitable for all skin types, including mature and sensitive.
What ingredients are used in an exfoliating face mask?
The most common ingredients found in exfoliating face masks are alpha-hydroxy acids (AHAs) and beta-hydroxy acids (BHAs). AHAs include the likes of lactic, glycolic and fruit acids and are great at peeling away the surface of your skin in order to refine and renew tone and texture. BHAs include agents such as salicylic acid and willow bark extract, which are better at getting deep into the pores and removing dirt, impurities and excess oils.

How often should I use an exfoliating face mask?
As a general rule, and as recommended by experts, exfoliating face masks can be used about two to three times a week. However, this may vary depending on how your skin handles the chemical ingredients that are often used in the formula. Oilier skin types are usually more tolerant, but sensitive and mature skin types may find that it's best to use an exfoliating mask once or twice a week. We always recommend carrying out a patch test on a small area of skin beforehand, especially if you are trying an exfoliating face mask for the first time.

What is the best way to exfoliate your face?
Exfoliating face masks are one of the best ways to exfoliate your face as they refine and renew skin without causing micro-tears or abrasions, which is a common factor when using face scrubs and facial cleansing brushes. Not to mention, they're super easy to use. Simply apply a thin layer of mask to clean, dry skin. Leave the mask on for 10 to 15 minutes, then rinse off with warm water and a washcloth.
Our top picks:
Bubble Masks:
What is a bubble face mask?
A bubble mask is essentially a face mask that foams up once it comes into contact with oxygen; similar to an oxygen facial but with a much more affordable price tag. Bubble masks are specially designed to give skin a deep cleanse and help to push out any dirt, oil or impurities that may be dulling your complexion.
Do bubble masks work?
Yes! The bubble mask isn't just a cool and fun one-time trend to try out with your friends. It actually provides a heap of skin care benefits. As the mask reacts with oxygen in the air, it creates tiny bubbles that help cleansing ingredients get deeper into the skin. As a result, any blackheads, oil or dirt that is clogging pores is pushed out, whilst the good stuff, such as antioxidants and hydration, is pushed in.
What are bubble masks made of?
Bubble masks are mainly developed with perflurocarbons, a component that helps to dissolve oxygen. When you smooth a thin layer of the mask onto skin, the perflurocarbons slowly turn any trapped oxygen back into gas, creating the appearance of bubbles along the way. Bubble masks come in many formulas, from sheet to clay, gel and cream, so you can easily discover the perfect product to suit your skin needs.
Are bubble masks good for acne?
As bubble masks are great at purging skin of impurities, they make a suitable option for those with acne-prone complexions. The oxygen in a bubble mask is able to kill any acne-causing bacteria, calm redness and irritation and stop future breakouts. Not to mention, it helps to unclog pores by pushing out dirt and oil. The result? A cleaner, clearer and brighter complexion.
Our top picks:

Clay & Mud Masks:
How often can you use a mud mask?
Ideally, the use of mud and clay masks should be restricted to one to two times a week. However, they make a great treatment for those with oily skin, and therefore can be used a maximum of three times a week.

Are mud and clay face masks good for acne?
Mud and clay masks are the best option when it comes to face masks for acne-prone skin types. Not only do they help draw out any excess sebum or bacteria that is clogging pores, but they also absorb oil and dead skin cells from the skin's surface. Better still, as mud and clay masks work as a gentle exfoliant, they can remove the impurities that cause breakouts, reduce shine and provide a mattified complexion.
What's the difference between a mud mask and a clay mask?
While mud masks and clay masks are extremely similar (they both come from the Earth), they also have their differences. The main difference being that mud is a skin-healing agent, whilst clay is a cosmetic, drying agent.
Clay masks are most useful for those with oily, acne-prone skin types, as they help to absorb the excess oils that cause breakouts, exfoliate away dead skin cells and minimise the appearance of enlarged pores.
On the other hand, mud is a water-based ingredient, so when in mask form it is great at delivering hydrating benefits. Mud masks are known to boost blood circulation, cleanse, moisturise and refresh tired skin. They even repair skin tissue and improve elasticity, making them a better option for those with dry and dull complexions or as a post-breakout treatment.
What is the best clay mask?
If you have sensitive skin but still want to experience the purifying and clarifying benefits of a clay mask, then be sure to check out pink clay formulas. They're an extremely popular choice as they draw out impurities but are much more gentle on the skin.
If you're looking to achieve a serious deep clean, then opt for charcoal clay masks. They're the best at getting down and dirty and keeping both breakouts and blackheads at bay.
Our top picks:

Cream & Gel Masks:
How do you use a cream mask?
It's super easy to use mask creams. First make sure you start with a makeup-free, cleansed base. Then with your fingertips gently massage the cream onto your dry face, concentrating on the areas you want to target more. Make sure you apply an even layer and are extra careful around the eye area, in order not to cause any irritations.
Then it's time to sit back and relax. Let the cream mask get to work in 15 to 20 minutes. Then rinse your face and use a lukewarm, damp face cloth to remove any excess. Follow up with your favourite nourishing goodies for the ultimate pamper moment.
Are gel masks good for your face?
The simple answer is yes. Depending on what results you want to achieve, you can find a face mask to fit seamlessly into your skincare routine. Redness? Dehydration? Dullness? No matter your concerns, there's a gel or cream face mask to soothe, nourish and protect your skin in matter of minutes.
If you want to know more about the best face masks for your skin type, read our blog on the Beauty Hub!
How often should you put a cream mask on your face?
It all depends on your skin type, but we recommend you use cream masks on your face three times per week. They are an ultra-nourishing option, which make the perfect antidote to dull, tired and lacklustre skin. Unlike charcoal and clay masks, cream formulas tend to be more hydrating, which means they are kinder and gentler on your face.
Not sure what mask to pick? Discover hundreds of options here at Cosmetify.
Our top pick:

Eye Masks and Under-Eye Patches:
What do collagen eye masks do?
Collagen is the not-so-secret ingredient to help you achieve glowing, vibrant skin. When used in eye masks and under eye patches, collagen helps boost elasticity and plump up the delicate skin around your orbital area. This helps minimise the appearance of fine lines, wrinkles and general under eye puffiness.
What is the best eye mask for dark circles?
Dark circles are completely normal and appear more as we age. However, people often want to reduce the appearance of darkness or pigmentation for cosmetic reasons. Whether it's a sheet, gel or cream formula, there's a solution for all your skin concerns.
When searching for the best eye masks and patches for dark circles look out for nourishing ingredients like coconut oil, almond oil, cucumber and aloe vera. These offer soothing and cooling properties that not only help minimise appearance of under eye circles, but boost hydration in the eye area.
What is the best eye mask for dry eyes?
If your eyes are feeling dry and tired it's time to up the ante with some of the best hydrating eye masks. Pair with other nourishing goodies to achieve revived peepers that are ready for whatever the day brings.
Keep an eye out for hydrating components like ceramides, hyaluronic acid, antioxidants and squalene. If you have sensitive, dry skin you also use our ingredient preference filter to find dermatologically tested or ophthalmologist tested formulas. These are kind to the skin and are free from nasty irritants.
Our top picks:
Peel-Off Face Masks:
How do peel-off masks work?
Peel-off face masks work to refine and renew skin by gently removing the dead skin cells from the surface of your complexion. Once applied, the mask hardens and adheres to the top layer of skin, trapping in any impurities. When you peel the mask off, it pulls the dirt, dead skin cells and oils out from your pores, leaving you with a brighter and clearer complexion. Peel-off masks are often developed with antioxidants such as grapeseed, avocado and charcoal, all of which are great when it comes to repairing and protecting skin from future damage.
Ultimately, peel-off masks provide a mild exfoliating effect and the results are usually somewhat visible immediately - you just need to look at the back of the mask after you've peeled it away to see the dirt it has purged from skin. With frequent use, they can make a significant difference to skin.
Are peel-off masks good for your skin?
There is no evidence to suggest that peel-off masks are necessarily bad for your skin. However, peel-off masks are better suited to some skin types, such as oily, combination and congested, as they work to unclog pores and remove oil, impurities and blackheads. As a result, these skin types tend to be more tolerant and can handle the gentle pulling and tugging that comes with a peel-off formula.
It is recommended that sensitive and mature skin types, and those with skin conditions such as rosacea, should avoid using peel-off masks as they can be abrasive and the extra exfoliation could set off sensitivity and irritation.
What is the best peel-off mask?
The best peel-off masks are those that are acne-fighting, pore-unclogging, blackhead-removing and skin-hydrating. The best peel-off face masks are also infused with all the goodness, such as purifying, detoxifying and nourishing ingredients. They shouldn't be too harsh on skin, and they definitely shouldn't be painful to remove.
Our top picks:

Sheet Masks:
Can you reuse a sheet mask?
Unless stated otherwise, only use sheet masks once. Don't reuse the same sheet mask again and again, because after each use the mask dries out as the formula absorbs into the skin. Not to mention, some sheet masks draw out impurities and dirt from you face, leaving the mask full of bacteria. For hygienic reasons, it's best to stick to a new, clean mask every time you want a quick skin boost.
How often should you use sheet masks?
Sheet masks are a fun part of any skincare routine and are recommend to use three times per week. This helps pep up your complexion on dull days and keeps your skin feeling fresh, smooth and supple.
Sheet masks are also perfect for pamper days when you want to switch off and relax. Or, if you're in dire need of an extra dose of moisture, sheet masks are you cheat sheet to healthy-looking skin. They are also great before big events to prep your skin for makeup and help you a achieve a glowy, gorgeous complexion.
What do sheet masks do for your skin?
Sheet masks plump, brighten and hydrate your skin in as little as 15 minutes. Depending which brand and product you choose, you can find sheets masks to improve radiance, soothe irritations and even promote a youthful glow.
The physical barrier of the sheet mask helps saturate your skin with the formula quickly and effectively. They are also a budget-friendly alternative to expensive spa days and clinical treatments.
Do you wash your face after using a sheet mask?
No, don't wash your face after using a sheet mask. Infused with serum-like formulas, sheet masks leave behind glowy, hydrated skin. Just as you wouldn't wash away your serums and essences, you shouldn't wash away the hard-working ingredients from the sheet mask.
However, if the products are taking a little too long to absorb, why not work into the skin using a facial roller or massage tool like a gua sha? These handy skincare tools are the perfect way to ease muscles tensions in the face, as well as activating the ingredients in the sheet mask. Simply swipe over the cheeks, jawline, around the eyes and the forehead to help massage the formula across the face.
Our top pick:
For more face mask inspo, check out our guide to The Best Face Masks for Every Skin Type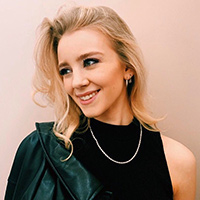 With five years' experience under her belt, Ellie has worked alongside a range of highly regarded makeup artists, giving her a real insight into what consumers should be spending their money on.