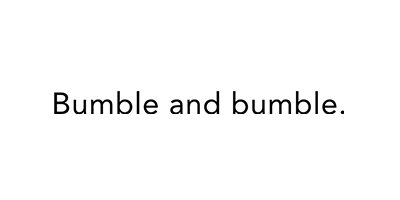 Bumble and bumble
With a rich history of hair care expertise and a strong creative team, Bumble and bumble were soon able to branch out from their single NYC salon. They saw the need to create products that kept up with their cutting-edge approach to hairdressing and with that, their powerhouse product range was born. With a lot of dedication, professional know-how and patience, a collection of hair products were created that catered to each and every hair type.
Fancy defining those curls? Shop through Bumble and bumble's Bb Curl range. Looking for a sexy sea-washed finish? Browse their Surf collection. With multiple ranges that appeal to all hair types and textures, your hair can indulge in a new kind of luxury. Shop the collection for further inspiration.
Buying cruelty-free is becoming a bigger concern for many consumers, so why not take a look at our entire range of cruelty-free products or take a look at our favourite cruelty-free hair care brands and products?
Bumble and bumble is also featured as one of our Top Beauty Brands of 2018.
Bumble and bumble Features