Bumble and bumble
Explore the Bumble and bumble collection of conditioners, hair masks, shampoos plus others across the spectrum. Be sure to add a brand alert so that you are first to know about product offers and discount codes.
Best Selling Bumble and bumble Products
Bumble and bumble Shampoo & Conditioner
Bumble and bumble Shampoos & Conditioners are top of the hair care world and for good reason. Utilising their professional knowledge, they were able to bring the salon to your home with products to cater to every preference and every hair type. Whether you have curly, wavy, straight or coarse hair, Bumble and bumble have the answer with plenty of nourishing, conditioning and hydrating products on offer.
Uncover sulphate-free formulations, clarifying solutions and deeply nurturing options all in one place. They keep your locks happy and healthy, all while cleansing away any dirt, impurities and excess oil.
Take your weekend hair care routine to new heights with the must-have Bumble and bumble Sunday Shampoo.
This trusty clarifying shampoo is the perfect solution for dull, tired and lifeless tresses. It helps spark life back into your 'do by detoxifying the hair at the end of a long week. To do so, it uses a blend of ginseng, rosemary and sage to stimulate your scalp, while also expertly removing any dirt and product build-up.
Post wash, your barnet feels refreshed and clean. It's suitable for fine to medium, non-colour treated hair types.
£22.50

£23.50
Want to achieve those cool surfer waves? Look no further than the Surf Foam Wash Shampoo.
The hair experts at Bumble and bumble have devised a solution that gives your locks that naturally tousled, textured look – perfect for beauty lovers who want a hassle-free routine. This shampoo contains a blend of marine botanicals which moisturises your locks and gives your hair that extra volume, without that typical weighed down feeling.
The cruelty-free formula is also free from mineral oils, parabens and phthalates, meaning it's gentle on your precious strands.
£22.50

£23.50
No matter your routine, it's about time you got your mitts on the Bumble and bumble Super Rich Conditioner. This creamy formula helps refine, soften, detangle and nourish your strands all in one go.
It's the perfect conditioner for all hair types, including tightly coiled, straight or chemically treated. It delivers a big burst of hydration and improves elasticity to take your hair from drab to fab instantly.
It's a luxe conditioner to have in your bathroom and one you can use daily for revived and shiny results.
£21.65

£25.50
Another best-selling Bumble and bumble product you need to add to your wish list is the Thickening Conditioner. It's a great solution for beauty lovers with super fine hair who want to add some major volume.
It contains soy and wheat proteins which give your locks plenty of body, while aloe leaf adds moisture to restore your tresses to all their glory. Better still, silk powder repairs damage and breakage and vitamin E protects your locks against environmental damage.
For best results, use alongside the Thickening Shampoo.
£9.50
Bumble and bumble Hairdresser's Invisible Oil Collection
Discover the best-selling and cult-favourite Hairdresser's Invisible Oil Collection at Bumble and bumble. Suitable for all types, this range of hair care goodies are a must in every collection, whether you're a professional or beauty newbie. Find must-have products like the mask, finishing spray, shampoo and conditioner.
Each one delivers long-lasting moisture, which deeply nourishes your precious strands. It's powered by a six-oil blend, which includes coconut, argan, sweet almond oil, grapeseed, macadamia nut and safflower. The combination of nourishing oils work seamlessly together to give you a mega-boost of hydration – perfect for parched heads of hair.
The Hairdresser's Invisible Oil Primer is a Bumble and bumble top-seller among beauty buffs, hair care professionals and beauty influencers.
It's a pre-styler product, which helps condition, protect and de-frizz your brittle strands. It uses a six-oil blend to nourish your hair from root to tip and tame pesky flyaways, so you're left with silky, sleek results.
The primer also has expert UV filters and heat protection, which saves your hair from styling tools and sun damage. Use on both wet and dry hair to keep your barnet in tip top condition.
£12.00
Whether you suffer with damaged locks from over styling or have naturally dry strands, the Hairdresser's Invisible Oil from Bumble and Bumble is your new best friend.
The nourishing formula contains a blend of lightweight oils, which provides some much-needed hydration, shine and softness. You can also use this handy product to smooth out knots and tangles, as well as strengthen your locks and prevent any future breakages.
Use pre-styling or gently smooth through dry hair for a sleek, shiny finish.
£35.00
Sometimes your hair needs some extra TLC and that's exactly what the Bumble and bumble Hairdresser's Invisible Oil Mask delivers.
Use the creamy mask once a week to help care for your precious tresses. It keeps your 'do hydrated for up to 72 hours and tackles everything from knots to flyaways.
As it's part of the Hairdresser's Invisible Oil collection, it obviously contains their signature mixture of top oils like coconut, sweet almond and macadamia. Not to mention, a blend of moringa oil and pomegranate seed extract to keep hydration at an all-time high.
£12.00
Bumble and bumble Bb. Curl Collection
Delve into the Bb. Curl Collection from Bumble and bumble. With enhanced new products, each one helps deliver maximum hydration and nourishment to your curls. The products are infused with key nutrient-rich ingredients, such as omega fatty acids and hydrating coconut oil and jojoba oil. These help you embrace your natural curls and waves, while enhancing your overall look.
Discover products like the iconic Curl Defining Crème, as well as other much-loved shampoos, conditioners, mousses and masks. Each item in the collection smooths your locks, reduces frizz and boosts overall shine.
No matter your other hair needs, these goodies are bound to give you your best hair day yet.
Want to show your curls some extra love and attention? Give it your best shot with the Curl Defining Crème from Bumble and bumble. It's the protective and hydrating answer to all your hair dreams.
The formula is enriched with beeswax and squalane to help boost moisture, as well as improving the elasticity and fullness of your curls. Not to mention, a nourishing blend of omega 3 fatty acids and Brazilian nut oils deeply condition your strands.
This crème is the perfect way to soften your hair, taming any unwanted frizz and giving you a full, bouncy, healthy finish.
£12.00
Another great option for curly locks is the Bumble and bumble Curl Conditioning Mousse. Rich in moisture, this mousse is a firm favourite in the beauty and hair world thanks to its lightweight, yet super hydrating formula.
It contains a nourishing blend of oils and butters to help tame, nurture and define your curls. And, of course, UV filters to protect against any sun damage.
The mousse gives you an expert hold, without any of the usual crunchiness. In fact, it's a deeply hydrating option that gives you plenty of va-va-voom.
£24.00
Add some bounce back into your 'do with the Curl Custom Conditioner. This formula from Bumble and bumble is a great way to quench thirsty curls.
Whether you have thick or fine curls, this lightweight conditioner is a great option to have in your cabinet. It contains Brazilian oils and is free from nasties, so it's gentle and hydrating on your hair. It nourishes from rot to tip, leaving you with healthy, shiny, frizz-free results.
Simply use as a normal conditioner or as a leave-in formula depending on your style and hair care needs.
£26.50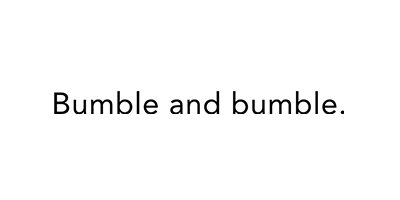 With a rich history of hair care expertise and a strong creative team, Bumble and bumble were soon able to branch out from their single NYC salon. They saw the need to create products that kept up with their cutting-edge approach to hairdressing and with that, their powerhouse product range was born. With a lot of dedication, professional know-how and patience, a collection of hair products were created that catered to each and every hair type.
Fancy defining those curls? Shop through Bumble and bumble's Bb Curl range. Looking for a sexy sea-washed finish? Browse their Surf collection. With multiple ranges that appeal to all hair types and textures, your hair can indulge in a new kind of luxury. Shop the collection for further inspiration.
Bumble and bumble is also featured as one of our Top Beauty Brands of the year.
Why We Like Bumble and bumble
"We love Bumble & bumble simply because the chance to use salon-quality products is more or less irresistible. Plucked straight from the salons of New York City and deposited into the bags of stylists and hair aficionados, it's hard to argue with products that leave you looking this good. "
Alex Bryson, Editor
Where are Bumble and bumble products sold in the UK?
You can get Bumble and bumble products from a number of leading and well-known online retailers in the UK, including Allbeauty, Bumble & Bumble and HQHair. You can also get these products from Look Fantastic, House of Fraser and more.
Here at Cosmetify, we do the hard work and help you save money on all your favourite products. We compare prices from a range of retailers across the web, meaning you can easily find the cheapest place to buy conditioners, hair masks, shampoos plus others across the spectrum by Bumble and bumble.
And if your go-to products are out of stock; you can easily set up an alert and we will let you know when it's available again. Win-win!
Frequently Asked Questions about Bumble and bumble
Are Bumble and bumble products, formulations or ingredients cruelty-free and not animal-tested?
Bumble and bumble are a cruelty-free brand. They never test their products or ingredients on animals.
Do they formulate their products with Parabens?
There are a small number of product ingredients in the line that contain parabens, but most don't.
Do they use any silicone in their formulas?
Bumble and bumble uses silicone in some of their formulas. Hide these by using our filters.
Is alcohol an ingredient in any of their products?
Not all of their products are alcohol-free. Use our site filters to find the products you want.
Does Bumble and bumble use phthalates in their products?
They do have some phthalates-free options. Search for them using our site filters and by checking ingredients lists.
I prefer to shop sulphate free. Are there sulphates in these products?
You'll find a lot of their formulations feature sulphates (or sulfates). Use our filters to narrow your search should you require.
Do they have any mineral oil-free products?
Not all of their products are mineral oil-free. Use our filters to find the ones you want.
I am a Vegan. Can I use Bumble and bumble products?
Of the Bumble and bumble products you can view on our site, more than half contain animal-derived ingredients. You can see their vegan selection by choosing the relevant filter.
Bumble and bumble Features