The Best Pastel Hair Dyes
Sometimes, all we need to do is go out with the old and in the new; we need to give our flat a good Marie Kondo, wave goodbye to the tat we've been hoarding for the past God knows how long and just start afresh. And what better way to celebrate this notion than with a new hairstyle? We're thinking fresh, pastel colours that spark joy and celebrate individuality.
Whether you're wanting to go pretty pink, baby blue, pale green or lilac, we've rounded up the very best temporary and permanent hair dyes to help you rock the pastel hair trend.
But before we get ahead of ourselves, there's one thing you may need to consider first: will you need to lighten your hair? If you've got brown or dark hair, you're going to need to bleach your current colour so that the pastel dye will take properly. Try this BLEACH LONDON Total Bleach Kit that gently lightens your locks and prepares it for the pastel dye.
1. Pastel pink
Pink is by far the most popular pastel hair colour… we've even tried it out ourselves and loved it! We've seen pastel pink hair on the likes of Cara Delevingne, Rihanna and even Dame Hellen Mirren and it's certainly a colour for the bucket list. So if you haven't tried out this candyfloss hair colour, now is the time!
2. Pastel blue
If you're wanting to throw it right back to 1999 when Eiffel 65's Blue (Da Ba Dee) was a hit, then check out pastel blue. Hillary Duff did the pastel blue hair and she looked 50 shades of CUTE. It's vibrant, fun and a colour that suits all aesthetics and hair colours, including blonde and brunette…you just have to be brave enough to give it a go. It's the perfect way to jazz up your locks. Whether you're applying it to a full head or just the ends for a blue balayage effect, it gives a bright and striking colour that looks pretty darn kick-ass.
3. Pastel green
Green pastel hair is FTW if you're wanting super punk vibes. It's an uncommon choice for hair colour as it could look like you've just stepped out of a chlorine bath pre-bleach. However, when it's done properly green looks absolutely wicked…but not like Elphaba from the Tony award-winning musical, more like Kylie Jenner, youngest self-made billionaire. Your friends will be green with envy. (Sorry, we had to).
4. Pastel purple
We've seen Nicole Richie work the lilac hair trend back in 2014 (is there a colour that she doesn't suit???) and Jourdan Dunn in 2015. Whether you go for all-over colour, subtle strands or chunky highlights, it's certainly a striking and fierce colour that looks amazing on darker skin tones.
5. Rose gold
Rose gold is a safe bet when it comes to dying your hair pastel as you don't have to fully commit to a bright colour but can still work a subtle hint of pink. It's the perfect pastel shade for those of you who perhaps can't go OTT because of work, but want to show your fun side.
6. Pastel peach
Loving the rose gold but want to take it that one step further? Go apricot with this pastel peach colour. It's a warm and lively colour that excellently complements both pale and dark skin tones and we guarantee it's going to look amazing on you.
It's also great if you're testing the waters for a full­-on fiery red or ginger hairstyle. We're getting serious vibes from this look. I mean, just look at how radiant Busy Phillips is with apricot hair, oh my days.
These colours are a gorgeous way to spruce up your style and to give your look a little bit of ooh-la-la. Why not? You only live once, people.
OK, gotta go – we're off to dye my hair!
Want more hair inspiration? Check out: 5 Ways to Rock the Lilac and Grey Hair Trend. If you have more questions about to get your look just right, check out our guide to hair dye, too!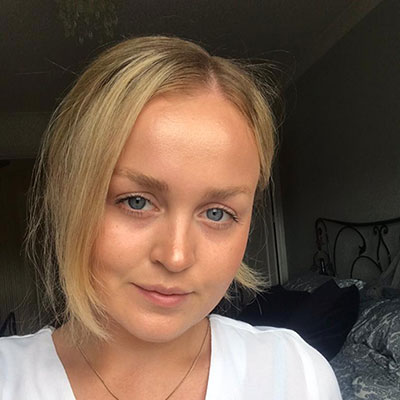 Hannah has worked as a writer for over four years and knows beauty, skincare and makeup like the back of her hand.