Ultimate Guide to Dermalogica
The Ultimate Guide to Dermalogica Products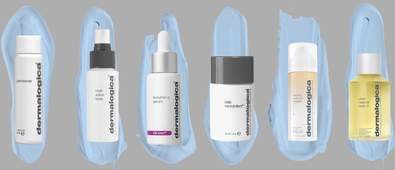 If a brand is not only loved by skincare professionals around the globe but was also founded by a skin therapist, it's a clear sign to us lay people that it's a brand we want in our skin routines.
The professional-grade products from California-based brand Dermalogica are part of their wider mission to 'ensure healthy skin for all', in tandem with the brand's International Dermal Institute, which trains skin therapists worldwide.
Co-founder Jane Wurwand was inspired in 1986 to create a line of irritant-free products after the training estheticians in her institute pointed out the lack of such products. Now, Dermalogica is a leader in the skincare industry, with its wide variety of cleansers, treatments, moisturisers and more to improve skin health without causing irritation or breakouts.
Dermalogica's ethics, sustainability and skin-safety
All of Dermalogica products are certified cruelty-free, recognised by PETA and Leaping Bunny, and are also gluten-free. They also don't use artificial colours and fragrances, mineral oil, lanolin, parabens and microplastics.
All but three of their products are vegan-friendly (the Skin Perfect Primer SPF30, and MultiVitamin Power Serum), and the paper and cartons used for packaging Dermalogica products are FSC certified sustainably sourced.
Plus, they've got some exciting goals they'll either meet or surpass by 2025, like having 90% of their ingredients sustainably sourced and using mostly recycled or plant-based material for their packaging.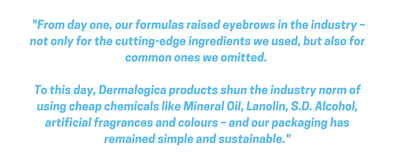 What are the best Dermalogica products?
Discovering a new brand can be overwhelming, whether you're a skincare guru or novice, but part of our mission is to make it easy to understand new products and incorporate them into your routine.
Here we've rounded up the very best Dermalogica products, broken down into the steps of a basic skincare routine (cleanser, toner, serum/treatment and moisturiser), with a few extras thrown in for the true skincare devotees.
STEP 1: CLEANSER
Our skin helps detoxify our bodies by excreting its toxins onto the surface, but this means that you need to prioritise cleansing to get rid of all those toxins before they cause breakouts and sensitivity. Not to mention all the makeup, pollution and skin oils that clings to our skin every day!
Plus, when you've got clean skin, it can better absorb all your lovely skincare products!
How to cleanse your skin the right way:
All of Dermalogica's cleansers are acid balanced to your skin's natural pH, plus they won't strip your skin. The brand recommends using an oil-based cleanser first to get rid of all the gunk on your skin, and then using another one to target your individual concerns.
To make it super easy, they've even developed the Dermalogica Precleanse, an oil designed just for this first step of your double-cleanse routine!
Pair this oil cleanser with one the below that best suits your skin's needs.
STEP 2. EXFOLIANT
As you might've heard, a lot of physical exfoliants (scrubs) and the way we use them can potentially scratch your skin, so Dermalogica is all about chemical exfoliants to remove dead skin cells and give your face a fresh and healthy glow. Whereas brands like Paula's Choice now have leave-on exfoliants (they actually pioneered this category!), the ones from Dermalogica rinse off, so you'll want to incorporate them before you use any leave-on products.
Next to the Dermalogica Precleanse, the brand is probably most known for their microfoliant exfoliator, a powder-based product that foams up with water to give you totally glowing skin, but we've also included a few of our other favourites you might want to add to your regimen.
Just remember to ease into using new exfoliants so you don't irritate your skin!
STEP 3. TONER
A toner is the next step in your journey to fabulous skin. Here are a few of our favourite Dermalogica toners to get you started.
STEP 4. SERUM
Choose one of Dermalogica's targeted treatments to personalise your routine, whether you're trying to treat breakouts, wrinkles, dryness or any other skincare stressors.
Here are few bestsellers that (depending on your skin concerns, of course) will quickly become an indispensable part of your routine:
STEP 5. MOISTURISER
Dermalogica offers moisturisers in all forms (oil, gel, cream) to suit different skin types and concerns, but the most popular moisturisers are their medium weight creams as they give your skin a blend of oil and water and suit many different skin types.
BONUS SKINCARE STEPS!
DERMALOGICA FACE MASKS
Both a treat for your skin and your mind as you take some time for yourself and relax, face masks are the ultimate pamper product. Like serums, they give you an extra dose of whatever your skin needs.
Use one of these Dermalogica masks a few times a week to reveal clear and radiant skin.
BODY CARE
Don't neglect your body when you're taking such great care of your face!
Here are a few best selling Dermalogica body therapy products your skin will thank you for.
Discover more great body scrubs in our roundup of our ten favourite here.
We hope we've whet your appetite for professional-grade skincare and inspired you to incorporate some of these lovely goodies into your routine.
For more high-quality products to take your skin to the next level, we recommend checking out our Emma Hardie Skincare Guide for Beginnersas well as our Beginner's Guide to Paula's Choice.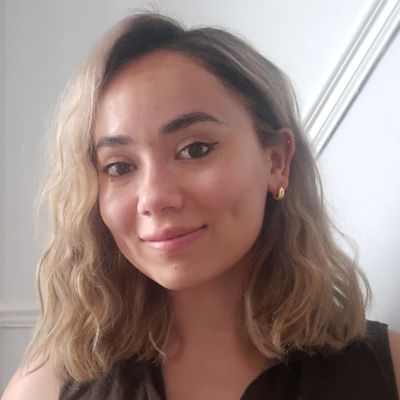 Gabriella is a junior content writer with a background in creative writing, content marketing and journalism. She's passionate about all things makeup and skincare, but especially vegan and cruelty-free beauty that is effective and inexpensive.