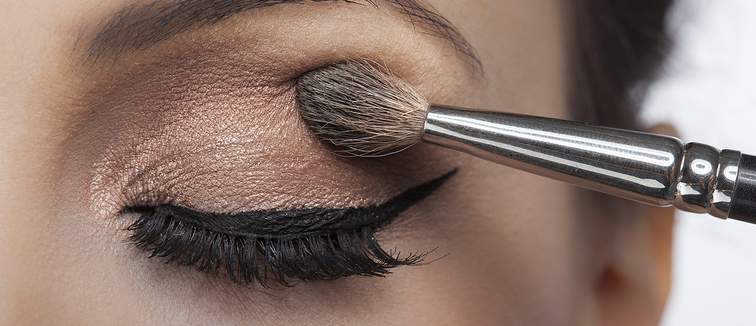 Until very recently, I didn't dare branch outside of my classic bronzed smoky eye – it's all I've known since I was the tender age of 16. However, a late night session of browsing YouTube makeup tutorials taught me just how many styles there are when it comes to eyeshadow application.
With drag queens dominating the scene with their inventive and applaudable makeup skills (seriously, how does anyone even cut a crease that sharp?), men and women alike are stepping up their beauty game in an attempt to achieve bigger and better looks.
But if, like me, you're feeling a little uninspired with your current style, give our little guide a scan over and discover the many ways of how to apply eyeshadow.
1. Smokey Eye Tutorial
Let's start off with a staple look: the much-loved smoky eye. The trick with this is to blend, blend, blend – and nobody does that better than Lisa Eldridge. Give her super quick video a watch to accomplish the perfect smoky eye in seconds. Ideally, you should be using darker hues to create an impactful finish: think emerald greens, pigmented bronzes and shady blacks.
Building up a smoky eye has never been easier with this 'has it all' eyeshadow palette. Ideal for creating a showstopping look, this palette boasts a range of dark and smoky hues to nail this sultry style.
2. Cat Eye Tutorial
Beauty videographer and MUA Hindash has really stolen the show when it comes to creating the perfect eyeshadow cat eye. This softer rendition of the bold cat eye uses lip liner, eyeshadow and a whole lotta blending to create a subtle eye-defining look. Get your hands on a brown-toned lip liner pencil ASAP!
Ideal for recreating this look, the delilah Lip Line Long Wear Retractable Pencil creates a matte base that easily blends out. Better still, it comes in a variety of light to dark toned shades, meaning you're in charge of the intensity.
3. Cut Crease Tutorial
When YouTuber makeupbymichaelfinch speaks, we listen. Here, Michael teaches the masses how to perform the much-feared cut crease look. Ideal for that girls' night out, a strong cut crease can command the attention of others, giving you eyes to remember. It works by defining your eye socket, leaving you with a dramatic, eye-brightening finish.
Easily achieve that lighter base with this high coverage concealer from Rimmel. Its brush head allows for super easy application and prime definition – meaning minimal makeup mishaps.
4. Halo Tutorial
Wanting to channel your inner angel? Summon her with this angelic eyeshadow look for dazzlingly bright eyes. Here, Holly Boon goes IN with the bright pigments for a very dramatic look, but obviously this can be customised with more muted colours for those of you that aren't quite ready to make the plunge.
To achieve that mystical glow, try using the lighter shades of the Eyes To Mesmerise range. These cream eyeshadow pots pop with pure light reflecting particles to seriously define that halo effect.
5. Gradient Tutorial
Okay, so this one is pretty similar to the original smoky eye but with a softer, more gradual approach. Basically, you start with a lighter colour on the inner corner and blend out to a darker, more pigmented colour. But no one explains this better than beauty YouTuber Angela Bright, who puts a bright and fun twist on the look.
This iconic palette is an absolute essential for all eyeshadow enthusiasts. With 14 shades to mix and match, you too can play around and create gradient colour combinations to suit your style. Happy blending!
Related Categories