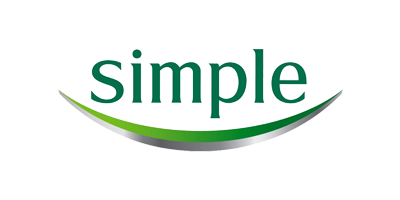 Simple
Simple is the UK's No.1 skin care brand. They formulate their products using only the purest of ingredients that will fully benefit the skin when it's most vulnerable.
Simple began in 1960 with their unique concept of affordable facial cleansing that says no to nasties and harsh chemicals, such as perfume, colour, soap and alcohol. Today they still stay true to their promise, supplying us with products that respect the skin's natural functions.
Renowned for their award-winning facial cleansing wipes, Simple are dedicated to creating kind-to-skin innovations that combat daily aggressors including pollution and sensitivity while balancing the natural pH balance of your skin.
They pride themselves on their commitment to kindness and the environment. With a combination of recyclable packaging and sustainably sourced materials and ingredients, Simple ensure that each product respects both our skin and our planet.