Best Charcoal Beauty Products
9 Charcoal Beauty Products You Need to Try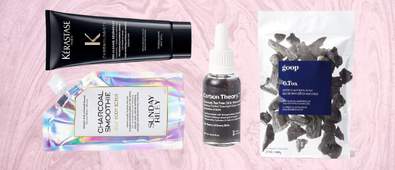 Charcoal is a big deal in the beauty industry don't ya know?
After a brief search we found out that this key ingredient is in a number of our favourite beauty goodies, across skin, body, hair and oral care categories.
Of course, this isn't the same charcoal from your socially distanced BBQs. Instead, its activated charcoal which is more porous and is obtained through burning carbon-rich materials.
Not only does this ingredient claim to have plenty of health benefits, but it's also utilised by beauty brands to help absorb and remove toxins from our body. It's the perfect component to draw out excess dirt, oil and impurities from our scalps, skin and teeth.
Discover more about this star player as we've rounded up all favourite activated charcoal beauty products here at Cosmetify.
Charcoal Skin Care
So, why do brands use charcoal in skin care products? Well, a major reason is that it helps remove dead skin cells and build-up from the face. This ensures clean and clear results, which is perfect for blemish-prone skin types.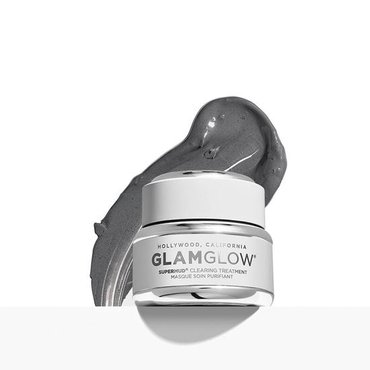 £35.37

£38.25

(8% off)
One popular product that comes to mind when we think of the best charcoal beauty products is the Supermud Clearing Treatment Mask from GLAMGLOW. This blemish-busting formula combines charcoal with glycolic, salicylic and lactic acids to help purify and smooth the skin. It's the ideal weekly mud face mask for tackling angry spots and excess oiliness.
This dazzling duo of skin care products are great for washing away your glam makeup looks, while also deeply detoxifying the skin.
First is the gel-to-balm cleanser that removes even the most stubborn makeup and brightens the skin. Then up next is the bamboo charcoal cleanser to remove any bacteria and dirt from your pores. Both steps ensure a fresh, glowy and cleansed complexion.
Catch up on your beauty sleep and have refreshed skin come morning with a little helping hand from this Overnight Detox Serum from Carbon Theory. This brand has plenty of charcoal beauty products on offer, but we particularly love this face serum as it helps remove toxins from the skin, while also reducing inflammation and protecting the skin using a trio of charcoal, tea tree oil and vitamin E.
Charcoal Body Care
Charcoal isn't solely reserved for your face. In fact, you can use it across your entire body to help remove toxins and gently exfoliate your skin. Discover activated charcoal in everything from body scrubs to shower gels and bath soaks to bath salts.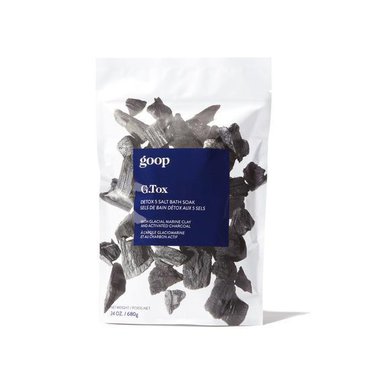 £30.00
Transform your bath time with this charcoal enriched bath soak from Goop. Other ingredients include the likes of relaxing Epsom salts, glacial marine clay and papaya seed extracts. This blend of goodies helps remove dirt, while also enhancing the skin for the ultimate spa-like experience in your own bathroom.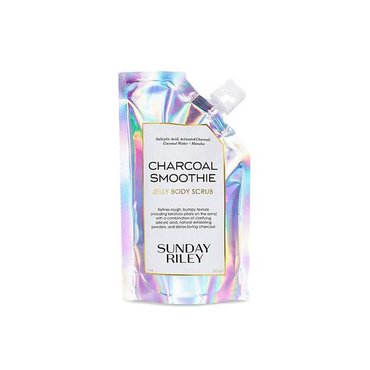 £32.00
Well, firstly can we just say how cute is this packaging from Sunday Riley?
What's more, the product inside helps gently exfoliate the skin to refine unwanted texture, decongest blocked up areas and hydrate your body all in one. It utilises, you guessed it, activated charcoal to remove impurities, as well as lactic acid to smooth rough patches and zinc to regulate your natural oil production. Simply massage over damp skin with a brush or sponge in the shower to wash away any worries.
Charcoal Hair Care
Like our skin, our scalps can also suffer from product build up, impurities and excess oil. We recommend implementing these charcoal infused hair goodies to help exfoliate and clarify the scalp and your locks. This helps promotes healthier-looking, stronger and luscious strands.
This detoxifying shampoo is a must-have product to add into your shower routine. The shampoo takes a blend of charcoal, witch hazel and tea tree oil to help remove oil and calm irritated scalps. It gets to work by gently exfoliating the scalp and is a great option for oily hair types.
Another great clarifying shampoo solution is this charcoal infused formula from Living Proof. It expertly blends together activated charcoal and witch hazel to help soothe the scalp and remove dirt build up. It's a fantastic balancing and cleansing option that is free from sulphates, parabens, phthalates and silicones.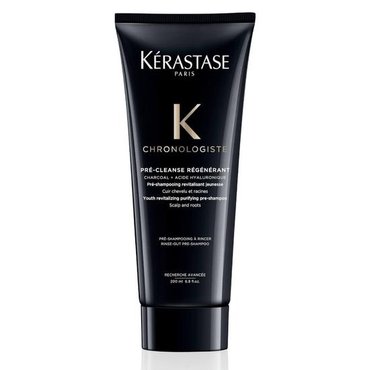 £26.95

£28.32

(5% off)
If you're guilty of using too much dry shampoo during the week, it's time to treat your tresses to a clarifying hair treatment. This purifying pre-shampoo treatment uses a charcoal infused formula to deeply cleanse your scalp and roots to remove product build up and pollution particles without stripping your hair of natural moisture.
Charcoal Oral Care
Charcoal is also a great ingredient found in oral care products, such as toothpastes and teeth whitening treatments. It can help eliminate pesky stains, remove bad bacteria and help banish stinky breath.
Merci Handy wants to help you achieve that Hollywood smile wherever you are in the world. Their toothpaste helps remove stains using vegetable charcoal and gives you a minty fresh feeling. It's also vegan-friendly, which makes it a great choice for cruelty-free routines.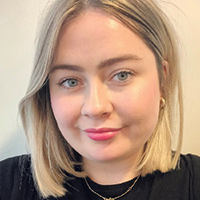 Rebecca is a content writer with over three years' experience and a keen interest in cosmetics. Cosmetify allows her to combine her blogging skills with her passion for beauty.