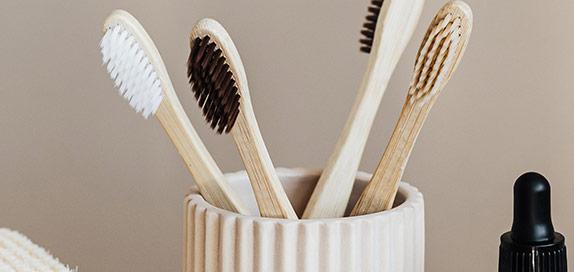 Guide to Dental Products
By Luke Chapman, Beauty Editor
With our oral care guide, you can find out everything you need to know before buying or using the product. If you're ready to buy or want to see our selection, visit our dental products page.
Your Guide To Oral Care
Mouthwash
Experience true oral refreshment with one of our advanced, science-led mouthwashes. By pulling together such brands as Marvis and iWhite, we're able to offer a wide range of formulas, which takes in a whole host of preferences and specialties.
When to use mouthwash?
The oral care community has been debating whether to use mouthwash before or after brushing for years. The truth is, it depends on what kind of mouthwash you're using.
There are two types of mouthwash: therapeutic and cosmetic. Therapeutic mouthwash is tailored to reduce plaque, protect your gums and kill bacteria. Cosmetic mouthwash is to freshen up your teeth, however, they do not kill any bacteria or remove plaque.
The key element to whether you should use mouthwash before or after brushing is whether the mouthwash contains fluoride. If it does, then it can undo the cleansing work of toothpaste and is best used before. If it doesn't contain fluoride, then it's fine to use after brushing
What happens if you swallow mouthwash?
Swallowing mouthwash is never good, especially if it contains fluoride or ethanol. These two ingredients are often found in mouthwash and can be poisonous to the human body when consumed in large doses.
If you do happen to absentmindedly swallow mouthwash, don't panic, it's probably not going to cause too much damage. You'l likely feel dizzy or drowsy for a while, in which case you should have a lie down and drink plenty of water. If you begin to have trouble breathing, although the chances of severe illness are still low, it's time to get to the emergency room. Bring the mouthwash bottle with you if possible to show the doctors what it contains.
Does mouthwash work?
Many people use mouthwash purely to freshen their breath, but there's many health benefits that you should consider. Most who use mouthwash are aware there are some oral care benefits to mouthwash, but they may not what they are.
Cosmetic mouthwashes are primarily used to freshen the breath and are ideal if you're concerned about having coffee or wine breath. Therapeutic mouthwashes offer more health benefits; they contain active ingredients that remove plaque, alleviate pain in your gums and kill bacteria and gingivitis. They often contain fluoride, which strengthens your teeth and adds a whiteness to the exterior.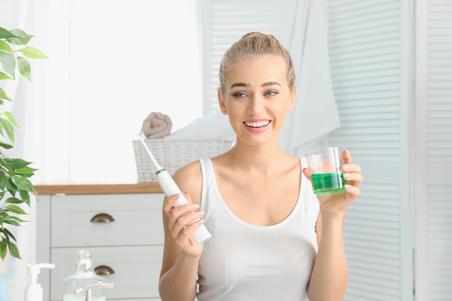 Can I use mouthwash after a tooth extraction?
Dentists recommend waiting at least a day before using mouthwash after a tooth extraction. Immediate use of mouthwash can risk dislodging the blood cot that needs time to heal.
The one-day rule is commonplace practise after a tooth extraction, however, to be on the safe side it may be best to wait another day for the blood cot to fully heal. After a couple of days, gently rinse the affected area with warm water before using mouthwash. After a few days, you can revert to your initial routine.
Electric Toothbrush
Once you've taken the plunge and gone electric, it's hard to imagine going back. These highly efficient tools have been developed by such leading names as Phillips and Oral B to leave teeth healthier, cleaner and altogether brighter.
How to brush your teeth with an electric toothbrush?
Electric toothbrushes are surprisingly very easy to use, especially once you get the hang of using them. If you're someone who's always had a manual toothbrush, we appreciate that the change may be daunting, but it's actually a simple transition.
Electric toothbrushes offer a variety of speeds and rotations, so you can use maximum speed for a rigorous cleansing routine or a slower setting for a more gentle, longer session. It's up to you.
Most electric toothbrushes now have sensitive settings for those who suffer from sensitive teeth or gums. Whatever speed or setting you use, just brush your teeth like you would with a manual toothbrush, making sure you get into every gap and crevice.
Can you use an electric toothbrush with braces?
Not only can you use an electric toothbrush with braces, there are now specialist electric toothbrushes specifically designed for those with braces. Whilst it may be true that it's easier to get food stuck between your teeth when you have braces, that shouldn't be too much of an issue with the right electric toothbrush.
Specialist electric toothbrushes for braces are typically a touch more expensive, so if you're reluctant to fork out the extra money, you can just use the sensitive setting on normal electric toothbrushes to cater to your needs.
It is advised to remove any detachable parts of your braces before you use the electric toothbrush, but once you get into the routine it doesn't take too long. Then just go about brushing your teeth like you would normally.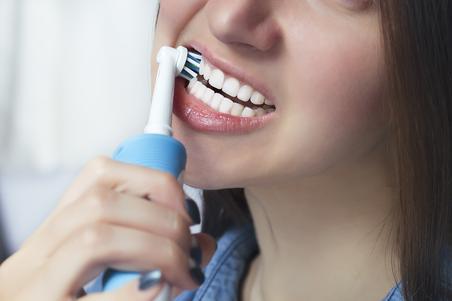 Are electric toothbrushes better?
Whether electric toothbrushes are better than manual toothbrushes is subjective, however, oral care experts and leading dentists recommend using an electric toothbrush.
Electric toothbrushes can remove up to 100% more plaque than a manual one, as well as reducing the risk of tooth decay and improving the health of your gums. They're also much easier to use when utilised correctly: most electric toothbrushes have a two-minute setting for a thorough and clean practise, and offer a variety of speeds and rotations.
To put it simply, electric toothbrushes get into the crevices of your teeth where the manual toothbrush may miss. If you want to learn more and pick the right toothbrush for you, check out our list of the best electric toothbrushes.
Can you take an electric toothbrush on a plane?
Yes, you can take an electric toothbrush on a plane in both your suitcase and your hand luggage. The sleek and compact nature of an electric toothbrush makes them the perfect addition to your travel bag or hand luggage, seamlessly slipping into small pockets.
In very rare cases, airport security staff have been known to ask you to switch on your electric toothbrush to check it's in good condition. If it's in poor condition, there's an extremely small chance that it could overheat and cause damage on the flight, therefore it may get confiscated. We highly recommend making sure your toothbrush is fully charged before a flight.
If you're planning on brushing your teeth during a long-haul flight, be prepared to do it without toothpaste. Toothpaste is banned from your hand luggage, so you may have to use water until you land.
Teeth Whitening
A set of pearly whites can make all the difference to your smile, imbuing it with both healthy radiance and a dose of A-lister-level illumination. Choose the best formula for you from a range that takes in RIO and Mr Blanc Teeth, besides plenty of others.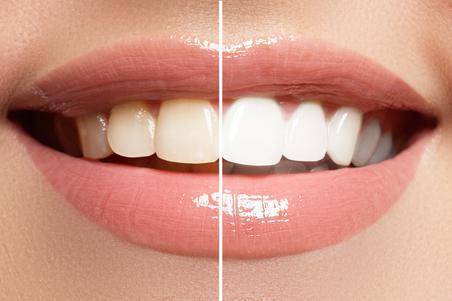 How does teeth whitening work?
There are two primary ways to whiten your teeth: the bleaching technique or the abrasion technique. The bleaching technique changes your natural tooth colour, transforming your teeth from up to seven shades whiter. This is a stark contrast to the average tooth colour and we recommend a slightly less drastic change for the best finish.
The abrasion technique creates a more natural looking shade of white; the technique involves removing external stains, plaque and bacteria to leave a pristine finish. The abrasion technique also cleans your teeth and keeps them healthy, which is a recommend course of action.
How long does teeth whitening take?
Teeth whitening toothpastes often take a few months for you to realise the difference in your teeth. If you have your heart set on sporting a gorgeous set of pearly whites in just a few weeks, you may have to be prepared to wait a little bit longer.
There have been some instances of certain toothpastes working their magic and producing whitened teeth in a couple of months, but that's not something to be expected. If you want to speed up the process, it's worth investing in some whitening strips, polish or a whitening pen, which can create desirable results when you used correctly.
Many brands offer teeth whitening sets which contain products tailored to complement each other in your teeth whitening routine. We recommend exploring these if you want whitened teeth as quick as possible.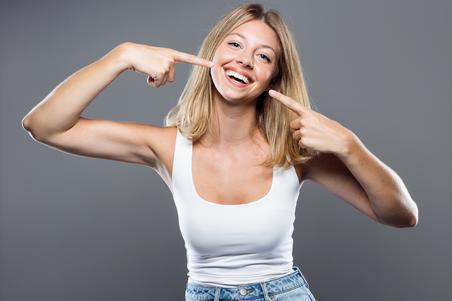 Does teeth whitening hurt?
It depends on your method. If you want to get whitened teeth from a toothpaste, then there is no pain involved whatsoever. However, the teeth whitening process performed in a clinic is said to be fairly painful and can lead to sensitive teeth for a few weeks afterwards.
A teeth whitening procedure in a clinic affects the gums which can lead to pain in your teeth, especially when drinking particularly hot or cold liquids. Getting whitened teeth from a surgery is oftentimes extremely expensive, and whilst the results are usually impressive, you can replicate similar results from the comfort of your own bathroom.
There are numerous brands that offer expert formulas to whiten your teeth in just a few months, doing so without causing any pain and maintaining long-term health and cleanliness.
How to whiten your teeth at home?
There are several home remedies that are said to aid teeth whitening teeth, though there isn't too much evidence to support this claim. Using the traditional Indian method of oil pulling and eating plenty of fruits like strawberries and pineapple are supposed to aid teeth whitening, and there's no harm in trying these methods alongside more established and proven methods.
Investing in a highly valued teeth whitening kit is your best bet, and don't worry, they're not too difficult to use. Every teeth whitening set includes teeth whitening strips, whitening pens and polish, which are all simple to use and can easily be incorporated into your daily routine.
All teeth whitening products have a simple instruction manual that you can easily follow. If that isn't enough, we've also included a video tutorial here.
Do whitening toothpastes work?
The process of whitening your teeth is similar to losing weight on a diet: if you were to keep track every day, you probably wouldn't notice much difference, however, if you were to compare your appearance after six months you would be amazed at the contrast.
So yes, teeth whitening toothpastes do work, but they do take some time for you to realise. It's easy to give up on a toothpaste if you haven't noticed a glistening set of pearly whites after just a few days, but we urge you to keep with it. Many brands now prioritise teeth whitening, so there are plenty of options on the market.
Whilst we acknowledge that whitened teeth is something to strive for, we advise against toothpastes that focus solely on whitening your teeth. There's little point in having a pristine set of white teeth if they're also damaged and plagued with plaque, so make sure your toothpaste also keeps your teeth healthy and clean.
Toothpaste
Toothpaste is a genuine bathroom staple – but that doesn't mean there's no space for innovation and truly exceptional design. By relying on science and consumer feedback, brands like Manuka Health and Regenerate are able to provide top quality care for your teeth.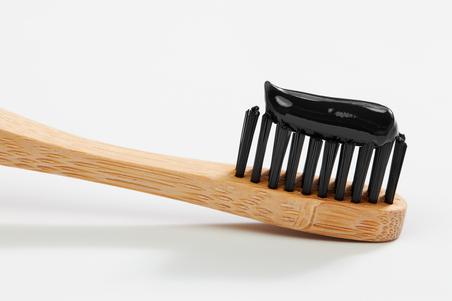 Charcoal toothpaste - does it work?">
Does charcoal toothpaste work?
Charcoal toothpaste has become the latest fad in oral care, and like many fads, many people are wondering if it's the real deal or if it will be just another passing phase.
We can confirm that charcoal does work, though there is no evidence to suggest that it works better than fluoride powered toothpaste. Some swear by activated charcoal toothpaste and claim that it has significantly whitened their teeth, though there are few scientific basis to this claim.
If you want to indulge in the latest phase of charcoal in oral care, there is no reason not to, however, there's also no reason to stray from fluoride based toothpaste if that's what you've already been using. Both are equally adept at cleaning your teeth, though charcoal toothpaste does offer a new colour which can add something new to your daily routine.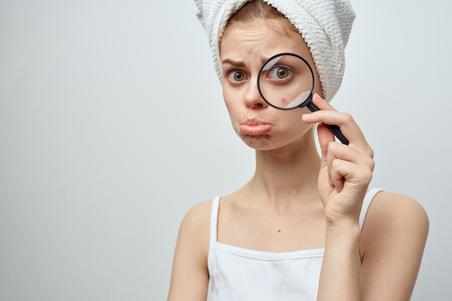 Does toothpaste get rid of spots?
As well as cleaning your teeth, toothpaste has a couple of other useful functions, one of which is helping calm outbreaks of spots. The formula of most toothpaste contains active ingredients and bleaching agents which fight against spots and blackheads.
Toothpaste combines a plethora of chemicals which effectively dry out spots by absorbing the oil. Menthol reduces irritation and the antibacterial properties calms inflammation and fights infection. After a couple of days, the spot should have reduced considerably in size and redness.
Though toothpaste helps soothing spots and blackheads, it needs to be accompanied by specific skin care products. Using toothpaste by itself isn't enough to calm breakouts of spots.
Is toothpaste vegan?
Like many areas of beauty, toothpaste has vegan options though the main brands typically aren't fully vegan friendly. The main area of concern is glycerin, which is sometimes vegan but oftentimes contains animal bi-products. It's often derived from fats and those fats come from animal sources.
Vegan toothpaste is becoming more commonplace in the industry: some brands are capitalising on the growing demand for vegan products and have created entirely vegan toothpaste. Our website has a simple-to-use filter and categorisation system which allows you to search for vegan toothpaste.
When was toothpaste invented?
The earliest records of toothpaste date back to 300 to 500 BC, originating from India and China. A Chinese man named Huang Ti studied oral care and discovered that teeth could be aided by putting gold in between teeth. As you can imagine, the way toothpaste was formed and used hundreds of years ago differs greatly from how we know it today.
The first toothbrush was said to be recorded 3000 years earlier, and often the richest in society would strive to find the latest tools to help clean their teeth. The electric toothbrush was invented in 1960, though it didn't come to prominence until 21st Century when it became more widely available.
The formulas of toothpaste continues to evolve, and it wouldn't be surprising if the remedy of effective toothpastes changes completely in the next hundred years.
How much toothpaste to use?
Believe it or not, there is such a thing as using too much toothpaste. Nearly every toothpaste contains fluoride, which is a potent ingredient that needs to be used with care. Too much toothpaste can cause dental fluorisis, which discolours your teeth and sometimes leads to spots of enamel.
Leading dentists recommend using a pea-sized amount of toothpaste, which covers around half of the bristles on an average brush. This is considered sufficient for a single brushing session, which you should do twice per day - every morning and every evening. For reference, a study discovered that 3-6 year-olds were using the correct amount of toothpaste, so if you have a child in that age range, you can take a few tips from them.
You should aim to spend around two minutes per brushing session, and with the right amount of toothpaste to avoid excess foam. The foamy texture blocks your brush from getting to key areas and prevents you from brushing every crevice.