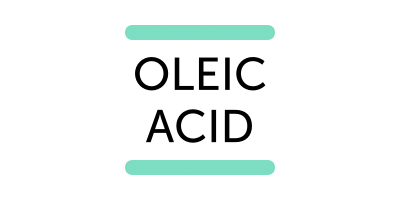 Oleic Acid Cosmetics
Oleic acid is an unsaturated, omega-9 fatty acid that can be found naturally in many animal and vegetable sources, including palm and sunflower oils. It's a colourless and odourless acid used in various beauty products to enhance product absorption and increase the ability to lock in moisture. Oleic acid provides skin care items with a multitude of benefits that combat the likes of ageing and dry skin.
What is Oleic Acid beauty?
Brands With Oleic Acid Products
What Is oleic acid?
Oleic acid is a natural fatty acid that can be consumed in foods to enhance heart and respiratory health. It can also be applied directly to the skin and hair to support healthy hair growth and a radiant complexion.
The term oleic stems from the word oil– and olive oil is one of the most potent forms of oleic acid. Other sources of oleic acid include vegetable, sesame, sunflower, coconut, shea butter and canola oils.
Oleic acid is also known as a surfactant, which is essentially a degreaser for your skin. With one molecule being attracted to water and the other attracted to dirt and grease, it works to lift grime from the skin before breaking it down and washing it away.
What are the skin care benefits of oleic Acid beauty products?
Oleic acid is used as a main component of many skin care products due to its emulsifying properties. It provides the formulations with potent hydrating qualities that will enhance the skin's texture and keep it feeling soft and supple.
This highly beneficial oil also supplies healing and reparative properties whilst doubling as an anti-inflammatory ingredient. This helps to soothe, balance and calm troublesome skin conditions like eczema, rosacea and psoriasis.
Oleic acid is also known for anti-ageing benefits. It contains a high concentration of antioxidant compounds which help to slow down the process of ageing, preventing the formation of fine lines and wrinkles.
Who should use oleic acid beauty products?
Anyone can use oleic acid-infused beauty products, but mature and dry skin types will certainly benefit the most. They are particularly great for people that suffer from severe dryness or conditions including psoriasis, eczema and rosacea due to the calming and soothing effects that oleic acid provides.
What other ingredients go well with oleic acid?
Oleic acid is usually combined with other natural fatty acids, including stearic acid, lauric acid and palmitic acid, as they work harmoniously to enhance product absorption and the ability to lock in vital moisture.
Which beauty products contain oleic acid?
Oleic acid acts as a moisturising lipid and an emollient in creams, lotions, soaps, lipsticks and nail polishes. It's a popular ingredient in the industry, especially in skin, body and hair care products to provide moisture and boost hair growth.
How often should I be using oleic acid beauty products?
There are no limitations to how often you should use oleic acid, but we highly recommend that you follow the instructions on every product, as usage varies with formulation and product type.
Are there any negative side effects of using oleic acid beauty products?
There are no known negative side effects of using oleic acid as it's renowned for its various health and beauty benefits.
How does oleic acid benefit hair care products?
As well as benefitting skin care products, oleic acid works wonders to combat scalp dryness and dandruff thanks to its nourishing properties and ability to repair damaged follicles. It's also an effective stimulant that encourages healthy hair growth.
What are the health benefits of consuming oleic acid in foods and oils?
Oleic acid provides a range of health benefits if consumed as part of a balanced diet. It works to boost the immune system, fight free radical damage and support cardiovascular and respiratory health.