The Top Products You Need for Barbie Makeup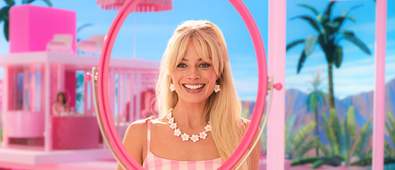 In an era where every makeup look, hair style and home decor trend gets turned into an aesthetic with the word 'core' tacked onto the end, Barbiecore is the one blowing up our 'for you' pages and filling up our Pinterest boards.
Even before the first trailers for Greta Gerwig's Barbie were released, we were all loving the monochromatic pink makeup looks and hot pink blazers that are all about boldness, playfulness and confidence. Maybe it has to do with the rise of dopamine dressing (the idea of wearing bright colours to boost your mood), or perhaps it's the return of the hyperfeminine fashion of the '90s and early 2000s, but embracing pink has never been hotter.
And the hype surrounding the Barbie movie is only helping, of course!
While covering ourselves in pink certainly won't solve the problems of the modern world (as Margot Robbie's character learned the hard way, sorry for the mini spoiler), there's something uplifting and carefree about donning a colour that a lot of young girls are made to feel bad or less than for liking. Femininity and the colour pink, which have become closely linked, are nothing to be ashamed of, and maybe that's part of why popping on this colour makes us feel so happy.
So to celebrate the release of this wacky, reality-warping movie, and to just have some feel-good fun with our makeup, here are some of our favourite Barbiecore makeup looks and the products and tools you'll need to make them happen.
The Perfect Base
The Barbie movie's hair and makeup designer Ivana Primorac wanted to make all of the Barbies look like a person's best self, rather than fake and plastic, deciding to choose each actor's best colour palettes and proportions and make their skin look flawless.
While we don't have the luxury of having a team of hair and makeup artists behind us each morning, there are some amazing products out there that can help us achieve doll-like complexions to complement our pink-powered makeup looks.
(In the spirit of the movie, we'd like to note that imperfections are totally human, even if societal expectations would have us believe we shouldn't have blemishes or cellulite, and that you don't have to cover anything you don't want to. It should really be about what makes you feel good!)
This first look is sweet and simple with just a dash of edginess to it, thanks to the super sharp cat eye with a dash of bold pink under-eye colour. The pop of gloss keeps it monochromatic without overloading the look - great for the summer months when you might not want heavy or opaque lip colours.
Get the look:
The softness of this cut-crease eye with the subtle nude-pink lip is the perfect, doll-like combo.
Get the look:
Go bold or go home! Wearing rhinestones on your lips might not be the most practical thing when you're going about your everyday life rather than posing for a photoshoot, so we'd probably opt for a long-wearing matte lip to go with the two-toned pink eye makeup. Or, if you're still feeling your Euphoria era, pop those rhinestones around your eyes instead!
If you want to really commit to the Barbie look, add in some pink graphic eyeliner. We've seen everything from the bows shown here to hearts, flowers and even the word 'Barbie' itself.
Match the rest of your makeup to the glam of the eyes with plenty of blush, highlighter and sparkly gloss!
For a throwback to '60s fashion and Barbie's original darker eye makeup, make sure your lashes (especially the lower) are as dramatic as possible. You can pair them with whatever eye makeup you prefer, whether that's bold graphic liner like this one or a softer pink all across the eye. And don't forget the fake freckles!
This look has everything!! Are those even streaks of reddish pink hair we detect beneath the pink hair clips?
Take your hot pink shadow up the brows and pop on a juicy gloss over lip liner for the ultimate Barbiecore look - and of course, you'll want pink nails to match.
To get your complexion to a good place to form the base for your Barbie-esque look, why not try a makeup-skincare hybrid for results that last long after you wash your face? Here our 12 Hybrid Beauty Products That Work as Both Makeup and Skincare. And to get those big doll lashes, try out these Top Eyelash Serums for Growth and Volume.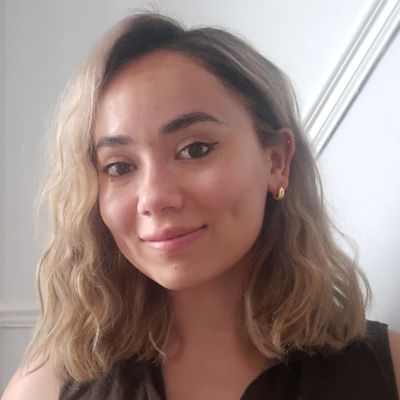 Gabriella is a junior content writer with a background in creative writing, content marketing and journalism. She's passionate about all things makeup and skincare, but especially vegan and cruelty-free beauty that is effective and inexpensive.