Skinny Tan: A Self-Tan Guide for Beginners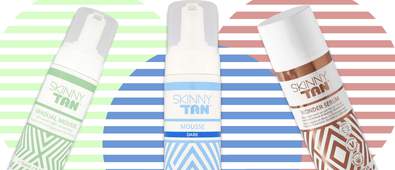 Jetting abroad to soak up the sun, sand and sea seems like nothing but a distant memory. Whilst we're sure that we'll be able to enjoy the feeling of boarding a plane to warmer weather soon, it seems as though we're stuck with a good ol' English 'summer' for now.
Sure, we're blessed with a heatwave here and there, but the likelihood of catching a killer tan in the U.K. is small. That's where our trusty fake tan comes in. For years, Skinny Tan has been our go-to for an undetectable, natural, golden glow. Their line-up of products is simply unmatched, as it features everything from gradual tanners and express mousses to oils, drops and glosses.
Whether you're new to self-tan or are a veteran of the faux glow, we can guarantee that you'll pick up a tip (or two) from our ultimate guide to Skinny Tan.

Skinny Tan Self-Tan
Don't stress if you're not able to jet off to your favourite sunny destination this year; you can still cheat your way to sun-kissed skin. Skinny Tan offer luxurious self-tanning lotions, mousses and oils that deliver a bronzed skin tone from the comfort of your home.
Why bother spending hours in cloudy weather trying to sunbathe in the garden when you can achieve a golden complexion in just a few minutes? Skinny Tan have mastered the art of the fast-absorbing and fast-acting self-tan, tailored to fit into your busy life.
If that wasn't much of an incentive, all of their luscious lotions are laced with aromatic ingredients to evoke a dreamy, coconut scent. Add the bestselling self-tanners for your body to your collection for irresistibly smooth and sun-kissed skin that's finely scented.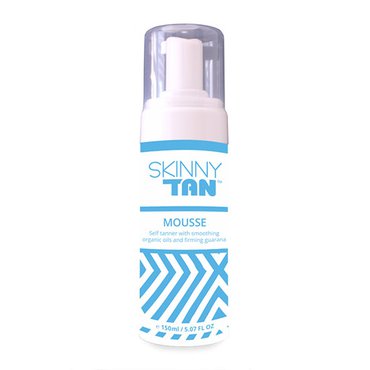 £19.79
The self-tan for all occasions, Skinny Tan's must-have mousse delivers a gorgeous glow in just a few minutes. Apply before you head away on holiday to get that bronzed beach tone or for just enjoy a base tan all year round.
Specially formulated to deliver a natural looking tan, Skinny Tan have alleviated any concerns about dreaded orange tones or streaks appearing. Instead, you can enjoy a sun-kissed complexion that's indistinguishable from a natural colour.
Imbued with a sweet and sensual coconut aroma, the luscious formula leaves your skin looking fresh, feeling smooth and smelling sweet.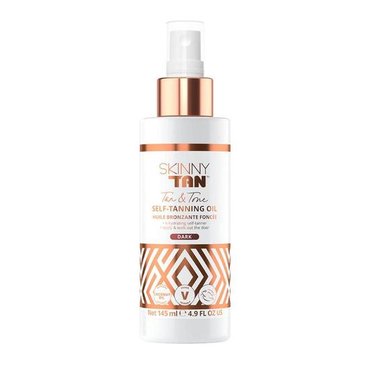 £19.79
Getting that gorgeous, bronzed colour couldn't be easier. Skinny Tan are all about simple efficiency, exemplified by the easy-to-use and fast-acting nature of their bestselling toning oil.
Streak free and natural looking, the infamous orange streaks synonymous with self-tan are replaced by a smooth, soft and sleek complexion. Tanning agents and organic oils effortlessly blend to produce a sun-kissed glow that's here to stay.
Application is super quick and simple; just spritz the oil all over your body and bask in your deep, warm tan.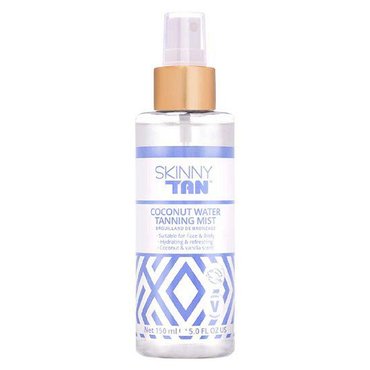 £19.79
You've been basking under the Mediterranean sun for two weeks, you've come home and a month later your gorgeous, sun-kissed complexion has faded. Who can relate? Well, you don't have to say goodbye to that dreamy skin tone just yet.
This Coconut Water Tanning Mist delivers a medium tan all year round, so you can enjoy that bronzed glow from winter to spring. Streak-free and quick-drying, the aromatic formula is drenched in nourishing oils to moisturise and hydrate the skin.
You don't have to worry about that pesky fake tan smell either; the must-have mist is imbued with gentle streams of coconut for a smooth and sweet scent.

Skinny Tan Gradual Self-Tan
Let's be honest, gradual tans always look a little bit more natural. The appearance of your skin gently adding a deep, warm colour is a much more subtle way to achieve that dream complexion. Whilst we appreciate the convenience of an instant tan, sometimes it's best to wait for the perfect finish.
Skinny Tan have realised the demand for gradual self-tan and created a range that is bursting with tanning agents and skin-loving ingredients. Their supreme selection lets you take control of your skin tone whilst enriching your complexion.
Explore the wide range of convenient, easy-to-use and luxurious products to deliver the sun-kissed look in a few days.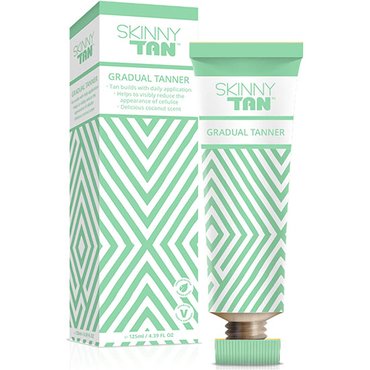 £13.49
There's a lot to love about the winter months, however, we're not too keen on the affect they have on our skin tone. Whereas we can enjoy a sun-kissed glow throughout summer, it's harder to achieve that radiant glow around Christmas.
This deluxe gradual tanner allows you to show-off a bronzed complexion all year round, because why should a gorgeous tan just be for summer? Hydrating, softening and finely scented, add this must-have tanner to your collection to enjoy a golden finish with a silky-smooth touch for all 12 months.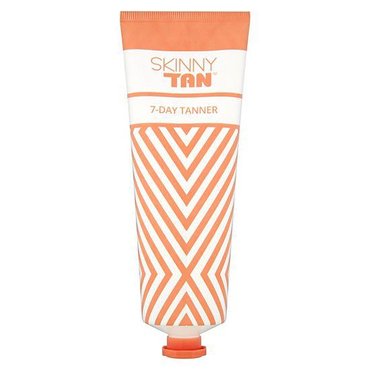 £17.99
Just as Craig David famously told us, you can do a lot in seven days. Whilst there are many ways to spend a week, how about spending your time achieving a gorgeous, natural looking tan?
Transform pale and dry skin into an oasis of deep, warm colour with this vegan and cruelty-free formula. Combining tanning agents with the soothing properties of aloe vera and the sweet aromas of coconut, it's a tanner that treats you to skin that looks, feels and smells gorgeous.

Skinny Tan Facial Tanners
Before you even think about swiping that tan-soaked mitt over your face, be sure to check out Skinny Tan's selection of facial tanners. Finally, you can give your skin a sun-kissed finish without having to worry about breakouts, clogged pores and orange streaks, as the Skinny Tan Face formulas have been expertly designed with your complexion in mind. Packed with ultra-hydrating, nourishing vitamins, minerals and antioxidants and, of course, a gorgeous golden tanning actives, you're given the confidence to go bare-faced every day.
The best-selling facial tanning drops can be mixed with your favourite skincare products, whilst the gradual face tan moisturisers help you build your most bronzed complexion yet.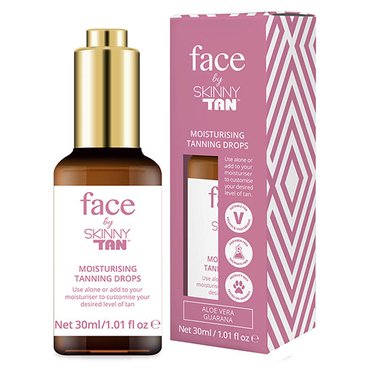 £13.49

£13.59

(1% off)
Tanning drops are the quick, easy and fuss-free way to achieve a sun-kissed complexion. Whether you apply them directly to skin or mix them with your favourite face creams and serums, they provide an unmatched warmth that looks good all-year-round. This formula from Skinny Tan is super moisturising as it utilises a blend of aloe vera and guarana berries. Not to mention, the drops are fast-absorbing, non-sticky and infused with a coconut and caramel scent.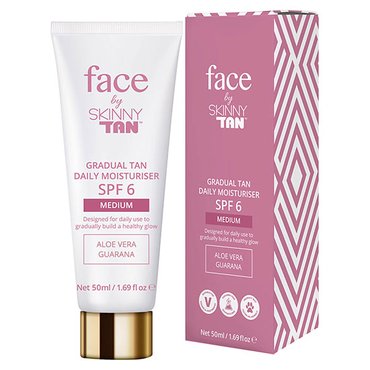 £13.49
Just like a regular moisturiser, this formula hydrates dry and dehydrated complexions, prevents signs of ageing and even offers SPF protection. It gives skin a soft, radiant finish that looks good alone or under makeup. Of course, being from Skinny Tan, it's also infused with tanning actives that add an enviable bronzed glow to skin.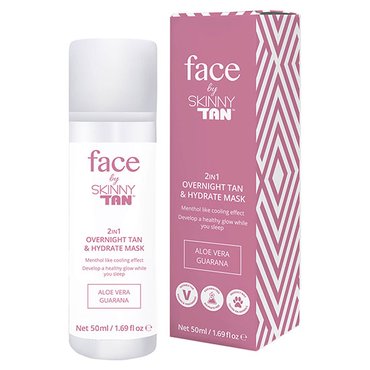 £17.99
Here we have a two-in-one formula that does all of the hard work for you. The Overnight Tan & Hydrate Mask laces skin with a streak-free, golden glow whilst you catch those all important zzz's. In the morning, you'll wake up to a sun-kissed complexion that also feels soft, smooth and hydrated.

Skinny Tan Accessories
Tired of having dreaded orange hands after indulging in a thorough self-tanning process? You're not alone, and such is the demand for a helping hand, Skinny Tan have created a deluxe range of tanning application accessories.
Whether you want the convenience of a tanning mitt or the luxury of a premium roller, you can find everything you need to make your self-tanning regime as smooth, simple and stress-free as possible.
High-end yet affordable, Skinny Tan believe everyone should be able to enjoy a gorgeous tan, whether it's with a subtle glow to pale skin or with a deep, warm tone. Whatever tone suits you, create it with these luxury accessories.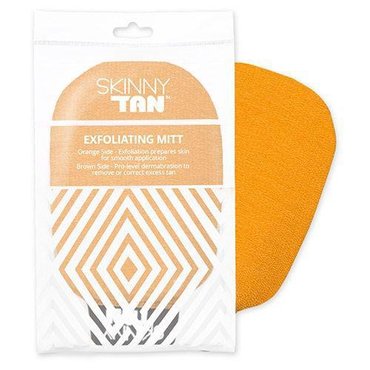 £4.79
You can have the best tanning lotion on the market, yet the key to achieving the dream complexion lies in the application. Whether you're a self-tan veteran or someone who's looking to add a touch of colour to their skin for the first, this easy-to-use mitt makes application effortless and stress-free.
Use the brown side to prep and exfoliate dead skin, then after application use the orange side to remove any excess residue. Durable and potent, this must-have mitt seamlessly removes any excess product to leave a gorgeous finish.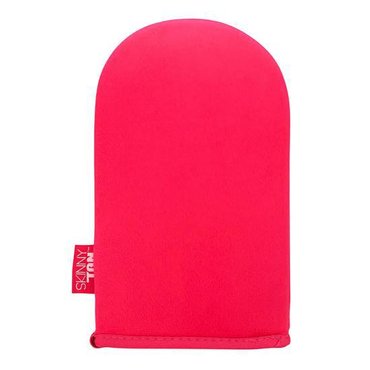 £3.55

£6.39

(45% off)
Why should self-tanning be a chore? The velvety smooth and silky-soft texture of this luxurious tanning mitt gives endless pleasure to your tanning experience.
Designed to absorb excess product, the must-have mitt protects your hands from being stained by the pesky orange hues of a self-tan. It's small enough for anyone to use and robust enough to perform a thorough application - the perfect addition for an effortless tanning experience. Welcome it into your routine for a new level of comfort.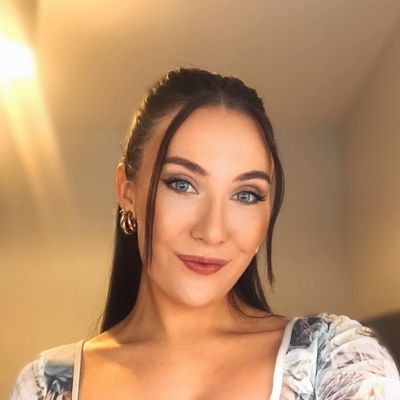 As the Senior Content Editor for Cosmetify, Carly is the go-to for all the latest (and greatest) beauty tips, tricks and trends. With over six years of experience in the industry, she knows all the ins-and-outs when it comes to health, beauty and wellbeing.