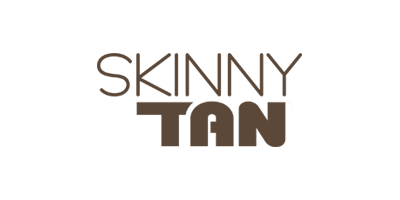 Skinny Tan
Making their break on Dragons Den UK with a one-of-a-kind pitch, Skinny Tan have now become a modern and trusted self-tan brand for tanning fanatics everywhere.
It all started when founders Kate and Louise were fed up with that infamous orange tint that a lot of self-tanners give off. Deciding to put a stop to dodgy tans and unsightly skin colours, they fused their brains together to create a self-tanner that sat well on skin and didn't look false – and with that, Skinny Tan was born.
First on the agenda for creating the ultimate fake tan was to make it completely indistinguishable from a real tan. This needed to be a fool-proof and streak-free tan, and that's exactly what they created.
Both Louise and Kate were very aware as to the number of harsh chemicals that are already in skin products and wanted Skinny Tan to avoid these nasties as much as possible. With that in mind, the dynamic duo included naturally derived ingredients into their formulas to make it a skin-loving tanning product. In fact, 99% of the products are made from naturally derived ingredients and do not include any parabens or sulphates. And of course, their formulas are not tested on animals and are suitable for vegans.
Fake your way to a healthy-looking tan with the brand that loves the skin you're in.
You've viewed 32 of 36 products