Skinny Tan
Browse the Skinny Tan line up of sun care & tanning and skin care. Be sure that you create a brand alert so that you are always aware of Skinny Tan sales and deals.
Best Selling Skinny Tan Products
Skinny Tan Wonder Serum
Add a touch of wonder to your tanning process with Skinny Tan's bestselling serums. The multi-purpose formulas deliver that dream skin tone, complemented by a smooth and sleek complexion - a treat for all the senses.
Combining tanning properties with anti-ageing qualities, the luscious serums give your body a sun-kissed glow and skin that looks visibly younger. Transform your look from pale and ageing to young and bronzed in just an instant.
Fast-acting, easy to apply and long-lasting, the serums are all you need to maintain the base tan that glows throughout the year. Natural-looking and streak-free, get a gorgeous colour that takes years off you with Skinny Tan's supreme serums.
Welcome to the next level of self-tanning. Skinny Tan have raised the bar for delivering that flawless bronzed complexion, combining tanning ingredients with anti-ageing properties. The result? Sun-kissed skin that looks years younger.
Fast-absorbing and long-lasting, the luxurious serum takes action in just two minutes and delivers a gorgeous colour for up to 14 days. Cruelty-free and vegan, the 95% natural remedy balances your skin tone, produces a silky-soft texture and reveals a natural-looking finish.
£8.99

£14.99
Marrying the long-lasting properties of a deluxe self-tan with the fast-acting qualities of an express tan, this bestselling serum is a simple and stress-free way to achieve a dreamy tone.
Get that bronzed beach body from the comfort of your home with the soothing blend of aloe vera, rose water and Vitamin E. Flexible and versatile, leave the serum on for one hour to achieve a light tan, two hours for a medium tan and three hours for a dark tan.
Take control of your skin tone with the best serum in self-tanning.
£22.35

£31.99
Skinny Tan Self-Tan
It's obviously harder to head off to to our favourite sunny destinations at the moment, but don't worry, there is a solution. Skinny Tan offer luxurious self-tanning lotions, mousses and oils that deliver a sun-kissed skin tone from the comfort of your home.
Why bother spending hours in cloudy weather trying to sunbathe in the garden when you can achieve a bronzed complexion in just a few minutes? Skinny Tan have mastered the art of the fast-absorbing and fast-acting self-tan, tailored to fit into your busy life.
If that wasn't of an incentive, all of their luscious lotions are laced with aromatic ingredients to evoke a dreamy, coconut scent. Add the bestselling self-tanners to your collection for irresistibly smooth and sun-kissed skin that's finely scented.
Getting that gorgeous, bronzed colour couldn't be easier. Skinny Tan are all about simple efficiency, exemplified by the easy-to-use and fast-acting nature of their bestselling toning oil.
Streak free and natural looking, the infamous orange streaks synonymous with self-tan are replaced by a smooth, soft and sleek complexion. Tanning agents and organic oils effortlessly blend to produce a sun-kissed glow that's here to stay.
Application is super quick and simple; just spritz the oil all over your body and bask in your deep, warm tan.
£17.99

£23.99
The self-tan for all occasions, Skinny Tan's must-have mousse delivers a gorgeous glow in just a few minutes. Apply before you head away on holiday to get that bronzed beach tone or for just enjoy a base tan all year round.
Specially formulated to deliver a natural looking tan, Skinny Tan have alleviated any concerns about dreaded orange tones or streaks appearing. Instead, you can enjoy a sun-kissed complexion that's indistinguishable from a natural colour.
Imbued with a sweet and sensual coconut aroma, the luscious formula leaves your skin looking fresh, feeling smooth and smelling sweet.
£15.35

£21.99
You've been basking under the Mediterranean sun for two weeks, you've come home and a month later your gorgeous, sun-kissed complexion has faded. Who can relate? Well, you don't have to say goodbye to that dreamy skin tone just yet.
This Coconut Water Tanning Mist delivers a medium tan all year round, so you can enjoy that bronzed glow from winter to spring. Streak-free and quick-drying, the aromatic formula is drenched in nourishing oils to moisturise and hydrate the skin.
You don't have to worry about that pesky fake tan smell either; the must-have mist is imbued with gentle streams of coconut for a smooth and sweet scent.
£16.49

£21.99
Skinny Tan Gradual Self-Tan
Let's be honest, gradual tans always look a little bit more natural. The appearance of your skin gently adding a deep, warm colour is a much more subtle way to achieve that dream complexion. Whilst we appreciate the convenience of an instant tan, sometimes it's best to wait for the perfect finish.
Skinny Tan have realised the demand for gradual self-tan and created a range that is bursting with tanning agents and skin-loving ingredients. Their supreme selection lets you take control of your skin tone whilst enriching your complexion.
Explore the wide range of convenient, easy-to-use and luxurious products to deliver the sun-kissed look in a few days.
Just as Craig David famously told us, you can do a lot in seven days. Whilst there are many ways to spend a week, how about spending your time achieving a gorgeous, natural looking tan?
Transform pale and dry skin into an oasis of deep, warm colour with this vegan and cruelty-free formula. Combining tanning agents with the soothing properties of aloe vera and the sweet aromas of coconut, it's a tanner that treats you to skin that looks, feels and smells gorgeous.
£14.00

£19.99
There's a lot to love about the winter months, however, we're not too keen on the affect they have on our skin tone. Whereas we can enjoy a sun-kissed glow throughout summer, it's harder to achieve that radiant glow around Christmas.
This deluxe gradual tanner allows you to show-off a bronzed complexion all year round, because why should a gorgeous tan just be for summer? Hydrating, softening and finely scented, add this must-have tanner to your collection to enjoy a golden finish with a silky-smooth touch for all 12 months.
£8.99

£14.99
Whilst we can understand the demand for an instant tan, a gradual tan always looks that touch more natural. This must-have mousse showcases all the benefits of a gradual tan: it's easy to apply, produces a subtle finish and never leaves unwanted orange patches or streaks.
As tempting as that sounds, the best part lies in the texture; the rich, creamy feel of the mousse transforms the tanning experience from dull to dreamy.
Whether you want a subtle glow to pale skin or a deep, warm colour, you can achieve your perfect tone with this luxurious mousse.
£15.60

£17.99
Skinny Tan Accessories
Tired of having dreaded orange hands after indulging in a thorough self-tanning process? You're not alone, and such is the demand for a helping hand, Skinny Tan have created a deluxe range of tanning application accessories.
Whether you want the convenience of a tanning mitt or the luxury of a premium roller, you can find everything you need to make your self-tanning regime as smooth, simple and stress-free as possible.
High-end yet affordable, Skinny Tan believe everyone should be able to enjoy a gorgeous tan, whether it's with a subtle glow to pale skin or with a deep, warm tone. Whatever tone suits you, create it with these luxury accessories.
You can have the best tanning lotion on the market, yet the key to achieving the dream complexion lies in the application. Whether you're a self-tan veteran or someone who's looking to add a touch of colour to their skin for the first, this easy-to-use mitt makes application effortless and stress-free.
Use the brown side to prep and exfoliate dead skin, then after application use the orange side to remove any excess residue. Durable and potent, this must-have mitt seamlessly removes any excess product to leave a gorgeous finish.
£3.60

£5.99
Indulge in a truly luxurious tanning experience with Skinny Tan's premium product. Forget about the struggle to achieve an even tan and embrace unrivalled convenience with this lightweight roller that's super comfortable to hold.
Expertly designed to find those hard-to-reach areas, this must-have accessory allows you to achieve a balanced tan from head to toe. Transform your tanning routine from a chore to an effortless dream with one easy-to-use roller. It's sleek design covers the curves and contours of your body for an even finish.
£10.80

£12.99
Why should self-tanning be a chore? The velvety smooth and silky-soft texture of this luxurious tanning mitt gives endless pleasure to your tanning experience.
Designed to absorb excess product, the must-have mitt protects your hands from being stained by the pesky orange hues of a self-tan. It's small enough for anyone to use and robust enough to perform a thorough application - the perfect addition for an effortless tanning experience. Welcome it into your routine for a new level of comfort.
£3.60

£5.99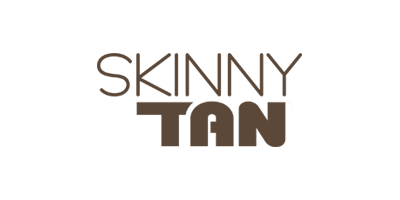 Making their break on Dragons Den with a one-of-a-kind pitch, Skinny Tan have now become a modern and trusted self-tan brand for tanning fanatics everywhere.
It all started when founders Kate and Louise were fed up with that infamous orange tint that so many self-tanners leave. Deciding to put a stop to it, they put their heads together to create a self-tanner that sat well on skin and didn't look false.
Both Louise and Kate were very aware as to the number of harsh chemicals that are already in skin products and wanted Skinny Tan to avoid these nasties as much as possible. With that in mind, the dynamic duo included naturally derived ingredients in their formulas. In fact, 99% of the products are made from natural ingredients and do not include any parabens or sulphates. And of course, their formulas are not tested on animals and are suitable for vegans.
Fake your way to a healthy-looking tan with the brand that loves the skin you're in.
Why We Like Skinny Tan
"Bronzed skin that smells like a coconut island breeze? We're sold. Skinny Tan is a firm favourite amongst the self-tanners at Cosmetify, as they provide a streak-free tan that lasts up to seven days – plus they're packaging is super pretty. Made by real women for real women, we're nothing but obsessed."
Carly Cochrane, Beauty Editor
Where are Skinny Tan products sold in the UK?
Skinny Tan products can be bought online in the UK from Gorgeous Shop, Beauty Bay and Beauty Flash. Other places to buy products include HQHair, Beauty Expert and more.
But with such a saturated market, it can be tricky figuring out which is the best place to buy Skinny Tan products for the cheapest price. That's where we come in. Cosmetify helps by showcasing all the prices from multiple retailers and letting you order online. This means we compare the costs so whether you're looking for sun care & tanning or skin care, you can easily find the cheapest price on all your favourite bits and bobs.
And if your go-to products are out of stock; you can easily set up an alert and we will let you know when it's available again. Win-win!
Frequently Asked Questions about Skinny Tan
Are there Parabens in Skinny Tan formulations?
The entire line of Skinny Tan is paraben free.
Is Skinny Tan suitable for vegans?
Skinny Tan are vegan-friendly, so no animal by-products or animal-derived ingredients are used in their product lines.
Will i find Sulphates in the product ingredients list?
There are no sulphates in their product ingredients.
If I want alcohol-free products, should I buy from Skinny Tan?
Not all of their products are alcohol-free. Please use our site filters and check product ingredients.
Paraben Free
Vegan Friendly
Sulphate Free