Clinique Anti-Blemish Solutions Liquid Makeup
Clinique Anti-Blemish Solutions Liquid Makeup
Product review scores are combined across retailers and then averaged. See retailer site for review content.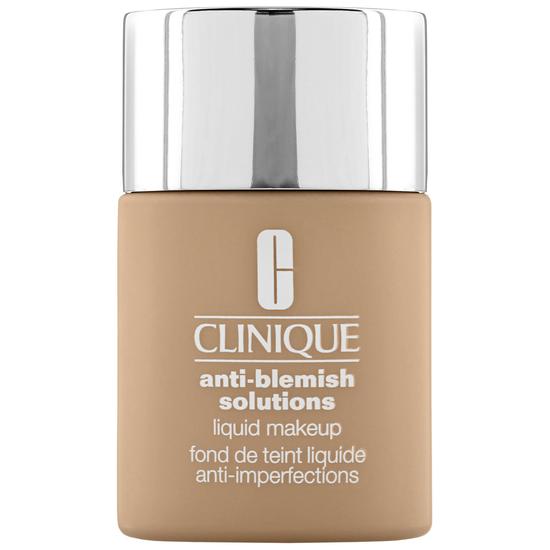 Sold by Allbeauty
In Stock
Free Delivery
Free Returns
Available from 6 more retailers
£26.85 Free Delivery

From Amazon

£28.00 Free Delivery

From Look Fantastic

£28.50 + £3.50 Delivery

From John Lewis

£28.50 + £4.00 Delivery

From Asos

£28.50 Free Delivery

From Feel Unique

£28.50 Free Delivery

From Selfridges
Product Details
Searching for the perfect foundation for oily or blemish-prone skin? Look no further than the Clinique Anti-Blemish Solutions Liquid Makeup. This wonder product helps smooth, conceal and clear your complexion.
Blemishes, acne and dark spots can all be tricky to conceal, but with the Anti-Blemish Solutions Liquid Makeup it has never been easier. The lightweight foundation feels comfortable on the skin and helps you achieve a natural to medium coverage. No cakey feeling and no chalky texture unlike other foundations.
You can rely on the innovative anti-blemish ingredients in this foundation to cover spots, control redness and prevent future breakouts. It feels extra soothing on the skin and nourishes your complexion all day long, to leave you feeling fresh and flawless no matter the occasion.
Product Features
Clinique Anti-Blemish Solutions Liquid Makeup is great for those with normal and oily skin, looking for medium and sheer or natural coverage and aiming to get a natural finish.
This Clinique face makeup contains salicylic acid which helps to smooth skin.
How To Use
Ensure your skin is cleansed and moisturised
Apply the foundation to your face using a makeup brush or clean fingertips
Buff into your skin starting in the centre and blend outwards
Brand Bio
Innovative and effective, Clinique's wide range of creams, lotions and balms has made them one of the most renowned and esteemed brands in skin care. Each product is dermatologically tested to produce instant and long-lasting results - it makes your morning routine that little simpler.
Product Options

Clinique Anti-Blemish Solutions Liquid Makeup is available in the following options:

Fresh Vanilla
Fresh Sand
Fresh Beige
Fresh Ivory
Fresh Neutral
Fresh Clove
Fresh Ginger
Fresh Honey
Cream Chamois
Fresh Alabaster
Cream Caramel
Golden

Ingredients

Fresh Alabaster: Dimethicone, Water\Aqua\Eau, Dipropylene Glycol, Alcohol Denat., Nylon-12, Butylene Glycol, Methyl Trimethicone, Peg-10 Dimethicone, Talc, Trimethylsiloxysilicate, Silica, Laminaria Saccharina Extract, Calcium Stearate, Isononyl Isononanoate, Caffeine, Salicylic Acid, Glycerin, Hydroxyapatite, Dimethicone/Peg-10/15 Crosspolymer, Sorbitan Sesquioleate, Dimethicone/Vinyl Dimethicone Crosspolymer, Triethoxycaprylylsilane, Quaternium-90 Bentonite, 10-Hydroxydecanoic Acid, Lecithin, Sodium Chloride, Tromethamine, Propylene Carbonate, Alumina, Disodium Edta, Sodium Citrate, Phenoxyethanol, [+/- Titanium Dioxide (Ci 77891), Iron Oxides (Ci 77491, Ci 77492, Ci 77499), Mica] Rds Product Name: Acne Solutions Liquid Makeup Division: Cl (Clinique)Ingredients: Methyl Trimethicone, Water\Aqua\Eau, Dipropylene Glycol, Alcohol Denat., Nylon-12, Butylene Glycol, Talc, Peg-10 Dimethicone, Dimethicone, Trimethylsiloxysilicate, Silica, Laminaria Saccharina Extract, Calcium Stearate, Isononyl Isononanoate, Caffeine, Glycerin, Hydroxyapatite, Dimethicone/Peg-10/15 Crosspolymer, Sorbitan Sesquioleate, Salicylic Acid, Dimethicone/Vinyl Dimethicone Crosspolymer, Triethoxycaprylylsilane, Quaternium-90 Bentonite, 10-Hydroxydecanoic Acid, Lecithin, Tocopherol, Sodium Chloride, Tromethamine, Propylene Carbonate, Alumina, Disodium Edta, Sodium Citrate, Phenoxyethanol, [+/- Titanium Dioxide (Ci 77891), Iron Oxides (Ci 77491, Ci 77492, Ci 77499), Mica].

Fresh Ivory: Methyl Trimethicone, Water\Aqua\Eau, Dipropylene Glycol, Alcohol Denat., Nylon-12, Butylene Glycol, Talc, Peg-10 Dimethicone, Dimethicone, Trimethylsiloxysilicate, Silica, Laminaria Saccharina Extract, Calcium Stearate, Isononyl Isononanoate, Caffeine, Glycerin, Hydroxyapatite, Dimethicone/Peg-10/15 Crosspolymer, Sorbitan Sesquioleate, Salicylic Acid, Dimethicone/Vinyl Dimethicone Crosspolymer, Triethoxycaprylylsilane, Quaternium-90 Bentonite, 10-Hydroxydecanoic Acid, Lecithin, Tocopherol, Sodium Chloride, Propylene Carbonate, Alumina, Disodium Edta, Sodium Citrate, Phenoxyethanol, [+/- Titanium Dioxide (Ci 77891), Iron Oxides (Ci 77491, Ci 77492, Ci 77499), Mica].

Fresh Neutral:Dimethicone, Water\Aqua\Eau, Dipropylene Glycol, Alcohol Denat., Nylon-12, Butylene Glycol, Methyl Trimethicone, Peg-10 Dimethicone, Talc, Trimethylsiloxysilicate, Silica, Laminaria Saccharina Extract, Calcium Stearate, Isononyl Isononanoate, Caffeine, Salicylic Acid, Glycerin, Hydroxyapatite, Dimethicone/Peg-10/15 Crosspolymer, Sorbitan Sesquioleate, Dimethicone/Vinyl Dimethicone Crosspolymer, Triethoxycaprylylsilane, Quaternium-90 Bentonite, 10-Hydroxydecanoic Acid, Lecithin, Sodium Chloride, Tromethamine, Propylene Carbonate, Alumina, Disodium Edta, Sodium Citrate, Phenoxyethanol, [+/- Titanium Dioxide (Ci 77891), Iron Oxides (Ci 77491, Ci 77492, Ci 77499), Mica] Rds Product Name: Acne Solutions Liquid Makeup Division: Cl (Clinique)Ingredients: Methyl Trimethicone, Water\Aqua\Eau, Dipropylene Glycol, Alcohol Denat., Nylon-12, Butylene Glycol, Talc, Peg-10 Dimethicone, Dimethicone, Trimethylsiloxysilicate, Silica, Laminaria Saccharina Extract, Calcium Stearate, Isononyl Isononanoate, Caffeine, Glycerin, Hydroxyapatite, Dimethicone/Peg-10/15 Crosspolymer, Sorbitan Sesquioleate, Salicylic Acid, Dimethicone/Vinyl Dimethicone Crosspolymer, Triethoxycaprylylsilane, Quaternium-90 Bentonite, 10-Hydroxydecanoic Acid, Lecithin, Tocopherol, Sodium Chloride, Tromethamine, Propylene Carbonate, Alumina, Disodium Edta, Sodium Citrate, Phenoxyethanol, [+/- Titanium Dioxide (Ci 77891), Iron Oxides (Ci 77491, Ci 77492, Ci 77499), Mica].

Fresh Vanilla:Dimethicone, Water\Aqua\Eau, Dipropylene Glycol, Alcohol Denat., Nylon-12, Butylene Glycol, Methyl Trimethicone, Peg-10 Dimethicone, Talc, Trimethylsiloxysilicate, Silica, Laminaria Saccharina Extract, Calcium Stearate, Isononyl Isononanoate, Caffeine, Salicylic Acid, Glycerin, Hydroxyapatite, Dimethicone/Peg-10/15 Crosspolymer, Sorbitan Sesquioleate, Dimethicone/Vinyl Dimethicone Crosspolymer, Triethoxycaprylylsilane, Quaternium-90 Bentonite, 10-Hydroxydecanoic Acid, Lecithin, Sodium Chloride, Tromethamine, Propylene Carbonate, Alumina, Disodium Edta, Sodium Citrate, Phenoxyethanol, [+/- Titanium Dioxide (Ci 77891), Iron Oxides (Ci 77491, Ci 77492, Ci 77499), Mica] Rds Product Name: Acne Solutions Liquid Makeup Division: Cl (Clinique)Ingredients: Methyl Trimethicone, Water\Aqua\Eau, Dipropylene Glycol, Alcohol Denat., Nylon-12, Butylene Glycol, Talc, Peg-10 Dimethicone, Dimethicone, Trimethylsiloxysilicate, Silica, Laminaria Saccharina Extract, Calcium Stearate, Isononyl Isononanoate, Caffeine, Glycerin, Hydroxyapatite, Dimethicone/Peg-10/15 Crosspolymer, Sorbitan Sesquioleate, Salicylic Acid, Dimethicone/Vinyl Dimethicone Crosspolymer, Triethoxycaprylylsilane, Quaternium-90 Bentonite, 10-Hydroxydecanoic Acid, Lecithin, Tocopherol, Sodium Chloride, Tromethamine, Propylene Carbonate, Alumina, Disodium Edta, Sodium Citrate, Phenoxyethanol, [+/- Titanium Dioxide (Ci 77891), Iron Oxides (Ci 77491, Ci 77492, Ci 77499), Mica].

Fresh Beige: Dimethicone, Water\Aqua\Eau, Dipropylene Glycol, Alcohol Denat., Nylon-12, Butylene Glycol, Methyl Trimethicone, Peg-10 Dimethicone, Talc, Trimethylsiloxysilicate, Silica, Laminaria Saccharina Extract, Calcium Stearate, Isononyl Isononanoate, Caffeine, Salicylic Acid, Glycerin, Hydroxyapatite, Dimethicone/Peg-10/15 Crosspolymer, Sorbitan Sesquioleate, Dimethicone/Vinyl Dimethicone Crosspolymer, Triethoxycaprylylsilane, Quaternium-90 Bentonite, 10-Hydroxydecanoic Acid, Lecithin, Sodium Chloride, Tromethamine, Propylene Carbonate, Alumina, Disodium Edta, Sodium Citrate, Phenoxyethanol, [+/- Titanium Dioxide (Ci 77891), Iron Oxides (Ci 77491, Ci 77492, Ci 77499), Mica] Rds Product Name: Acne Solutions Liquid Makeup Division: Cl (Clinique)Ingredients: Methyl Trimethicone, Water\Aqua\Eau, Dipropylene Glycol, Alcohol Denat., Nylon-12, Butylene Glycol, Talc, Peg-10 Dimethicone, Dimethicone, Trimethylsiloxysilicate, Silica, Laminaria Saccharina Extract, Calcium Stearate, Isononyl Isononanoate, Caffeine, Glycerin, Hydroxyapatite, Dimethicone/Peg-10/15 Crosspolymer, Sorbitan Sesquioleate, Salicylic Acid, Dimethicone/Vinyl Dimethicone Crosspolymer, Triethoxycaprylylsilane, Quaternium-90 Bentonite, 10-Hydroxydecanoic Acid, Lecithin, Tocopherol, Sodium Chloride, Tromethamine, Propylene Carbonate, Alumina, Disodium Edta, Sodium Citrate, Phenoxyethanol, [+/- Titanium Dioxide (Ci 77891), Iron Oxides (Ci 77491, Ci 77492, Ci 77499), Mica].

Fresh Honey: Methyl Trimethicone, Water\Aqua\Eau, Dipropylene Glycol, Alcohol Denat., Nylon-12, Butylene Glycol, Talc, Peg-10 Dimethicone, Dimethicone, Trimethylsiloxysilicate, Silica, Laminaria Saccharina Extract, Calcium Stearate, Isononyl Isononanoate, Caffeine, Glycerin, Hydroxyapatite, Dimethicone/Peg-10/15 Crosspolymer, Sorbitan Sesquioleate, Salicylic Acid, Dimethicone/Vinyl Dimethicone Crosspolymer, Triethoxycaprylylsilane, Quaternium-90 Bentonite, 10-Hydroxydecanoic Acid, Lecithin, Tocopherol, Sodium Chloride, Tromethamine, Propylene Carbonate, Alumina, Disodium Edta, Sodium Citrate, Phenoxyethanol, [+/- Titanium Dioxide (Ci 77891), Iron Oxides (Ci 77491, Ci 77492, Ci 77499), Mica].

Fresh Ginger: Methyl Trimethicone, Water\Aqua\Eau, Dipropylene Glycol, Alcohol Denat., Nylon-12, Butylene Glycol, Talc, Peg-10 Dimethicone, Dimethicone, Trimethylsiloxysilicate, Silica, Laminaria Saccharina Extract, Calcium Stearate, Isononyl Isononanoate, Caffeine, Glycerin, Hydroxyapatite, Dimethicone/Peg-10/15 Crosspolymer, Sorbitan Sesquioleate, Salicylic Acid, Dimethicone/Vinyl Dimethicone Crosspolymer, Triethoxycaprylylsilane, Quaternium-90 Bentonite, 10-Hydroxydecanoic Acid, Lecithin, Tocopherol, Sodium Chloride, Tromethamine, Propylene Carbonate, Alumina, Disodium Edta, Sodium Citrate, Phenoxyethanol, [+/- Titanium Dioxide (Ci 77891), Iron Oxides (Ci 77491, Ci 77492, Ci 77499), Mica].

Fresh Clove: Methyl Trimethicone, Water\Aqua\Eau, Dipropylene Glycol, Alcohol Denat., Nylon-12, Butylene Glycol, Talc, Peg-10 Dimethicone, Dimethicone, Trimethylsiloxysilicate, Silica, Laminaria Saccharina Extract, Calcium Stearate, Isononyl Isononanoate, Caffeine, Glycerin, Hydroxyapatite, Dimethicone/Peg-10/15 Crosspolymer, Sorbitan Sesquioleate, Salicylic Acid, Dimethicone/Vinyl Dimethicone Crosspolymer, Triethoxycaprylylsilane, Quaternium-90 Bentonite, 10-Hydroxydecanoic Acid, Lecithin, Tocopherol, Sodium Chloride, Tromethamine, Propylene Carbonate, Alumina, Disodium Edta, Sodium Citrate, Phenoxyethanol, [+/- Titanium Dioxide (Ci 77891), Iron Oxides (Ci 77491, Ci 77492, Ci 77499), Mica].

Cream Caramel: Methyl Trimethicone, Water\Aqua\Eau, Dipropylene Glycol, Alcohol Denat., Nylon-12, Butylene Glycol, Talc, Peg-10 Dimethicone, Dimethicone, Trimethylsiloxysilicate, Silica, Laminaria Saccharina Extract, Calcium Stearate, Isononyl Isononanoate, Caffeine, Glycerin, Hydroxyapatite, Dimethicone/Peg-10/15 Crosspolymer, Sorbitan Sesquioleate, Salicylic Acid, Dimethicone/Vinyl Dimethicone Crosspolymer, Triethoxycaprylylsilane, Quaternium-90 Bentonite, 10-Hydroxydecanoic Acid, Lecithin, Tocopherol, Sodium Chloride, Tromethamine, Propylene Carbonate, Alumina, Disodium Edta, Sodium Citrate, Phenoxyethanol, [+/- Titanium Dioxide (Ci 77891), Iron Oxides (Ci 77491, Ci 77492, Ci 77499), Mica].

Fresh Cream Chamois: Methyl Trimethicone, Water\Aqua\Eau, Dipropylene Glycol, Alcohol Denat., Nylon-12, Butylene Glycol, Talc, Peg-10 Dimethicone, Dimethicone, Trimethylsiloxysilicate, Silica, Laminaria Saccharina Extract, Calcium Stearate, Isononyl Isononanoate, Caffeine, Glycerin, Hydroxyapatite, Dimethicone/Peg-10/15 Crosspolymer, Sorbitan Sesquioleate, Salicylic Acid, Dimethicone/Vinyl Dimethicone Crosspolymer, Triethoxycaprylylsilane, Quaternium-90 Bentonite, 10-Hydroxydecanoic Acid, Lecithin, Tocopherol, Sodium Chloride, Tromethamine, Propylene Carbonate, Alumina, Disodium Edta, Sodium Citrate, Phenoxyethanol, [+/- Titanium Dioxide (Ci 77891), Iron Oxides (Ci 77491, Ci 77492, Ci 77499), Mica].

Please be aware that ingredients may change or vary from time to time so please refer to product packaging for the most up to date list.

Delivery & Returns

Delivery Information

Free Standard Delivery (2-3 working days)

Next working day delivery £2.95 For orders placed by 3pm Monday to Friday, delivered the next working day (restrictions apply)

Next day delivery £4.95 For orders placed by 2pm, delivered the next day (no deliveries on bank holidays)

Worldwide delivery available. Supplements may apply for deliveries outside of the UK. See checkout for further information.

Returns

It's ok if you change your mind about this Anti-Blemish Solutions Liquid Makeup by Clinique as this retailer has a 60 day returns policy for unused, unopened products (providing any original seals are intact). You can find out more during the checkout process with Allbeauty.

Featured In