8 Ways to Treat Men's Dry Skin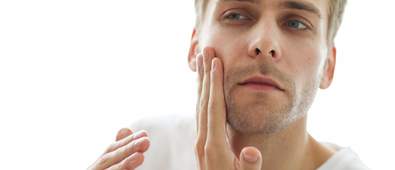 Men don't tend to think so hard or talk so much about their skin. Words like 'dewy', for instance, rarely get an airing. This is partly because male skin itself is denser and tougher, and partly because society expects our proverbial hides to be just as thick. Your complexion's starting to resemble a lunar surface? Suck it up. And that better not be a pumice stone poking out your bag…
There is one exception to this, however, and it's a pretty sizeable one. After all, no one particularly fancies 'sucking up' the irritation, flaking and even bleeding that can result from dry skin. The onset of winter cold and months of indulgent Christmas living combined to create the perfect skin care storm and brought male complexions all over the nation to breaking point. As a million eyes turned doubtfully to empty bathroom shelves, the same thought was shared: we're not prepared for this.
So, with that in mind, let's run through eight of the very best ways to treat dry male skin.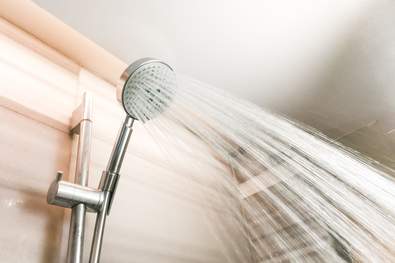 Shower with care
When the alarm sounds and cracking your eyes open is a superhuman effort, the morning shower is a godsend. But as with most good things, it can be abused to the detriment of your health. If your skin is liable to dryness, take care to close the bathroom door while showering; this gives your body an opportunity to soak up some much-needed moisture.
It's also important to make sure that the water is warm, not hot – otherwise you risk removing crucial oils from your skin. For the same reason, try not to stay in the shower for longer than 10 minutes.
When it comes to choosing the best body wash, opt for a formula that isn't infused with artificial fragrance. The unfortunate rule of thumb is that the more finely crafted a fragrance smells, the more likely a product is to be jam-packed with chemical nastiness.
The Bioderma Atoderm Ultra Nourishing Shower Cream is a great example of a body wash that gently cleanses the skin while supplying a boost of hydration. Bursting with nutrient-rich ingredients, purifying agents and only a subtle fragrance, you can expect your skin to be left moisturised and free from irritation. As with all cleansers, dispense enough of the formula to get the job done, but not so much that you create a thick lather.
Be quick to moisturise
Moisturisers work by trapping existing moisture within the skin – that's why it's best to moisturise directly after showering or bathing, when your skin is damp and hydrated. As for what formula you should choose, well…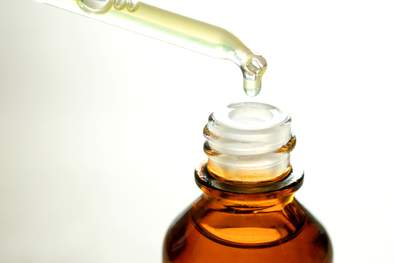 Oil up
First up, put down that body lotion. While they have their uses, your typical off-the-shelf lotion is much more liable to irritate than an ointment or cream, and it's less effective.
Talking of irritants, you should also avoid scented formulas – and don't even think about any products that contain retinoids, alcohol or alpha-hydroxy acids. Giving these ingredients a wide berth both minimises the risk of adverse reactions and allows your skin to retain its natural oils.
Ingredients that you should seek out are body oils and face oils, which can be a major source of vitamins, minerals and fatty acids. From jojoba oil, the chemical structure of which closely resembles our skin's own sebum, to argan oil, which unfailingly delivers on its massive hype, there are options aplenty.
One of our personal favourites is the Aesop Fabulous Face Oil, an indulgent formula that leaves you with baby-soft skin. Juniper berries, jasmine and ylang-ylang are blended with floral extracts, creating a fusion that's as potent as it is luxurious.
Beyond oils
Shea butter is another super-ingredient that's more than deserving of its reputation. Thanks to a dense concentration of fatty acids and vitamins – not to mention a number of anti-inflammatory and healing benefits – it provides quick and effective relief to skin that's skirting the danger zone.
Kiehl's Creme De Corps displays these virtues better than most. This thick, nourishing body butter helps tackle the dry patches using an innovative blend of ingredients. The winning combo contains shea butter, avocado oil and squalane.
Also keep your eyes peeled for anything that contains hyaluronic acid, lactic acid, urea, dimethicone, glycerin, lanolin, mineral oil, and petrolatum. These ingredients are certainly harsher, and therefore not suitable for everyone, but can deliver exceptional results when applied to the right skin type.
Wear lip balm
Chances are that winter's already done a number on your lips, which are often the first place to exhibit signs of dryness. Their susceptibility to becoming raw and chapped is, of course, all the more inconvenient when you consider that the mouth is situated slap bang in the centre of your face. So it makes a lot of sense to invest in a decent lip balm. Trust your senses here, as a lip balm that feels tingly or irritable on application can end up doing more harm than good.
Something like the Weleda Skin Food Lip Balm is a great choice for both winter and summer months. The blend is highly unlikely to cause an adverse reaction, given the botanical blend of viola, chamomile and calendula.
Glove yourself
Like your lips, hands are very susceptible to dryness. The solution here is a considerably simpler one, as you'll appear a lot less strange covering your hands than you would your mouth. Invest in some decent gloves and see if you don't notice a near-immediate improvement. Don't think that they're just for the cold either; slip them on whenever you're about to perform a task that involves getting chemicals, grease or even water on your bare skin.
If you don't fancy making gloves a part of your winter wardrobe, then go for the Australian Bodycare Hand Cream. This go-to hand cream helps form a fantastic remedy for dry, uncomfortable hands. It utilises shea butter, organ oil and tea tree oil to nourish and protect.
Respect your skin throughout the day
If your problem areas are distributed across your torso and limbs, consider making a change to your laundry detergent. After all, if a formula is powerful enough to remove stains, then there's a high chance it can disrupt the delicate balance of your skin. In light of this, take care to only purchase detergents marked as 'hypoallergenic'.
It's equally important to consider your actual clothes. Wool, for instance, is notoriously problematic for skin. Either ditch your rough-textured togs or else start wearing a layer of cotton or silk between them and your skin. How can you tell if the clothes are the cause of your problem? As ever, trust your body. If an item feels itchy, then that's a sure sign your skin is experiencing an adverse reaction.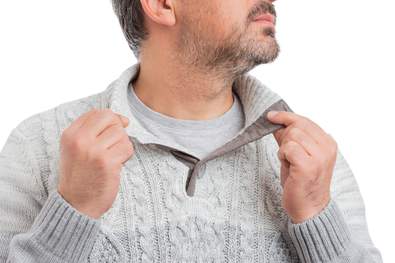 Avoid extremities of heat
Lastly, some more general advice.
Every winter, your body is continuously thrust between overheated spaces and frostier, more open areas. While unavoidable, you can minimise the level of shock your skin experiences by both layering your clothes and avoiding powerful heat sources such as open fires.

As if the short days and miserable weather weren't enough, dry skin is an issue that many of us have to face up to over winter. There's no need for whole-scale changes, however. Simply make a few key alterations to your routine and you can enjoy soothed, more comfortable skin until the first shoots of spring.
For more top moisturising products, take a look at our excellent range of face masks, night creams and face mists, as well as The 10 Best Anti-Ageing Treatments for Men Over 40.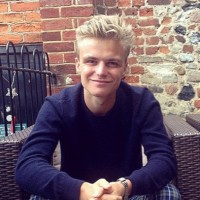 Alex has over six years of experience as a writer. He demonstrates exceptional grooming knowledge and has a natural skill for following current trends.