Your 101 Guide to Benefit Makeup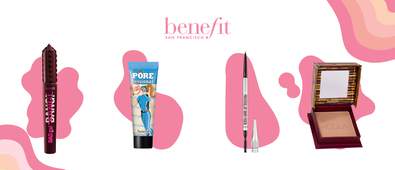 It's clear from a single glance at the cute packaging and punny names of Benefit Cosmetics' products that the brand doesn't take themselves too seriously—which fits all too well with their mantra that 'laughter is the best cosmetic'.
What started out in 1976 as a coin toss between twin sisters Jean and Jane Ford went from a small beauty boutique in San Francisco called the Face Place (it would've been a casserole cafe if the coin had landed on heads!) to an international bestselling brand owned by LVMH Moët Hennessy Louis Vuitton.
Proclaiming to be 'not only in the makeup business, [but] the feel-good business', Benefit is a makeup brand that tries to help people look their most beautiful by making them laugh, have fun and feel good. They offer everything from mascaras and brow products labelled with fun bright pink block lettering, to over-the-top holiday-themed gift set tins that are sure to make you chuckle, to multitasking lip and cheek stains that give you a 'you but better' look for the ultimate confidence boost.
The conscious beauty lover will also be pleased to know this brand is entirely cruelty-free and partners with female empowerment charities through their Bold is Beautiful project.
Here at Cosmetify, we love a brand that likes to have fun, but of course we all want style and substance in our makeup products. Benefit certainly delivers on both these things, but with all the goodies they offer, choosing the best of the best can be a little overwhelming.
So to save you a little time, we've rounded up some of the best products from this funky brand in some of their bestselling categories.
BENEFIT FOR BROWS
Whether you're jumping on the skinny brow trend, still beholden to the carved out Instagram brow or love a natural, fluffy brow, Benefit has got the product for every type of brow out there!
The UK's No.1 Prestige Brow Brand, Benefit prides itself in being an expert on all things brows since their humble beginnings as a little beauty boutique. Now they have boutiques all over the world with over 5,600 brow experts that offer services like brow waxes, tinting and mapping—so you know this is a brand you can trust to deliver the goods to get great brows from home.
SHOP THE TOP BENEFIT BROW PRODUCTS:
THE POREFESSIONALS
When nothing else will reduce the appearance of your pores, who do you call? The POREfessionals!
Benefit is well known for their range of pore-minimising primers products, helping complexions everywhere stay shine-free and foundation stay on longer. Choose the best primer for your skin's needs, and then after applying all your makeup, set your look with the setting spray and/or mattifying powder.
The products in the Benefit POREfessionals range pair great with the fan-favourite Benefit Hello Happy Soft Blur Foundation or Boi Ing Bright On Concealer.
HERE ARE OUR FAVOURITE POREFESSIONAL PRODUCTS:
BENEFIT MASCARAS
Like any makeup brand worth its salt, Benefit has got a mascara for every lash effect you could desire, from lengthening to curling to volumising.
Two well known ranges within Benefit's mascara offerings are They're Real!, which implies a false-lash effect and gives you mega length, and BADgal BANG!, a volumising mascara that turns you into a total baddie in both regular and waterproof versions.
Watch the video above to pick the one best suited to you, or choose from our favourites below.
SHOP THE TOP BENEFIT MASCARAS:
BENEFIT LIP AND CHEEK STAINS
Did you know that Benefit's best selling Benetint lip and cheek stain was originally a nipple stain made for a San Franciscan exotic dancer in the brand's beginnings? Well, now you do!
Benefit have got several shades of juicy, smudge-proof stain, armed with a doe foot applicator for easy application of sheer, universally flattering colour. Super handy for throwing in your bag or taking on holiday as it serves as both lip and cheek colour, this is the cult product everyone needs in their collection.
SHOP BENEFIT LIP AND CHEEK STAINS:
BENEFIT BRONZER
Another cult-favourite from Benefit are their Hoola bronzers, which the brand dubs 'Barbados in a box' due to the holiday-like golden glow the matte powder gives your complexion. Soft and blendable, this award-winning bronzer comes in four shades that are free of shimmer, shine and pinky-orange shades that can make your glow look too artificial.
GET THE GLOW:
BENEFIT MAKEUP SETS & KITS
When in doubt, pick a kit! If you're still not sure what to pick or want too many things to count (we know how you feel), a Benefit makeup set is a great place to start. With full and mini sized products in the cutest packaging, you can get a taste of Benefit for less than each product would cost individually. These also make great gifts, and Benefit is always outdoing themselves with collectible tins around the holidays.
Try out palettes, blush and bronzer combos, pore-minimising bundles and more.
HERE ARE SOME OF OUR FAVOURITES:
Pair your flawless makeup with flawless skin! A consistent skincare routine made up of science-backed products will make all the difference to your complexion and how it looks both with and without makeup.
To help you devise the perfect routine, we've compiled guides to brands like Paula's Choice and PIXI Skincare, or you can read our recommendations based on specific skin problems in blogs like The Best Anti-Ageing Skincare Products for Fine Lines and Wrinkles and The 20 Best Face Masks for Blackheads.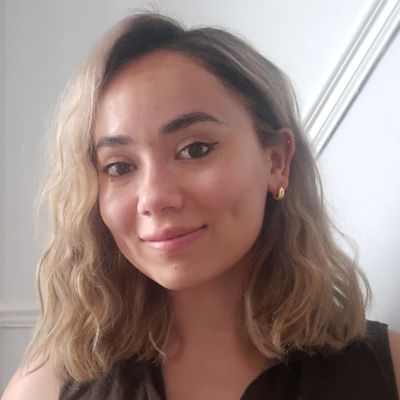 Gabriella is a junior content writer with a background in creative writing, content marketing and journalism. She's passionate about all things makeup and skincare, but especially vegan and cruelty-free beauty that is effective and inexpensive.