7 Celebrities who Rocked the Quiff Haircut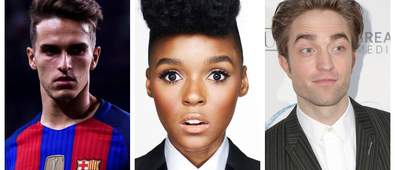 The humble quiff has lived a charmed existence, appearing above the features of celebrities and sports stars throughout the 20th and 21st centuries.
So what's behind its impressive staying power? Well, for one thing, it's a look that's been constantly tweaked and reinvented to fit the times. Only last year, you couldn't step outside without seeing an undercut-quiff combo, normally paired with a generous helping of 90s-inspired street-wear.
And that's not even to mention the style's sheer adaptability. Regardless of age, gender and hair type the quiff can be made to work for you.
To illustrate the point, we've pulled together seven guys and girls who each offer their own unique spin on the look. Read on to discover some of the finest examples of the quiff hairstyle.


Isaac Carew
Chef-turned-model-turned-chef Isaac Carew has retained his signature quiff on the journey from kitchen to studio and back again. And it seems to have had the desired effect, given that the budding gourmet is most commonly seen on the arm of Dua Lipa.
His locks are naturally on the curly side, which makes styling a tad more difficult, but this can easily be turned to an advantage. If your hair behaves similarly, simply get a barber to cut your hair into a quiff-ready style, with tight-cropped sides and a longer top. Suddenly, all that natural shape and character aren't impediments, but the sources of a truly enviable texture and vitality.
Something like Murdock London's Hair Play can provide a great way of sculpting your curls without weighing them down.

Denis Suarez
Arsenal fans will be hoping that January signing Denis Suarez doesn't generate as much frustration as Mesut Ozil, the man he appears he destined to replace. But even if he spends the entirety of the season blootering passes into the stands, we can all still admire his take on the quiff.
The thing that sets this particular style apart is how it retains its impressive integrity throughout 90 minutes of intense exercise. Anyone who's had their 'do wrecked by a particularly violent gust of wind can't help but be impressed by Suarez's invulnerable style, which appears firm without crossing over into crustiness.
If you fancy some of that reliability for yourself, then invest in a styler that boasts great hold. An infusion of beeswax and dual polymers ensures that the d:fi Extreme Hold Styling Cream supplies all the grip and shape you need for a finish that's as good as bulletproof.
Tilda Swinton
The Suspiria star was most recently seen on screen as an elderly German man, a transformation that involved both serious prosthetics and a fair few hours in makeup. But when she's not hiding her much-photographed features beneath chunky latex, the Oscar-winner favours an androgynous look that showcases her statuesque features.
She's worn this style with a whole host of different hair colours, but we like it best with platinum. Not only does the colour make the overall look appear more sculpted, it's also a real attention-grabber, proving that shorter hair in middle age does not have to mean conservatism. If that sounds like the right fit for you, then brighten things up with the Derma V10 Extreme Blonding Kit Blonde:

John Hamm
Man Men's erstwhile Don Draper is somewhat older than the other entries on this list, proving that the quiff is not just a young man's game. Sure, using the frankly beautific John Hamm as an example for all middle-aged men might smack of wishful thinking, but there are still a few key lessons to be drawn here.
The first is to keep your quiff neither messy nor overly preened. A strong overall shape, tempered by a lack of sharp edges, results in a look that's simultaneously groomed and relaxed.
Given that this look involves lifting hair away from your face, and therefore exposing the roots, you also might want to have a think about your hair's condition. After all, you probably don't want to draw attention to thinning or greying patches, no matter how much you enjoy the style.
For all that, age doesn't need to close off a whole avenue of styling possibilities. DS Laboratories Spectral-CSF offers a scientifically-derived solution to the problem of thinning hair, for any man who's balancing his affinity for a swept-back style against a retreating hairline.

Rami Malek
His virtuoso turn as Freddie Mercury might have catapulted him into awards' contention – but Rami Malek's personal style has been making an impact all of its own. Much like Isaac Carew, he has hair that tends towards curliness, although it's imbued with a bit more natural lift. This means that getting the right haircut is even more important – otherwise you run the risk of having a hair 'halo'.
Another style that works well with both the actor's hair type and face shape is the 'Caesar', a trim that boasts short sides and blunt bangs on top. This style isn't a million miles away from the quiff, meaning you can easily transition from one to the other with the help of a loose-hold cream. Something like the Jack Black Texture Cream is perfect, offering hold and pliability without leaving hair with that too-much-product look.
Janelle Monae
Given her career shift to serious acting roles, it was perhaps inevitable that Ms Monae would rock her trademark quiff less and less. And, for all her awards success, a part of us is still sad to see such a statement look relegated to the occasional public appearance. Because there's no doubt that the electro-RnB queen really did make the style her own.
If you fancy giving the look a unique spin, then one thing you're going to need a lot of hairspray. We'd recommend something like the Sachajuan Hairspray Strong Control, which locks in more complete hold for longer than other similar formulas.
Robert Pattinson
Of course, no discussion of quiffs would be complete without R-Patz himself and the haircut that adorned a million teenagers' walls. These days, the actor has cast off franchises in favour of edgier work – a shift that's also reflected in his hair. Gone is the gravity-defying quiff that was for a while his trademark, replaced instead by an on-trend look that's both clean and flattering.
If you're attempting to replicate this look at home, it's important not to overlook the item that makes it work. And we're not talking about some fancy formula or product (although, sure, that helps). No, we're talking about the humble comb. After all, it's a major mistake to think the comb should only be called upon for neat partings; your fingertips can do a sterling job on many looks, but are not exactly at the pinnacle of styling craft. The Kent Men's Handmade Pocket Comb balances a masculine aesthetic with both affordability and efficacy.

The quiff's popularity means that you've likely already had at least one pass at the style. Now, with some celebrity inspiration and a sizeable dose of practical advise, you can return to the mirror a little wiser and better equipped to work out your own spin on the classic look.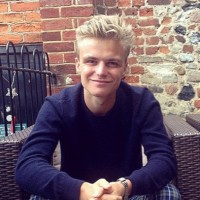 Alex has over six years of experience as a writer. He demonstrates exceptional grooming knowledge and has a natural skill for following current trends.