10 of the Best Primers with SPF You Need this Summer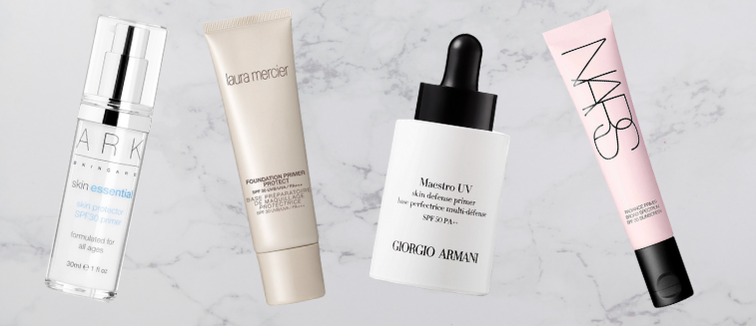 Summer is here and it's a scorcher. Hot summers are great for so many things: picnics in the park, rooftop bars, lazing around lidos and getting an awesome tan. However, it's horrendous for two reasons: sunburn and commuting.
If you're anything like us, you'll come bursting through the office doors at 8:50 a.m., roasting from the tube, fanning yourself to death in a bid to save your makeup. Come midday there are mere traces of foundation left on your face, your eyeshadow has creased and your winged eyeliner is indecipherable – were they supposed to be cat-flicks or…?
Our memories of summer don't have to be of sweaty upper lips and melted makeup, not when you're wearing the best primer with SPF.
With our top 10 best primers with SPF, your makeup will stay flawless all day – yep, even through your commute – and they'll even protect your skin when you're tanning at your local lido.

Disclaimer: you will still need to wear SPF, otherwise, in the words of Coach Carr, "you will get sunburn and you will die". OK maybe that's not verbatim but you get it...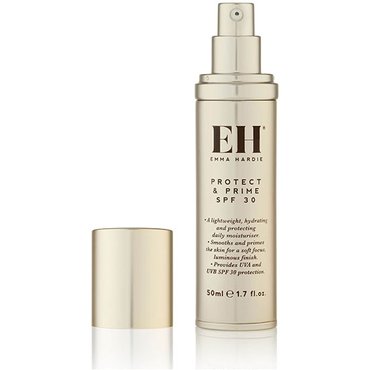 Emma Hardie Protect & Prime Moisturiser SPF30
This Emma Hardie Primer is made with a dual-action formula that drastically improves the hold of your foundation, all whilst protecting against premature ageing (read our guide to anti-ageing skin care for more info!). Its non-greasy texture makes applying your foundation an effortless task and the final results are nothing short of flawless. With SPF 30, your face stays protected throughout the day.
Go To Store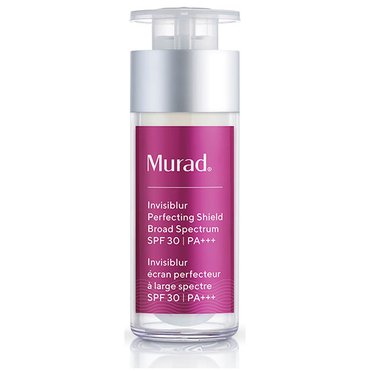 Murad Invisiblur Perfecting Shield SPF30
Murad Invisiblur is a multi-award-winning primer that creates a soft-focus effect on your skin and blurs out any imperfections. A few pumps of this SPF 30 primer and you'll be on your way to smooth, silky skin with broad spectrum protection and an even, matte finish.
Go To Store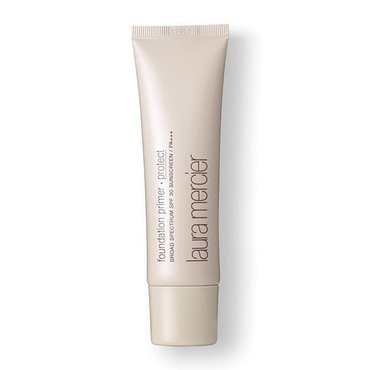 Laura Mercier Foundation Primer SPF30
With a water base and a minimal concentration of silicones, the Laura Mercier Foundation Primer SPF 30 is a fresh and feather-light primer that creates an ultra-smooth complexion. With added antioxidants, it not only protects you from UV rays but environmental stressors, too.
Go To Store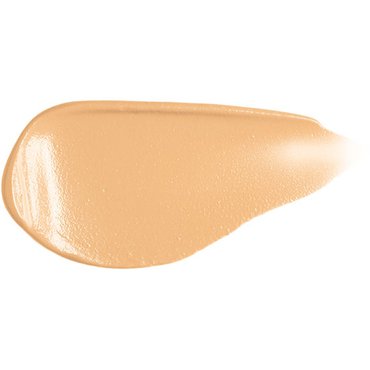 bareMinerals Prime Time BB Primer
The Prime Time BB Primer from bareMinerals is everything you need and more. Offering a lightweight formula that's infused with SPF30, it provides a protective layer for your skin. Not to mention, it reduces the appearance of blemishes and leaves you with an even, renewed complexion, making it a must-have for the summer months when heavy-duty foundations are a no-go.
Go To Store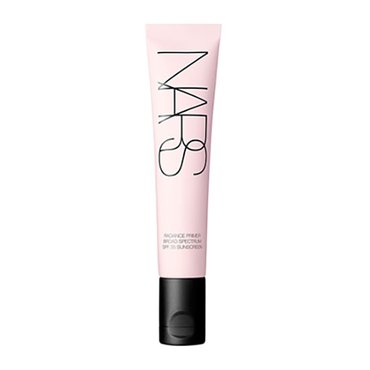 NARS Cosmetics Radiance Primer SPF35
Hailed as the best primer with SPF by yours truly, the NARS Csoemtics Radiance Primer is popular with those who love an energised, glowing complexion. This skin-enhancing primer puts life and vitality back into your skin while sunscreen beads provide broad spectrum SPF 35 protection.
Go To Store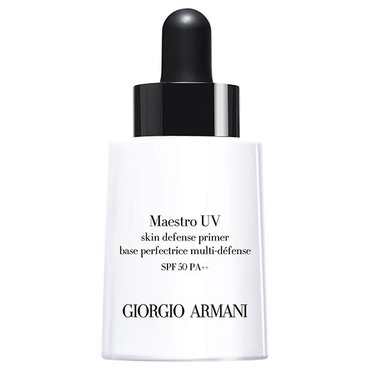 Armani Maestro UV Skin Defence Primer SPF50
This is the go-to primer for city dwellers. With SPF 50, anti-pollution and daily city-proof defence, your skin is protected at all costs. This multi-protective primer is even great for sensitive skin types and with thanks to its fluidity, can be worn alone or under foundation.
Go To Store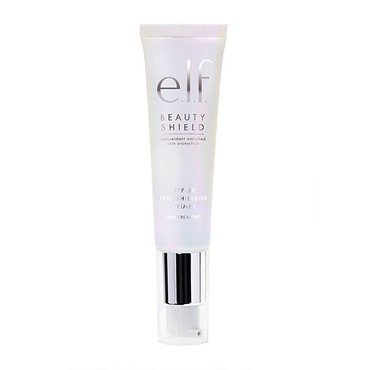 e.l.f. Cosmetics Beauty Shield Skin Shielding Primer SPF50
This lightweight beauty shield perfectly preps your skin before makeup, smoothing out fine lines and wrinkles and texturising your complexion. It's antioxidant rich and offers SPF 50 protection, blocking sun exposure and protecting against pollutants.
Go To Store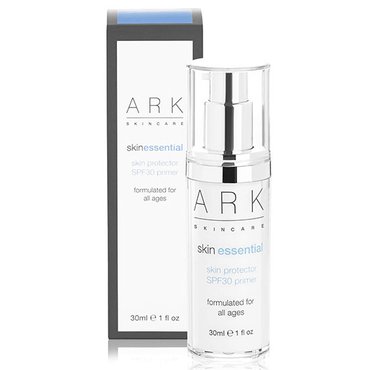 ARK Skincare Skin Protector SPF30 Primer
Another multi-award-winning primer, this ARK Skincare Skin Protector SPF 30 delivers an airbrush-like finish while providing a healthy glow. Packed with bioactive ingredients it also feeds your skin with moisturising properties, making it a primer, moisturiser and sunscreen all in one.
Go To Store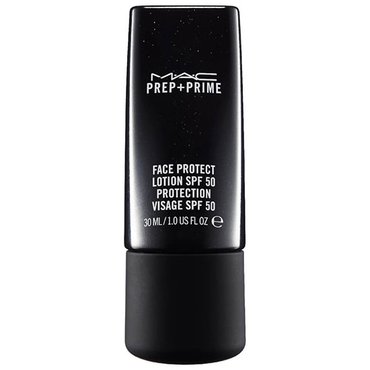 MAC Prep + Prime Face Protect SPF
This cult fave is a comfortable and luxurious lotion that melts into your skin to soften, smooth and protect pre-foundation and pre-sun exposure. It not only offers SPF 50 but prevents the appearance of dark spots, which usually come with frequent sun exposure.
Go To Store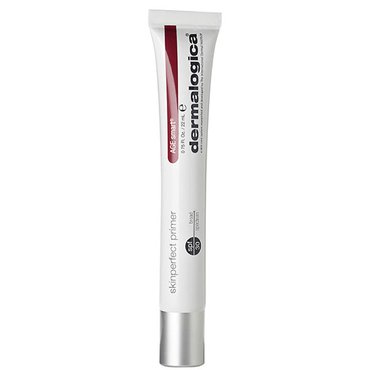 Dermalogica Skinperfect Primer SPF30
Non-greasy formula, lightweight texture and infused with a huge dose of collagen, this Dermalogica Skinperfect Primer boasts both makeup and skin care benefits. It feels velvety smooth against your skin and delivers a beautiful natural finish that blurs fine lines, enlarged pores and imperfections. And, of course, SPF30 ensures your complexion is shielded from UVA and UVB rays throughout the day.
Go To Store
Related Categories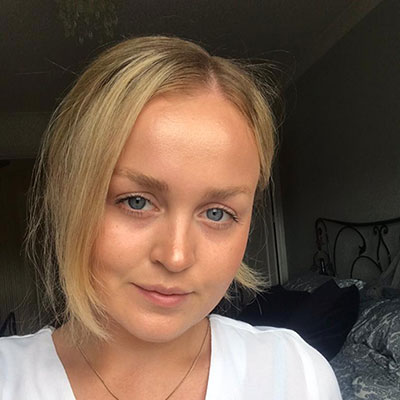 A firm believer that dehydration is a character flaw and good skin starts from within. Hyaluronic acid is her saviour too though.