How to Choose The Best Baby Sun Cream
How to Choose The Best Baby Sun Cream
By Ellie Child
-
1 year ago | Updated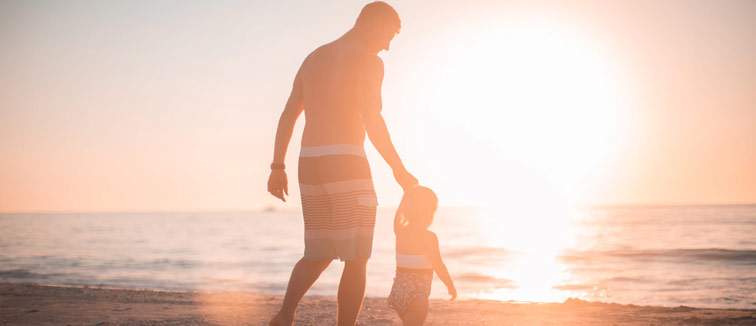 Finding a baby sun cream that is suitably tailored to your little one's needs is so important, especially in 2018 when our awareness on the topic is more refined than ever before. With a huge selection of sun protection to choose from, narrowing down the ideal baby product can become a very daunting challenge, and can often leave you feeling baffled as to what ingredients should actually be going on your baby's skin.
Of course, the best way to protect that delicate skin of theirs to limit the time spent in the sun as much as possible, but on a family holiday that is usually easier said than done. With the NHS advising that young infants and babies should be wearing sun cream between March and October in the UK, you may want to start thinking of which sunscreen will best suit your baba's skin. But which formula won't upset that gentle baby skin, or aggravate skin conditions such as eczema and psoriasis?
With the help of our fool-proof guide, we've selected the top seven organic and non-organic sun protection products to keep your baba's skin looking and feeling as soft as, well, a baby's bottom. Step outside safe in the knowledge that your precious little one's skin is fully protected and ready to take on the day.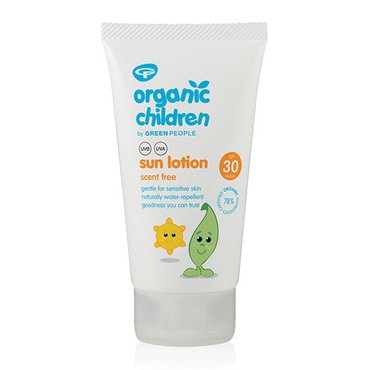 Green People Organic Children Sun Lotion SPF30 Scent Free
Looking for an organic baby sunscreen is the best route to go down if your little one suffers with sensitive skin that is triggered by chemical-based lotions.
This SPF30 sun lotion is ideal for delicate skin that needs nurturing as well as protecting. Formulated with sunflower and olive oil, aloe vera, rosemary, avocado, edelweiss and beeswax extract, this sun protection offers true nourishment and protection without any nasties included. Calming aloe vera and nourishing olive oil ensure that skin conditions such as eczema and psoriasis are catered for in this deeply rich formula. Offering 97% UVB protection, all skin types are shielded from damaging rays, making it a family favourite organic sunblock for babies.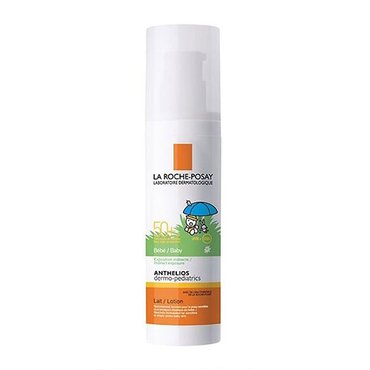 La Roche-Posay Anthelios Dermo-Baby SPF50+
Containing optimal UVA/UVB protection and a photostable filtering system, this gentle formula exceeds the EU recommendation for UVA protection, making it the new holy grail sun cream for your baby. Despite its powerful properties, the Anthelios Dermo-Baby SPF50+ is soft on skin, thanks to infused naturally derived shea butter which nourishes that precious baby skin. We love its comfortable texture and durability – perfect for babies on the move!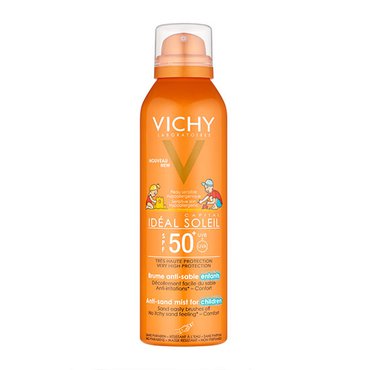 Vichy Ideal Soleil Anti-Sand Kids SPF 50
Boasting a broad range of UVA and UVB filters that prevent sun damage, the Vichy Ideal Soleil Anti-Sand Kids SPF 50 is a firm favourite when it comes to selecting a decent baby sunblock. Better still, its ingenious formula includes Vichy Mineralizing Water which assists in keeping skin hydrated, whilst fighting against free radicals caused by sun exposure. But, what makes this sun cream truly unique is its water resistant, non-sticky dry finish which allows sand to be brushed off with ease – no more uncomfortable sand in unwanted places.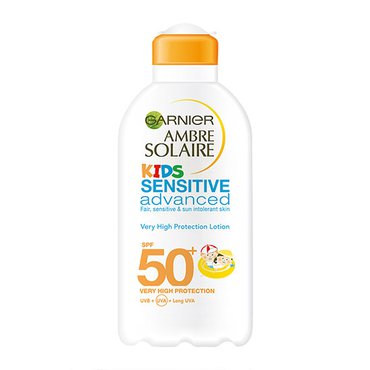 Garnier Ambre Solaire Resisto Kids Very High Protection Moisturising Lotion SPF 50+
Okay, things are going to get a little science-y now. The Garnier Ambre Solaire formula showcases a patented Mexoplex photostable filtration system, which gives a new and advanced level of protection against UVA/B rays – we did say it would get a tad technical!
You'll be glad to know this family favourite offers a moisturising formula which is both perfume-free and hypoallergenic. With jojoba oil infused into the creamy formula, the moisturising lotion doubles up as a moisturiser to prevent that baby soft skin from chaffing. And, in case you were wondering, their formula conforms 100% to European recommendations for protection against the harmful effects of UVA and UVB rays.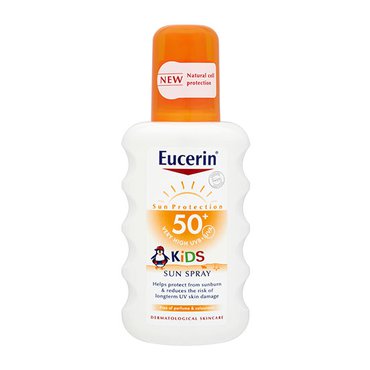 Eucerin Sun Kids Sun Spray SPF 50+
Treat your little one to a non-greasy sunscreen that stays put, even when they don't. Let your kiddies splish, splash and splosh around in the water without worrying about their sun protection diminishing. Due to the water-resistant formula, this lotion tackles the elements to ensure skin is protected from harmful UVA/B rays.
Created to protect children from short-term sunburn, this unique mixture provides biological cell protection to reduce the risk of long term UV-induced skin damage. And just in case you're worried that this powerful little bottle may upset sensitive skin, it boasts a paraben, colourant and perfume-free formula. It even contains glycerin, which both strengthens and hydrates skin – making it a win-win situation!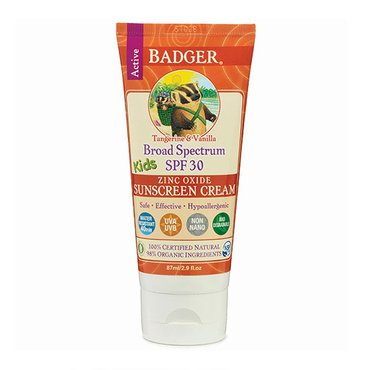 Badger Kids Tangerine & Vanilla Zinc Oxide Sunscreen SPF 30
We get it, sun creams don't smell that great - especially to younger children. However, thanks to this lotion's organic tangerine and vanilla scent, that nasty chemical smell is eliminated, leaving their skin smelling fresh and fruity. Ideal for light activity, the pool or beach, Badger's sunscreen boasts a broad range of UVA/B spectrum protection, using the safe mineral Zinc Oxide.
This heavenly-scented lotion doesn't contain any oxybenzone, octinoxate or other chemical active sun screening agents. It is 100% certified natural and 95% certified organic, meaning even the most sensitive skin is covered. And with a water- and sweat-resistant status that lasts up to 40 minutes of swimming or activity, this sunscreen makes the perfect beach must-have.
Clarins Sun Care Milk For Children 100% Mineral Screen UVB/UVA 50+
If you're looking for a slightly more 'high-end' baby sunscreen, then this is the one for you. Although your child might not be too fussed about how 'luxe' a sun cream smells, you can still enjoy this divine smelling sun care milk – making that sunscreen application situation a little more enjoyable. This comfortably wearable spray rubs in easily whilst remaining perspiration and water resistant, allowing your baba's skin to remain protected throughout the day. Formulated with internationally recognised UVA/B filters, skin is left protected, despite its deceivingly lightweight feel. Plus, it also makes a great sensitive sun lotion for yourself; with a soft scent as fragrant as this, you'll be lathering yourself up in it too!
Subscribe and follow
Get the latest beauty news and offers.