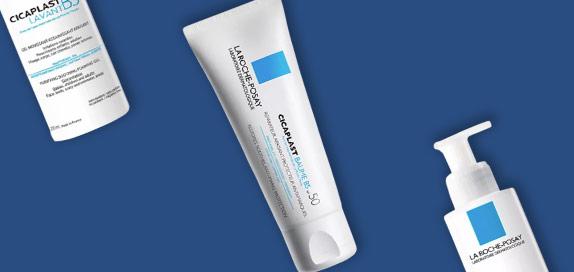 6 products found

Take care of your skin with the Cicaplast range from La Roche-Posay.
This gentle skin and body care range is perfect for the whole family, including babies, teens and grandparents. Whether you struggle with irritating skin conditions or want to prevent dehydration and skin damage, this collection of products can easily help soothe, calm and protect the skin. It is even suitable for eczema-prone complexions, nappy rash and post-procedure scars.
From hand creams to lip balms and body washes to face creams, you can find a wide variety of products to fill your toiletry bag. The La Roche-Posay Cicaplast formulas are also hypoallergenic and don't contain any soap or parabens. This means the skin and body care collection are suitable for even the most sensitive skin types.
Some of the Cicaplast formulas also act as a barrier cream, which provide a protective layer over the skin. This helps shield the skin from environmental and external stressors which could cause more damage.
Shop the range at Cosmetify today.
Where can La Roche-Posay Cicaplast products be bought in the UK?
La Roche-Posay Cicaplast products can be bought online in the UK from Feel Unique and Escentual.
Frequently Asked Questions about La Roche-Posay Cicaplast
Is La Roche-Posay Cicaplast a hypoallergenic brand?
There is always the potential for one person to react differently to another, however La Roche-Posay Cicaplast products are claimed to be Hypoallergenic, so there's less of a chance you'll react negatively to their products.
Are La Roche-Posay Cicaplast products free from Parabens?
Their entire line of products contain no parabens.
Have La Roche-Posay Cicaplast products been tested by a Dermatologist?
Yes, although it doesn't guarantee that their products will be suitable for your skin, it does mean they should be less likely to irritate.
Are there artificial fragrances in their products?
Not all, but La Roche-Posay Cicaplast are supportive of those who wish to shop fragrance-free and have suitable ranges (use the filters above).
La Roche-Posay Cicaplast Features