How to use The Ordinary's Peel
Review: The Ordinary's AHA/BHA Peel, Plus How to Use it Safely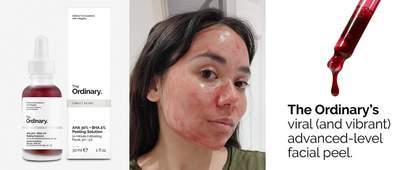 Don't worry—this blood-red product might look like Kim Kardashian's vampire facial, but it isn't made out of actual blood and is much, much cheaper too.
If, like me, you're on a budget that doesn't allow for luxury skin products or regular spa treatments or dermatologist visits, then you've no doubt heard of The Ordinary. Not only does this brand boast affordable products with science-backed ingredients in clinical formulations, it's also vegan and cruelty free—a must for me as a vegan (and a lot of you out there even if you aren't!).
I love that I don't need to compromise on efficacy, morals or budget with The Ordinary, especially when so many of the brands I'd love to try because of their ethics or because of their cult status are just way out of my price range. The Ordinary's Salicylic Acid 2% Masque and Granactive Retinoid 2% Emulsion are some of my favourites, but the absolute gem that I've started using and probably the brand's most viral product, which I'm here to discuss today, is the AHA 30% + BHA 2% Peeling Solution.
A liquid exfoliant in the form of a mask, the Peeling Solution tackles all kinds of skin concerns, from uneven, dull complexions to textured skin to clogged pores.
What's inside The Ordinary's AHA/BHA Peeling Solution?
Like all The Ordinary's products, the star ingredients (in this case, alpha hydroxy acids and beta hydroxy acid) are in the name!
If you aren't familiar with skincare ingredients, this can be a little confusing at first. I just want to get rid of my pores and get glowing skin, not learn what on earth matrixyl blah blah blah is! But you'll get used to it, don't worry!
Here's the full list of active ingredients in this chemical peel and what they do for your skin:
AHAs (glycolic, lactic, tartaric, and citric acids): Exfoliate the skin, increasing cell turnover and smoothing and evening out the skin
BHA (salicylic acid): Dissolves the keratin protein holding cells together, sloughing away dead skin and penetrating deep into the pores to break down black- and whiteheads
Tasmanian pepperberry derivative: Reduces irritation
Hyaluronic acid: Hydrates and comforts
Pro-vitamin B5 (panthenol): Attracts and retains moisture
Black carrot: Protects
Want to find out more about this fabulous brand? We've got everything you need to know in our Ordinary Skincare Guide for Beginners.
How to safely use this chemical peel
Since this peel contains a pretty high concentration of acids, there are a lot of precautions that come with using it. Follow them carefully, just as you would when you start introducing a retinol into your routine (which I highly recommend if your skin can handle it, just not on the same night as this peel!).
Here's how skin experts and The Ordinary themselves recommend using this product, which I've followed to great results without any visible damage to my skin.
Patch test before use because this baby is strong!
Apply to DRY, cleansed face and neck with your fingertips
Leave on for a maximum of 10 minutes (when I first started using it, I only kept it on for three minutes, and gradually increased it to 10)
Rinse thoroughly, avoiding contact with the eye contour
Use maximum twice per week, starting with once per week
Use in the evening, as the product increases your skin's sensitivity to sun
Always use sunscreen while using this product and for a week afterwards (hopefully you're wearing one every day anyway!)
I like to leave off any other strong actives after using this peel, either opting to go straight in with my moisturiser or maybe popping on some of The Ordinary's Hyaluronic Acid serum before moisturising. I learned the hard way that layering too many products, especially powerful ones, does more damage than good.
(Psst, if you've been using too many actives, we've written a blog all about healing damaged skin barriers here!)
Before and After Using The Ordinary's Chemical Peel
I'm not the best at keeping up with treatments that aren't daily, so I'm an on-and-off user of this peel. However, my skin always feels great after using it—congested pores cleared, skin extra smooth and a little glowy— so I wanted to try it more regularly for the sake of this blog.
Here are the results from about a month of use, first using it once a week for three weeks, before upping it to twice a week. While my camera hasn't captured every single pore and discolouration (thank god), over time I do feel like my pores aren't getting as clogged and my mild acne isn't flaring up as much. I've tried to take the photos in the same spot in morning light every time to measure an improvement in 'glowiness', and looking at the AHA/BHA Peel before and afters does seem to reveal much brighter, even skin.
The redness around my nostrils and the pigmentation around my mouth hasn't changed much, but overall I feel a lot better without wearing face makeup and can't wait to see what another month of use results in!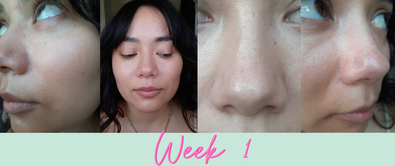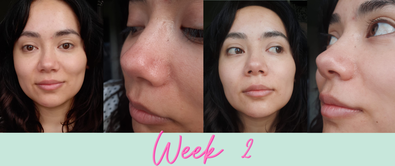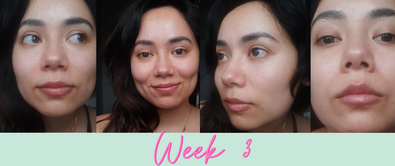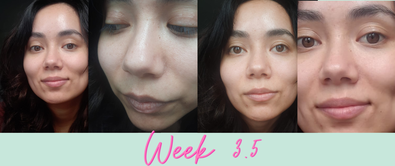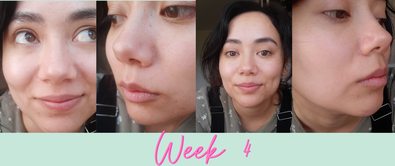 Other uses for The Ordinary's AHA/BHA Peeling Solution
When you think of a chemical peel, you probably only think of using it on your face, but we've seen beauty gurus, bloggers and TikTok users try this treatment on dark underarms, neck wrinkles and even the soles of their feet!
After all, if it evens out skin tone and improves wrinkles no the face, why wouldn't it do so on the rest of your body?
Here's TikTok user Katie Du using it on her feet to get them baby soft.
I also tried the Peeling Solution on my dark elbows to great results after just one use (after which I promptly forgot to use it again, as how often do you stare at your own elbows?). I'll definitely be trying it again though.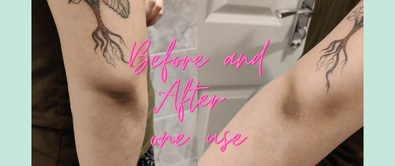 Now that you're an expert in this peel, go and get your glow on! Just remember to follow the directions and always wear your SPF.
For additional help with evening out your dark spots, check out our Guide to Getting Rid of Hyperpigmentation at Home.
And if you read this review because you too are on a tight budget, we've got The Best Cheap Moisturisers all lined up for you!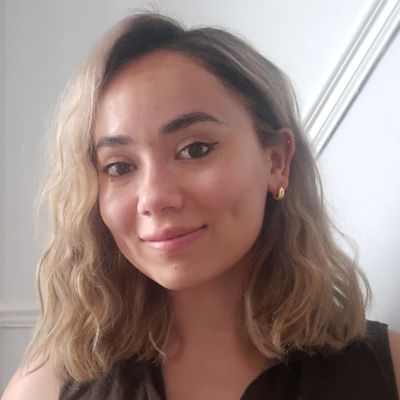 Gabriella is a junior content writer with a background in creative writing, content marketing and journalism. She's passionate about all things makeup and skincare, but especially vegan and cruelty-free beauty that is effective and inexpensive.