10 Ways To Style And Protect Your Natural Hair
By Finlay Ferdinand
-
10 months ago | Updated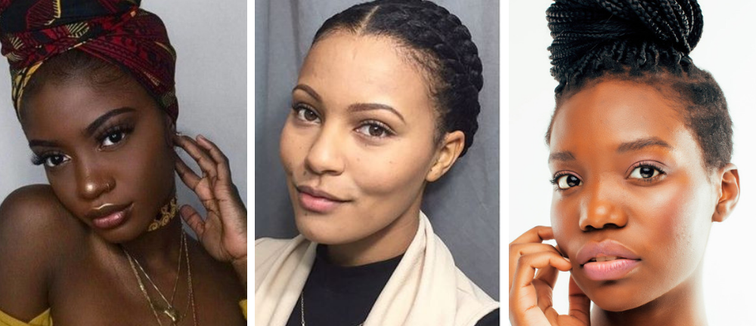 Do split ends, single-strand knots and breakage keep you up at night praying to the gods for curls that are defined and past shoulder length?
Well, it could be that all your hair problems are down to the over-manipulation of your natural hair. This means you don't need to rely solely on your water spray bottle and heaps of leave-in conditioners. Simply choose yourself a protective hairstyle for your natural hair that will keep your hands away from your strands, help you regain length and promote healthy growth.
Here we have put together 10 of the best protective natural styles to keep your type four hair popping, especially through the harshest seasons.


All The Buns
Whether you're going to work, school or just the supermarket, the simple bun is a classic. High buns, low buns, two buns: they're all protective styles that are beneficial for natural hair. All you have to do is make sure the bun is not too tight and that you're using a snag-free hair band. Don't even consider using a hair band with a metal clasp because that's a big no-no!


Two Strand Twists
This style is super cute, easy and can be done by anyone. All you have to do is two strand twist all of your hair, making sure to choose equal amounts each time for a neat result. This style easily lasts two weeks and gives your strands a break from over manipulation. YouTuber Bri Hall recently did a tutorial for her mini twists and look how beautifully she carries this chic style!


Flat Twists
If you're like me and cannot cornrow neatly to save your life, then I'm here to tell you: it's no problem! In fact, I'm pretty sure that's how flat twists were created. You can achieve a vast range of styles by flat twisting your hair and all you need to do is stay close to your scalp and twist – it's that simple. You can even get a chic halo or sophisticated and intricate low bun like the style below:


Faux Ponytail
If you want to glam up a regular bun, why not get yourself a faux ponytail? You can choose a bundle of curls, a sleek and straight pony or channel Queen B and get a long plaited braid. This is a super simple way to spice up your regular look and get in touch with your inner Instagram baddie.


Braids (But Not Micro Braids)
A favourite of the natural hair community, braids are super simple and incredibly long lasting, especially when done right. But braids that are too small, although cute, are not so protective unless you like your edges being snatched – and not in the good way. Choosing box braids over a micro braids allows you to protect and moisturise your hair and care for your scalp, all while serving a beautiful Janet Jackson Poetic Justice look.


Marley Twists
Much like box braids, you'll be using hair extensions to do Marley Twists. The kinky Marley hair gives you a more natural-looking twist and so much more length. This was a personal favourite of mine, especially when my hair was in an awkward growing phase. It's easy to do yourself (after watching enough YouTube videos) and looks amazing when styled with hair accessories. You'll be able to do a range of styles with Marley Twists and keep you hair hydrated and scalp healthy.


Hair Wraps
Hands down the easiest protective style: just choose a silky or non-stripping headscarf and make a cute turban that's super chic and minimal. All you have to do is mold the scarf how you want, pop on some fabulous earrings and voila! Even if you're having a bad hair day, a hair wrap has you covered.


Wigs
Wigs are popular at the moment, which is unsurprising considering some of the impeccable artistry that goes into them. They're not just for looking good, though – they're also great at protecting your natural hair. Just cornrow, fit the wig on top and style as desired. Then when you get home, enjoy the true advantage of being able to fling that wig off, get your scalp some air and care for your natural hair.


Crochet Braids
Another favourite of mine is the very versatile crochet braid. With this technique you can get braids, twists, faux locs or a cute curly 'do. All you need is to cornrow and, using a crochet pin, crochet your chosen braiding hair through your natural hair. Just make sure you haven't picked extensions that are too heavy, or you'll risk breakage – go for something light and enjoy an amazing style that protects the natural locks beneath.


Ghana Braids
Ghana braids are fabulous, easy to maintain and add more glamour than regular cornrows. This style tucks away your natural hair by entwining it with braiding hair, giving you a sleek, long, luxurious finish. Whether you want two braids, four braids, more braids or a braid updo – Ghana braids got you!
So there you have it: 10 tress-transforming, strand-saving hairstyles to keep your hair tucked away from harsh environmental aggressors and help you avoid unnecessary breakage. These flawless hairstyles are perfect for the naturals out there and will have you singing Solange while you duck the hands of your admirers.