How To Apply False Lashes
How to Apply False Lashes: A Beginner's Guide
By Hannah Prynn
-
2 years ago | Updated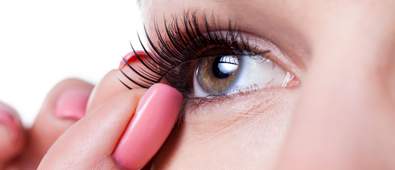 Let's talk about false lashes. Now we all know what a pain they can be to apply, so we've put together a quick and effective step-by-step guide to help you accomplish a flawless eyelash application first time round.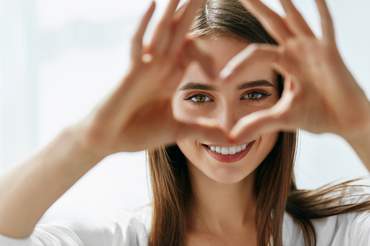 1. Determine your eye shape
Every eye shape suits a different style of lash. Unfortunately, it's not the case of one size fits all – we wish! So it's important to determine your own eye shape as well as taking your desired result into account, whether you want a natural enhancement or a dramatic lash look.
Deep-set eyes
If you have deep set eyes they can appear deeper into the head and therefore create the illusion of a more prominent brow bone. Try lashes that are longer in the centre for a full-out fabulous look.
Close-set or wide-set eyes
This is when the eyes appear close together or further apart from each other. The style that will help to accentuate the outer corners is a cat-eye effect, which will lengthen the eyelashes and help to lift the eye.
Down-turned eyes
Down-turned eyes appear to be drooping downwards at the outer corner. Lashes with a longer outer corner will elevate this shape, giving them a lifted appearance.
Hooded eyes
If you have hooded eyes then the crease of your eyelid isn't visible. Opt for a strip lash where the band is thin and shorter in length so that the eye doesn't appear too heavy.
Prominent eyes
This is when your eyelids appear accentuated in the socket area. A lash with natural, varying lengths will beautifully accentuate this eye shape.
Almond eyes
If you have almond eyes then your eye shape will suit pretty much any kind of lash look – so count yourself lucky if you are blessed with almond eyes!
Round eyes
Round eyes are a versatile shape that will suit an array of long, curly and wispy eyelash styles, which are perfect for enhancing round peepers.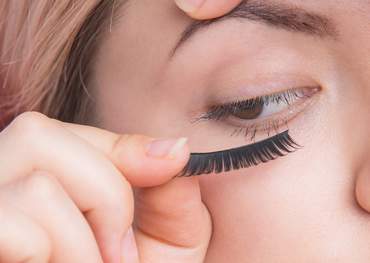 2. Measure the lash against your eyes
This is the part that many of us get wrong, but it's a simple step that will make all of the difference when it comes to your end result.
Just remove one of your false lashes from the pack and − without actually applying any lash adhesive − gently place onto one of your eyes to see if it sits perfectly on your lash line. If it extends further than the outer corner of your eye then you need to trim it down slightly until it fits perfectly.
A small pair of cosmetic scissors like the Anastasia Beverly Hills Scissors will definitely help with this step.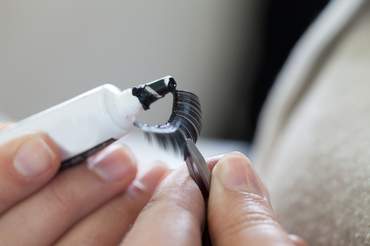 3. Use a good eyelash glue
A common mistake that often ends in lash frenzy is using the glue included in the pack itself. We can assure you that this is quite simply a recipe for disaster...
For the best results, it's essential to invest in an easy-to-use, reliable lash glue that will keep your falsies on for as long as possible, and we are certain that the W7 Black Eyelash Glue will serve you well.
The key is to apply a light layer of glue to the entire lash band and let it dry slightly to become tacky, which is usually after about 30 seconds. Then you're ready to apply them!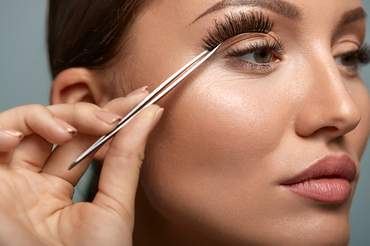 4. Apply the false eyelashes
Now it's time for the main event. Grip the strip lash at the outer corner and then, keeping your eye half-closed, gently place your lash onto the centre of your lash line. Make sure that you work quickly to re-position the strip lash as close to the base as possible to remove any gaps.
Fix the inner and outer corners and press down firmly to secure the lash into place. Now just repeat this step on your other eye – it's a piece of cake once you know how.
To ensure you get the best result possible, we recommend using an ordinary set of tweezers or a lash applicator tool to firmly grip the false eyelashes as you apply them to your lash line. For beginners, a lash applicator like our Eylure Lash Applicator will help you master this technique for a perfect application every time.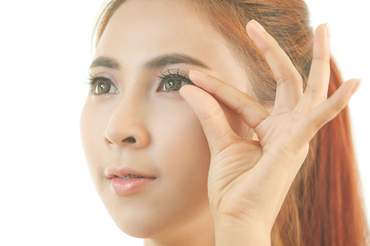 5. Bond the false lashes
Once you're happy with your result, you need to bond your falsies to your natural eyelashes to enhance the lasting power. This quick step will enhance the wear and tear of your lashes so you can enjoy a long-lasting result.
Using your fingertips or a pair of tweezers, carefully squeeze the strip lashes and your natural lashes together along the base of your eyes for maximum hold.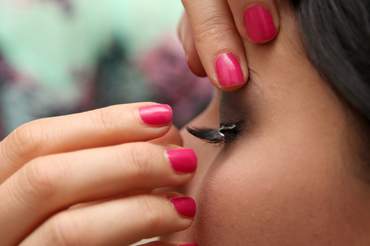 6. Lift your lashes
An optional but highly recommended step to wrap up this false lash tutorial is faking an eye lift, which will add that perfect finishing touch. All you need to do is lightly press and lift your lashes in an upwards motion to create an eye-opening result. Easy peasy.

So...overcome your fake eyelash fear? Ready to achieve a professional result with our fool-proof guide? Watch the talented Laura Lee's how-to guide and you'll be doing it in your sleep in no time (okay, maybe not in your sleep but you know what we mean!). You're welcome...
Still trying to perfect your eye makeup game? Check out our guide on 5 Ways To Apply Eyeshadow to really finish your look off right.