How to Thicken Hair at Home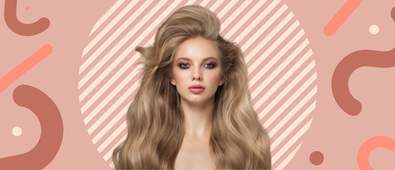 Ever since Kate Middleton stepped onto the scene, we've become obsessed with achieving the perfect bouncy blow-dry that showcases our lusciously thick, glossy hair. Well, that's all well and good if you're blessed with naturally thick hair, but for us gals that currently rock finer hair types? Not so easy.
But, fear not, there are a few things that you can do to thicken up those locks without having to rely on your hairdresser for an impromptu blow-dry every other week. We've streamlined the process by trialling and testing some common methods around how to thicken hair, as well as rounding up some of the best hair thickening products that actually do what they say. Spoiler: it involves chucking out your old shampoo and conditioner.
1. Stop with the over washing
Yep, you'll be glad to know that the first step in attaining thicker hair starts off with something that is totally free!
If you're wanting thicker locks, you need to start with a healthy head of hair. Stronger, glossier, frizz-free hair is more likely to give off the appearance of thickness and vitality, as well being able to respond better to the likes of styling tools and methods.
Over washing can seriously dry hair out and strip it of its natural oils – especially if you're not using a sulphate-free shampoo. Try training your hair to go longer in between hair washes; most experts recommend washing your hair around every two to three days.
2. Diet and supplements
I know, I know – being told to more eat fruit and veggies isn't exactly the quick-fix answer you were looking for, but, if you want longer-lasting results that don't require a whole cabinet of products then this is your best bet.
It's no surprise that a healthy diet = a healthy head of hair (and nails, and skin…etc). So, if you're wanting seriously glossy and strengthened results then try and incorporate more protein-rich foods and good fats into your diet. Michelle Blaisure, Trichologist for Bosley Professional Strength, told Harpers Bazaar that "While genetics determines hair texture and curl, our diet plays a role in how genes can get expressed", encouraging the consumption of foods such as salmon, avocados, nuts, vegetables, and fruit.
As for supplements, there is a whole range on the market that caters to specific hair needs. If you are suffering with serious hair loss/fine hair, it is always best to consult your GP, as they may be able to provide a hormonal prescription medication based on your case. If, however, you are looking to try something over the counter, why not give the below a go?

We recommend: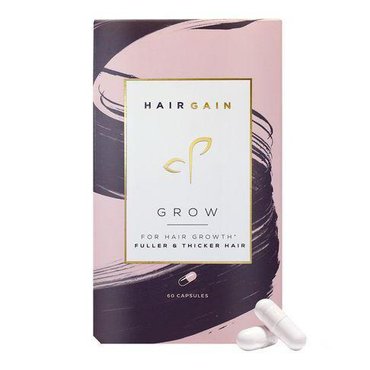 Specially developed to support the growth of thicker hair, these tablets provide all the vitamins you need to achieve long, strong and healthy assets.
3. Change up your cut
Having thick hair doesn't necessarily correlate with having long hair, in fact, finer hair types will hugely benefit from a choppier, shoulder-length cut. If you have a typically 'thin and fine' hair type, then outgrowing your hair will often just make it look straggly and even thinner, as it's being weighed down by the length.
Our fave mid-length cut inspo? Selena Gomez, of course!
4. Choose the best hair thickening shampoo possible
It may seem like a marketing gimmick, but often hair thickening shampoos and conditioners contain less 'weighted' conditioning ingredients which in turn helps the hair to maintain a lighter, more malleable feel. These formulas won't make the world of difference on their own, but once teamed with some matching styling products, the possibilities are endless!
We recommend: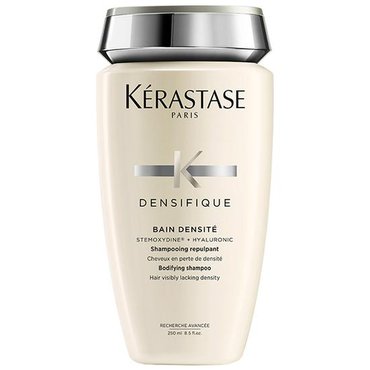 Containing the likes of hyaluronic acid and a blend of gluco-peptides and ceramides, this formula works on enhancing the hair's natural fullness whilst cleansing away impurities and improving the body, texture and strength of fine hair.
5. Set your style
That's right, it's time to choose styling products that actually work with your hair, not against it. From hair thickening sprays to dry shampoo, there is an abundance of hair thickening products to choose from that make a noticeable difference.
But, how do they work? Simply put, most styling products coat the hair in a special formula to make it feel thicker and give it grip. Popular options include leave-in sprays that work on damp hair, mousses, and serums. These pre-stylers giver the hair a bit more grip which when use in tandem with heated appliances can work absolute wonders on your 'do. Want some more inspo when it comes to the best hair thickening products? Why not give our guide a browse!
We recommend: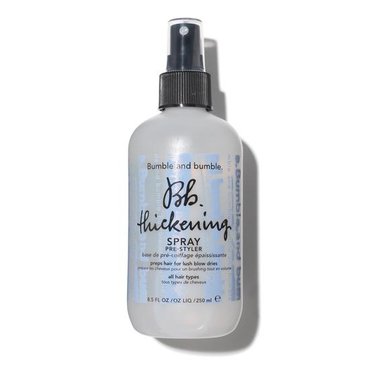 Try applying this miracle-worker to the roots of your hair before using a hair dryer. Offering a medium-to-strong hold, the spray adds a grippy texture that lightly sets when used in tandem with heat – think of it as a traditional hairspray but without that awful 'bitty', rough feel.
Once applied to the roots, use a rounded brush to lift and dry. Trust us, the results are pretty incredible.
6. Fake it 'til you make it
Faking volume is pretty easy to do when you have the right tools amongst your arsenal. Gone are the days of relying on your hairdresser to give you the volume and style you lust after; instead, the experts have given us the power to recreate salon-worthy looks within the comfort of our own homes by designing some of the best heated appliances on the market.
Finer hair types wanting to attain a thicker-looking 'do should look to add curls into the mix. By curling the hair (or adding loose waves), you create gravity-defying body that instantly makes hair look thicker than it actually is. Sure, hair may look a little shorter, but what it lacks in height, it makes up for in volume.
We recommend: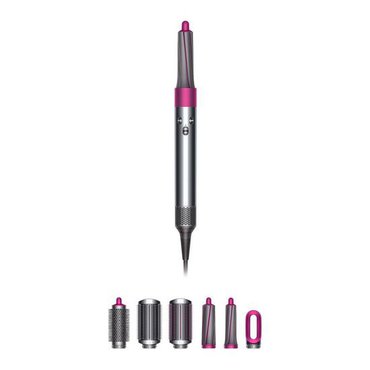 This complete styling kit is going to be your holy grail when it comes to creating red-carpet-ready looks. The adaptor heads you'll want to focus on are the Airwrap ™ barrels and the round volumising brush. These adapter heads work on lifting and setting the hair away from the scalp for volume, as well as mimicking the appearance of thicker hair by adding curls.
7. Learn the art of teasing
Not like that, you cheeky minx.
By continuing down the route of 'faking it', you can instantly achieve thicker-looking hair by simply backcombing your locks – and no, not like the emo's of 2010 did. Avoid flat-looking hair by using a skinny and/or rat-tail brush and lightly backcomb the roots before combing the hair through for a smooth finish.
If you pair this technique with the aforementioned Bumble and bumble Thickening Hairspray, you'll unlock the secret to a seriously voluminsed 'do.
We recommend: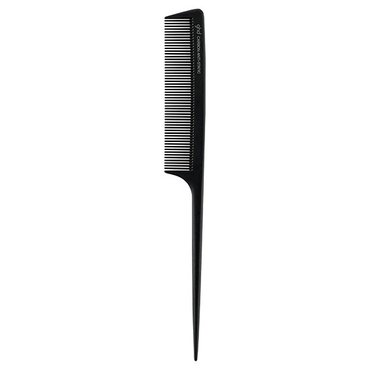 This Boar Bristle Teasing Brush makes styling your hair easier than ever. The brush's natural boar bristles glide through hair, gently massaging the scalp, stimulating and helping to spread natural oils throughout the length of the hair.
8. Give your dermatologist a visit
Sometimes, the issue of thinning hair runs a littler deeper than just genetics and requires a little more attention than a few styling products. If you're experiencing significant hair loss or thinning, try booking in with a dermatologist. Usually, these skin experts are also well-versed in scalp and hair issues, and will be able to give you the professional advice required.


Want to go the extra mile in getting that glossy mane? We've rounded up The Best Hair Oils for Your Hair Type.
Related Categories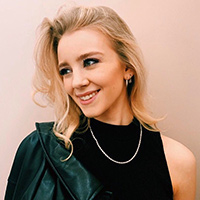 With five years' experience under her belt, Ellie has worked alongside a range of highly regarded makeup artists, giving her a real insight into what consumers should be spending their money on.